UMass Boston English Professor Named Semifinalist for National Book Award for Poetry
---
09/29/2020
| Crystal Valencia
Lillian-Yvonne Bertram Is Among 10 Writers Being Considered for Coveted Award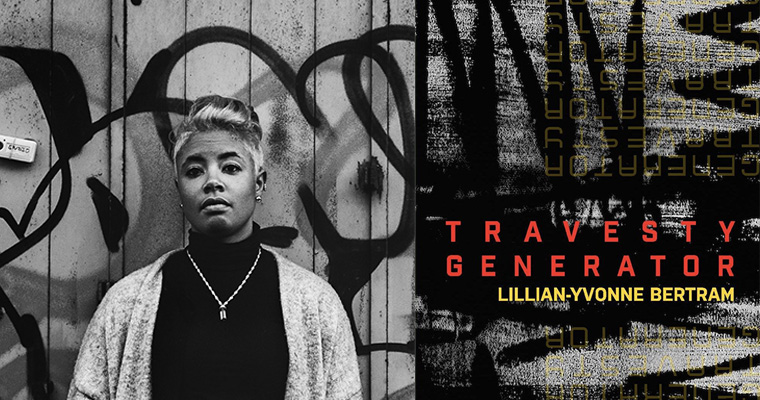 Image By: Dennison Bertram
" As far as seeing a path forward—I see a path, but I can't see in which direction it goes. "
Lillian-Yvonne Bertram, associate professor of English and director of UMass Boston's MFA in Creative Writing Program, has made the long list for the 2020 National Book Award in Poetry with their latest collection, Travesty Generator.
Travesty Generator remixes programming codes and turns them to ruminate on the intersections of race and gender. The poems pay homage to lives taken too soon — those of Trayvon Martin, Eric Garner, and Emmett Till — pulls heroes like Harriet Tubman into the present, and offers the wisdoms spoken by Black mothers to their children.
"Python and Java are used to proceduralize the final moments of Eric Garner and Trayvon Martin and through these programming languages, Bertram shows the complexity of mourning, discomfort, and collective responsibility," the National Book Foundation panel wrote.
They are also the author of Personal Science (Tupelo Press, 2017); a slice from the cake made of air (Red Hen Press 2016); and But a Storm is Blowing From Paradise (Red Hen Press, 2012), chosen by Claudia Rankine as the winner of the 2010 Benjamin Saltman Award.
National Book Award finalists will be announced on October 6, and the winners will be named at a ceremony in November.
What was your initial reaction to finding out you made the long list?
I had a little weep. I was in disbelief. I was walking into my building when a dear friend called me, and I assumed it was for something work related (as we often collaborate). They were so excited and screamed, "Lillian!" and I had no idea what they were talking about. I hadn't seen any of the announcements or information and didn't even know where to find it. So I had a little weep on the phone with my friend. It felt very, very good.
What led you to begin using code and computational processes in poetry?
This is a very long question but if you look all the way back to my first book, But a Storm is Blowing From Paradise, I'm already working with combinations and permutations. My second book, a slice from the cake made of air, extends this, using several permutations of a poem that are formed from machine English-to-English translations. Computation is a (logical) extension of combinatoric methods for literature and text generation, and those methods go back centuries. I began using code because I saw other writers, like Nick Montfort in particular, who were doing it and I thought could I do that? It was a way of automating methods that I was already doing "analog." I managed to find a pocket of time to teach myself, and it went from there.
What inspired this book of poems in particular?
It didn't come together as a book itself until the last minute, but the poems were inspired by real events: the precarity of being Black in America is something that is reiterated over and over again. Computation is an iterative process, and codes are rules for processes. Policing and the justice system have encoded processes that iteratively harm Black lives and there is no neutral algorithm. I became interested in seeing what happened if I explored those codes through code itself.
While the collection was published in December, it feels prescient of this moment. With the Black Lives Matter protests, the white supremist backlash, and the country being forced to reflect on an ugly structurally racist past, do you see a path forward?
It's interesting because it's prescient of this moment and moments 4-5 years ago and longer, and will probably be prescient into the future. Racism is the ultimate case study for an ongoing moment. In this forced reflection, I think we are seeing that some pockets of this country look at the structurally racist past and they don't see ugliness—what they see looks just fine. They see the way it should be. As far as seeing a path forward—I see a path, but I can't see in which direction it goes.
What has been your experience working with creative writing students at UMass Boston?
I love our students! They are curious and passionate about being writers, and they are intimately engaged with their communities and the world.
-----------------------------------------------------------------------------------------------------------------------
Travesty Generator was also a winner of the Noemi Press Poetry Prize and the 2020 Poetry Society of America Anna Rabinowitz Prize for interdisciplinary and venturesome work. Learn more about Bertram's work on their website.