UMass Boston Honors Charles Desmond With MLK Living Legacy Award
---
Inaugural Award Celebrates Decades of Public Service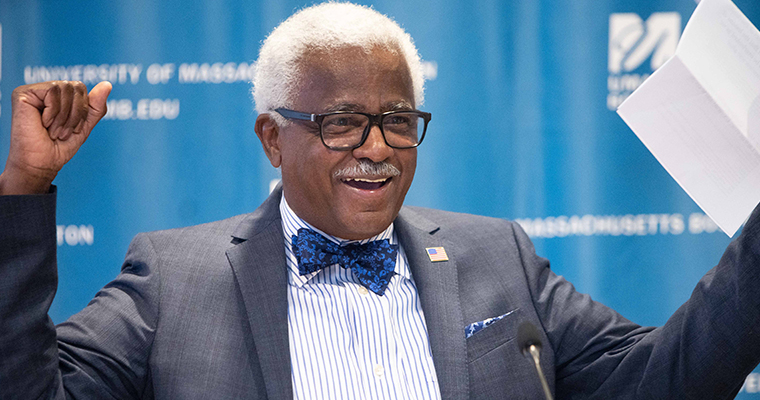 Charlie Desmond, the first recipient of the MLK Living Legacy Award
Image By: Olivier Kpognon
The University of Massachusetts Boston's chapter of the NAACP honored Charles Desmond, a Bronze and Silver star recipient and long-time champion for underprivileged students, with the MLK Living Legacy Award at the Salute to Those Who Served event. Also presented by the William Joiner Institute for the Study of War and Social Consequences, Salute to Those Who Served celebrated Black History Month and the value of serving one's country, both as a soldier and a civilian.
The MLK Living Legacy award was created to honor the memory of Dr. King, to validate the pursuit of social justice and racial equality, and to encourage service to communities of color. Recipients should be change-makers whose tireless advocacy has deeply impacted their communities. This was the first time the award was presented at UMass Boston.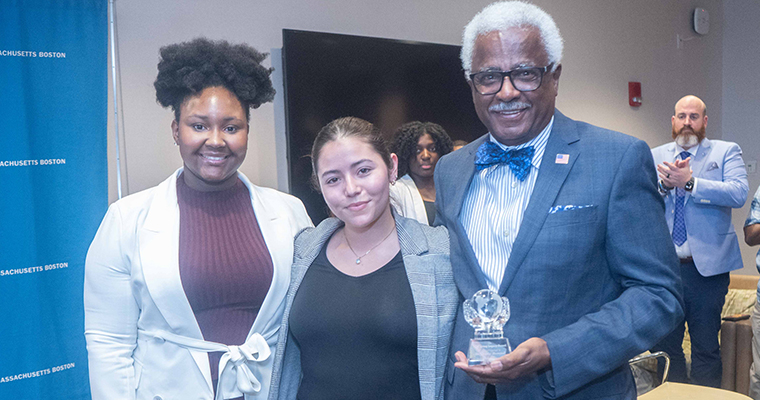 "Dr. Charles Desmond, your commitment to urban economic sustainability and educational opportunity has opened doors for countless people of color in our city of Boston," said UMass Boston NAACP chapter president Kamiya Parkin. "Yes, you are a man of color, a man who has not forgotten his community and realizes the importance of continuing the work that generations before us have started. But the content of your character is what has made the difference in so many of the lives you have touched. It is what has kept the legacy of Dr. Martin Luther King Jr. alive."
Desmond struggled to keep his composure as he spoke about how his time in the Vietnam War led him to pursue a career at UMass Boston. He had been left for dead behind enemy lines during the 1968 Tet Offensive and began to bargain with the universe: If he got out of there alive, he would do something constructive with his life, and he would get an education.
After he went back to school, he chose UMass Boston because "it serves people just like me, kids just like me" who graduated high school without ever being asked about college. He determined that he needed to find a college that served people like himself. "And that's UMass Boston," he said. "So that's why I spent my career here. That's why I continue to work here."
This is the fifth decade Desmond has spent working with UMass Boston. Since his return from Vietnam, he has worked as the Associate Chancellor for School/Community Collaboration, the Vice Chancellor for Student Affairs, the Director of Pre-Freshman Programs, and the Project Director for Upward Bound, where he helped found the Urban Scholars program. He is currently the Chair of the UMass Boston Board of Visitors, and has been a member since 2010.
About UMass Boston
The University of Massachusetts Boston is deeply rooted in the city's history, yet poised to address the challenges of the future. Recognized for innovative research, metropolitan Boston's public university offers its diverse student population both an intimate learning environment and the rich experience of a great American city. UMass Boston's 10 colleges and graduate schools serve 16,000 students while engaging local and global constituents through academic programs, research centers, and public service. To learn more, visit www.umb.edu.