UMass Boston Hosts First Annual Black Lives Matter Day
---
11/05/2020
| Crystal Valencia
Campus Community Raises $2,302 Toward the George Floyd Honorary Scholarship Fund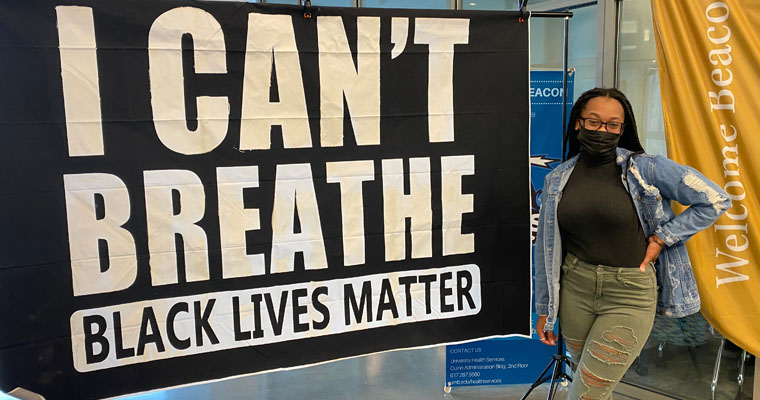 " It was and is within our human capacity to create and reproduce racism, and it is within our human capacity to end it. "
Dr. Joseph Cooper delivered a powerful message for students, faculty, and staff on UMass Boston's inaugural Black Lives Matter Day: "It was and is within our human capacity to create and reproduce racism, and it is within our human capacity to end it."
As he delivered his keynote address, Dr. Cooper, the J. Keith Motley Endowed Chair of Sport Leadership and Administration, called upon the campus community to reflect on the different ways they can exercise their activism and resistance and manifest the best UMass Boston possible.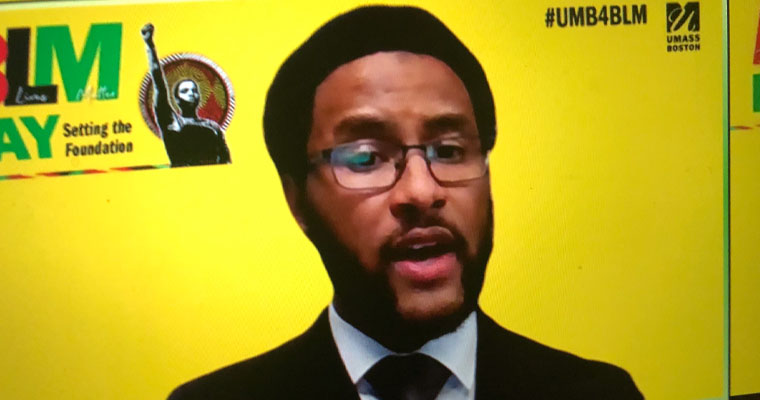 "No one person makes UMass Boston just or unjust," he said. "Collectively, we work together to either uphold and sustain human dignity, justice, equity, and respect or human devaluation, injustice, inequity, and disrespect. My charge to each of you is to identify how you will commit to being a part of the change to make UMass Boston the best version of itself."
Hundreds of community members participated in the university's first Black Lives Matter Day on November 2, touring a BLM Memorial, tuning in on social media for a mural unveiling, and attending virtual issues-focused seminars and a BLM ceremony and keynote address.
BLM Day at UMass Boston was created to represent the university's commitment to honoring Black lives and eliminating anti-Black racism at the systemic, institutional, and interpersonal levels. Chancellor Marcelo Suárez-Orozco has declared that UMass Boston will commemorate Black Lives Matter Day every year on the first Monday of November.
Activists Alicia Garza, Opal Tometi, and Patrisse Cullors began the Black Lives Matter movement in 2013 after the acquittal of the man who killed Trayvon Martin. The BLM movement founders' core aim was "to create an organized movement advocating for non-violent civil disobedience in protest against incidents of police brutality against African-American people."
In a year of unrest and upheaval, organizers, led by the Office of Housing and Residential Life's Community Director Pilar Nelson, felt that it was more important than ever to come together as a community to learn, reflect, and grow.
"Founding BLM Day at UMass Boston is both a privilege and responsibility to me," Nelson said. "It is important that during these difficult times we do not let our students or commitment to a just campus community be left behind. We owe them more than that!"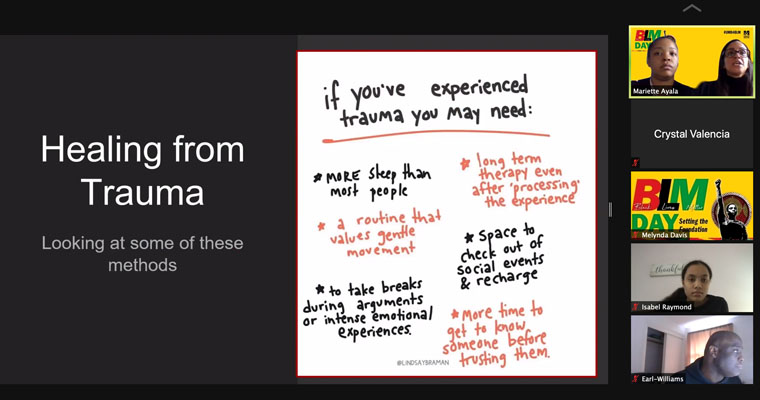 Senior Lecturer of Africana Studies Tony Van Der Meer and Assistant Vice Chancellor for Student Affairs Steven Neville led a seminar addressing issues of the Black Lives Matter movement, looking at things historically and gaining a better understanding of how we're here today. Mariette Ayala, director of U-ACCESS, and Madeline Pena, of the Student Housing Office, led a seminar on "Healing and Transformation: Advancing after Protesting." Aminah Pilgrim, a senior lecturer in Women's, Gender, and Sexuality Studies, led a discussion on music and arts and its impact on the movement.
"This is a very important symbolic event for the entire campus, to begin shifting the culture of the campus to embrace the changes that we're looking to make in time," Neville said.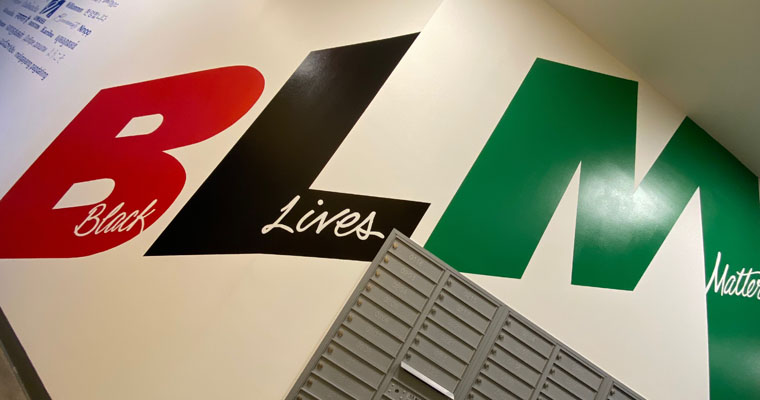 The Black Lives Matter mural was created by Lonnie Amado, maintenance supervisor for the Office of Housing and Residential Life and a long-time artist. The mural, located in the East Residence Hall, will be added to every year for BLM Day.
Amado said he was inspired by the Pan-African flag colors in creating the piece as a "symbol of strength and power."
"It's about the Black lives that are being lost. It's about the Black lives being affected. It's about the Black lives who are going to make the changes," he said.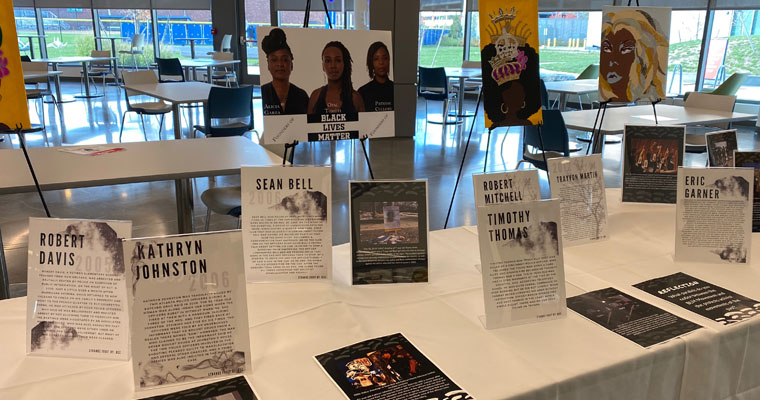 The Black Lives Matter memorial was set up in the Dining Commons, featuring exhibits that honor those who have been unjustly harmed and/or killed as a result of police brutality, acts of anti-Black racism, and systemic oppression, and that highlight the individuals and groups from UMass Boston, the broader Boston community, the U.S., and the world who have worked as activists within the BLM movement.
The memorial focused on the history of the Black experience and struggle — with exhibits on the Civil Rights Movement, the Jim Crow era, and lynching — and our present moment in the BLM movement. Students were also asked to reflect on what a future without systemic racism would look like.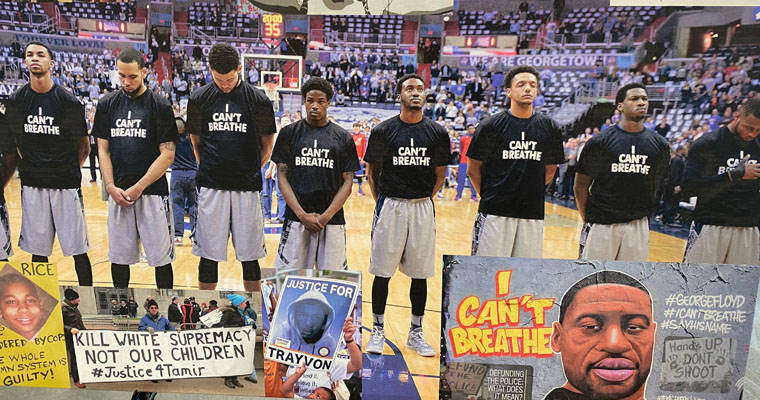 As part of Black Lives Matter Day, the campus community raised $2,302 — more than double their original goal of $1,000 — toward the George Floyd Honorary Scholarship Fund at UMass Boston.
The scholarship fund was established earlier this year by Chancellor Suárez-Orozco and his wife, Carola, with the hopes of providing financial support to talented students who may otherwise find it difficult to pay for a college education.
The fund has raised $130,000 to date and has already helped two students in need.
"Someone might think their $10 or $25 doesn't make a difference — it does! It does because people come together and that compounding effect creates an impact," Vice Chancellor for University Advancement Adam Wise said. "The scholarship lifts together, and I think in some respects that's a part of today's conversation. It's about coming together. It's working together. It's a conversation and understanding together, and you all came together to create this virtuous cycle."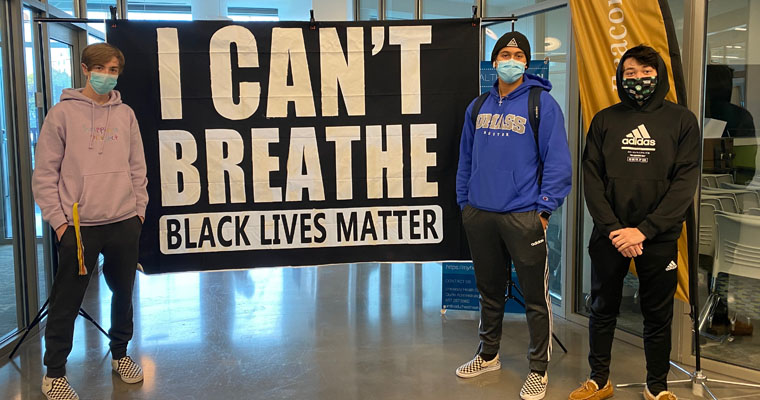 Dr. Cooper ended his address with a moving affirmation: "Black lives matter. Black people matter. Black families matter. Black communities matter. Black contributions matter. Black love matters. Blackness matters…today, yesterday, tomorrow, and forever!"