UMass Boston Launches Third Cohort of Faculty-Practitioner Co-Teachers
---
10/22/2020
| Anusha Chaitanya
Pilot Program Continues to Lift Community Leaders as Educators with Racial Equity and Justice at its Center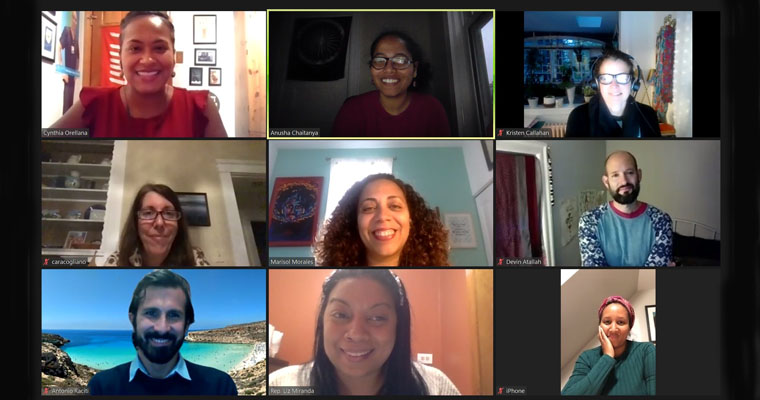 Professors and community practitioners came together for the third session of the PSP Virtual Institute on October 13, facilitated by Marisol Morales (second row, center).
" Our communities have a wealth of knowledge and accomplished women and leaders of color impacting their respective fields. "
The Practitioner Scholars Program (PSP) pilot has launched its third cohort this fall, bringing together a new group of distinguished government, business, and community leaders who will co-teach courses with UMass Boston faculty. This year's program has been curated with courses that have a racial equity and social justice focus, with a deep connection to community engagement.
Conceived in 2018 with an equity, social, and epistemic justice mission, PSP highlights excellence in communities of color through the recruitment of diverse senior experts in the field to serve as practitioner-scholar co-teachers to disrupt who is seen as knowledgeable in academic spaces.
The third cohort includes two public officials, state Representative Liz Miranda and Brockton City Councilor Tina Cardoso, along with distinguished community and business leaders Cara Cogliano, director of Chelsea Community Connections; Charles Smith, senior vice president and SBA program manager at Eastern Bank; and Sam Williams, a faculty member and coach at the School & Main Institute.
Their faculty counterparts include Assistant Professor of Psychology Devin Atallah, Senior Lecturer II of Women's, Gender and Sexuality Studies Aminah Pilgrim, Assistant Professor of Ecological Design Antonio Raciti, and Senior Lecturer of Finance Kristen Callahan. A list of the classes and co-teaching pairs can be found below.
The PSP pilot is a unique, innovative co-teaching model created and led by Cynthia K. Orellana, director of the Office of Community Partnerships, with an explicit mission of attracting women and BIPOC community leaders across diverse fields as co-instructors as a way to ensure UMass Boston students can see themselves in their professors.
"Our communities have a wealth of knowledge and accomplished women and leaders of color impacting their respective fields," Orellana said. "Our students only stand to win from engaging with them through PSP as we flip the way we think of teaching and learning."
These co-taught courses constitute student projects that are meant to benefit the community and the students through the practitioner's network and expertise of work that is impactful for the community, connecting that with the academic expertise of faculty members through a seamless integration in a redesigned course.
In response to the COVID-19 pandemic, PSP has been remodeled and adapted for a remote environment, continuing to wrap co-teachers with professional development, support, and a community building model to sustain their work with each other, with students, and the communities. The learnings from the first pilot year are now published in the Journal of Higher Education, Outreach and Engagement.
The third pilot cycle launched on September 29 through a PSP Virtual Institute facilitated by Orellana and special guests Associate Professor of Special Education Kristin Murphy and Dr. Marisol Morales, vice president for network leadership at Campus Compact. At the closing of the virtual institute on October 13, Representative Liz Miranda shared, "It was just great to see [discussion on] unconscious bias, participatory community engagement, [and] community building in the higher-ed space."
Antonio Raciti stated that he felt "empowered" at the end of the institute with "a constellation of assets from all the people in this room, of the community members and all the additional resources that OCP is trying to put together. There is this toolbox with all the things that I need. It's really powerful."
Having completed the PSP Virtual Institute, the cohort of co-teachers will continue to meet independently throughout the fall 2020 semester to co-plan and redesign their syllabus and student projects that they will use to co-teach in spring 2021. This year's pilot program is made possible through funding from UMass Boston's Deans, the Provost, Graduate Studies, the Division of Marketing and Engagement, and Eastern Bank. Learn more about PSP here.
PSYCH 415: Psychological Trauma: Individual and Society
Faculty: Devin Atallah, Assistant Professor of Psychology, Department of Psychology, College of Liberal Arts
Practitioner: Sam Williams, School & Main Institute Faculty and Coach, School & Main Institute
WGS 376: Women of Color in the US
Faculty: Aminah Pilgrim, Senior Lecturer II, Department of Women's, Gender and Sexuality Studies, College of Liberal Arts
Practitioners: Elizabeth Miranda, Massachusetts State Senator and Tina Cardoso, City Councilor, Brockton City Council
UPCD 750: Planning Studio
Faculty: Antonio Raciti, Assistant Professor of Ecological Design, School for the Environment
Practitioner: Cara Cogliano, Director, Chelsea Community Connections
AF 495: Financial Policy
Faculty: Kristen Callahan, Senior Lecturer of Finance, Department of Accounting and Finance, College of Management
Practitioner: Charles Smith, Senior Vice President – SBA Program Manager, Eastern Bank