UMass Boston Music Ed Alums Navigate K-12 Teaching in the Age of COVID
---
12/09/2020
| Bill Doncaster
"The situations have changed – the students' needs haven't," says Ray Fallon '17 when asked about teaching music to grades 3-8 during the pandemic. "That's what people need to keep in mind, whether teaching in person, hybrid, or virtual. Kids' needs haven't changed."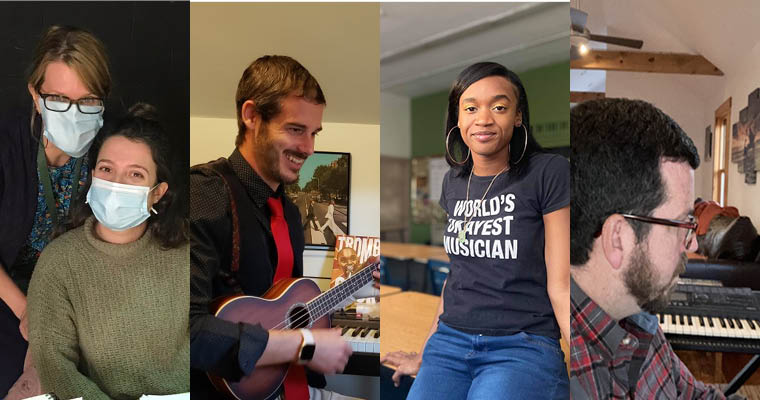 From left, Kelly Pry '20 with Curtis Guild Elementary Principal Karen McCarthey, Andrew Sell '17, Sasha White '19, and Ray Fallon '17 are public school music teachers teaching during the pandemic
" 'Be proud,' 'Stand up tall,' 'Believe in yourself.' I say these things constantly. "
Since school closures began in March, teachers have grappled with complicated questions of how to shift delivering curriculum in an online environment. We caught up with a few UMass Boston Music Education alums, all teaching in area public schools, on how they're managing the shift. Teaching is still taking place, and they maintain their commitment and belief in music as essential to a well-rounded education. These days have brought challenges and innovation—and even some new opportunities—for their students.
No one was prepared for the seismic shift brought on by COVID-19, the closures and impacts on families. But each of these alumni are drawing on their UMass Boston experiences in and out of the classroom to manage the change and focus on student needs. The changes go beyond simply moving classrooms to virtual spaces.
"This is just how we have to do things right now. Is it ideal? Of course not," says Andrew Sell '17, currently teaching over 400 pre-K to fourth graders at Mattahunt Elementary School in Boston's Mattapan neighborhood. "Everyone, everywhere, wants things to be back to what they were. But given where we're at, I dive in head-first. Let's make this work."
Sell shifted gears last spring to an entirely online learning curriculum. He's teaching General Music, but all his students have instruments – xylophones for first graders, recorders for second and third graders, and MIDI keyboards for fourth graders. While he notes the loss of social interaction, his students are making music in the virtual classroom Sell created.
Sasha White '19 is teaching Music Theory and Keyboard to grades 9-12 at Neighborhood House Charter School in Dorchester.
"I have two cameras on all the time," she says, "one on my hands, and one on body position.
"I have them send me videos of their work," White says. "We're relying on the students more. Kids are having to be more responsible, manage their own functions. I am staying focused on my lesson plans, what the outcomes are going to be, and that has helped me. I focus on student learning outcomes."
Kelly Pry '20 teaches at both the Curtis Guild and Bradley Elementary schools in East Boston. She's teaching from her classroom, surrounded with instruments, but her students are online. Her curriculum has changed due to some of the limitations of online learning with K-6 students.
"There's a lot of things that can't happen the way it does live," Pry says. "We do a lot of singing, but it's difficult on Zoom. If they're all unmuted, it sounds awful. We can't really dance. We can, but not together."
Classes with Pry would normally involve lots of instruments—xylophones, drums, boom whackers.
"It's one of the things students get excited about. Super fun," she says. "They don't have instruments at home, so we can't do that."
But ear training works remarkably well on Zoom, she says. She tutored Sight Singing at UMass Boston for three years and says her students are "identifying if notes are higher and lower, identifying notes. It's usually a college-level skill, but they're actually getting it. It's going to be super-beneficial."
Fallon, teaching Instrumental Music to grades 3-8 at the Tisbury School on Martha's Vineyard, has also seen changes in not just the method, but the content of teaching. Normally, he'd be preparing for a band concert this time of year. Instead, students are making videos of their playing, seeing their classmates performances.
"They're getting stronger at reading music, more sight reading, and playing along with a metronome," he says. "I never thought I'd be able to see middle schoolers do that, so there are some small advantages."
Sell notes that individual students, though, have individual experiences, and there are aspects specific to music that cannot be replicated for students separated by distance, connected to each other only through a screen.
"Especially for music, there's a lag time online," Sell says, "so you can't replicate singing together in time. You lose out on that. It's a little easier with younger kids, where you're not expecting a super high level of timing. But it doesn't replicate the connection of being next to someone singing or playing an instrument. That's a real connection, and that's a loss."
"Others are losing the social interaction," he says. "We have a lot of students with a history of trauma, social anxieties—especially the students with autism, and we're always striving trying to convey an inclusive feeling."
"What drew me to it as a young person was the interaction and the connection," he says, "Not just with the music and feeling, which is great, but also the friendships. Performing is huge in a student's development, that expression is important to have, and that cannot be replicated in any other subject, just performing arts."
Fallon is also recalling the original call to teaching music as a profession, and community is central.
"I didn't get into music ed because it was 'nice' to have," Fallon says. "It can be the difference of what gets a kid through school. That importance doesn't change with this new learning environment.
"Music class is a community moment," he says. "You can tell working together is the best part of their week. We're still trying to have whole students, a well-rounded education. We had no pandemic preparedness training. But during this time, the thing that keeps me going is the compass of knowing I am working towards something important. It's a guiding star. This is fun for me, yes, because I get to teach music, and I love music. But it also makes the world better. These programs can be the difference between making it or not for a lot of students."
There was no pandemic training in their college experience—not specifically. But each is drawing on the lessons from faculty in both the Music and Education departments, curriculum, tutoring, and ensemble experiences as they innovate their COVID-19-era classrooms.
Alums gave credit to MUSIC 480, a Special Topics course on SocioCultural Perspectives in Music, a new addition to the UMass Boston Music Ed program, taught by Sommer Forrester. The class grew out of a need for Music Education students to explore the sociological aspects of music teaching and learning. Specifically, the course explores critical issues in the field of music education ranging from power, privilege, class, and marginalized populations, to thinking about "who's music?" cultural capital and relevancy.
"While we weren't talking about online learning, we were talking about issues that we had to have in our minds no matter the circumstance," says Fallon. "I remember learning about Maslow's Hierarchy of Needs. Then, this year, we got to talking about balancing the health and emotional needs of our students, and I was like 'no, it's not a balance, there's a hierarchy.' And it helped to think clearly about priorities."
Sell teaches classes with a large immigrant population, many with language issues and special needs.
"We explored the social justice needs in education," says Sell, "and I had such a leg up. I knew the terminology. As I continued developing the curriculum, I had to have a lens for social justice, evaluating who I am, and who I'm teaching. I still have work to do, for sure, but knew that what I was doing would make a difference."
"SocioCultural Perspectives taught us to look subjectively at the world around us, and our students, and note that not everyone is like you," Pry said. "You need to think about who you're teaching and how it works for them, and have a framework for doing that work."
Each is anxious to get back into their regular classrooms, and put instruments in the hands of their students. Music, they say, isn't about creating musicians or music lovers. It's essential to education.
"Music sets students up to be successful in other areas," Sell says. "If we want people to succeed in STEM, it's hard for them to get there without those strong social skills and confidence. Music, and the performing arts, gives them something they can't get anywhere else."
"'Be proud,' 'Stand up tall,' 'Believe in yourself.' I say these things constantly, and they're not things you hear teachers saying in other subjects very often," says Sell. "My students need to hear that."
"Each of these students came here with a vision of their future careers, what it meant to be a music teacher, but they all had a willingness to try new things, and look at things in new ways," said Forrester, coordinator of Music Education at UMass Boston. "What they've shown is a foundation in the pillars of creating classroom experiences that are creative, where students can experiment and grow through music. Those pillars haven't changed in this environment. When they were at UMass Boston, Kelly, Sasha, Andrew, and Ray all had a curiosity and a willingness to think beyond their own experience, and engage enthusiastically with new experiences presented to them through the program. Their constant willingness to try new things was evident when they were students, and it's what benefits their students today."