UMass Boston Professors and Community Leaders Discuss Grassroots Democracy Efforts
---
02/20/2020
| Crystal Valencia
How does the university and the community work together to build a more just and equitable democracy – one that turns toward and not away from our most marginalized?
Imari Paris Jeffries sits with UMass Boston faculty and researchers Susan Crandall, Laurie Nsiah-Jefferson, and Eduardo Siqueira to talk about their own work in community activism and research.
" I think one of the things I've always admired about UMass Boston was how rooted in the community you all are. "
"The community is here. The students are members of this community. And as I work with them here, I know I'm working with part of the community. I will be mobilizing to help them to engage," Professor of Environment and Public Health Eduardo Siqueira explained. "Many of them actually became quite interested dealing with immigrants' issues after taking classes like the one here."
More than 100 people gathered in UMass Boston's Alumni Lounge on Thursday, February 13 to hear faculty and community leaders share their experiences actively doing the work of and for democracy, many of them working with communities on grassroots efforts, policy and institutional reforms, and civic engagement.
The discussion, "Our Shared Work: Lifting up Democracy from Grassroots to Grass-tops," was hosted by the Office of Community Partnerships, and facilitated by UMass Boston alum Imari K. Paris Jeffries, executive director of The Parenting Journey and a UMass Trustee.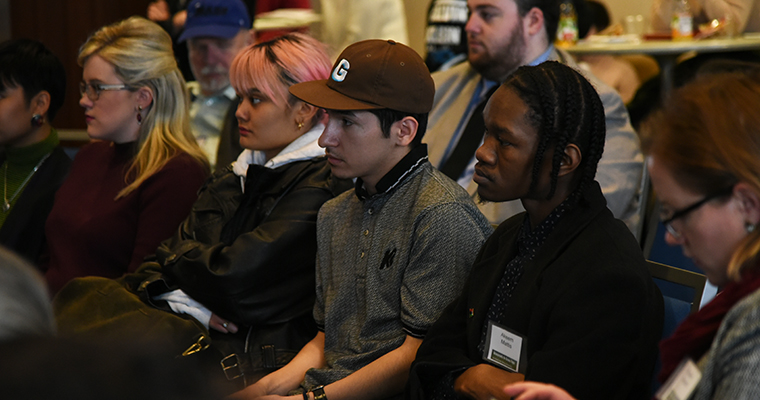 As recent events unfold across the nation, it's a topic that has been on many people's minds —the work of shaking up, building up, lifting up, and strengthening democracy.
"Today's dialogue is meant to touch on our shared experiences and individual efforts to build community empowered democracy," said Cynthia Orellana, director of the Office of Community Partnerships. "The work of strengthening our democracy, I think many of us would agree – particularly in these times - is a pressing issue which should be of all of our concern, whether we work for a community-based organization, a municipal office, the private sector or a public university."
Paris Jeffries sat down with Susan Crandall, director of the Center for Social Policy, Laurie Nsiah-Jefferson, director of the Center for Women in Politics and Public Policy, and Siqueira to talk about their own work in community activism and research.
Crandall spoke about how students often deepen and propel the university's research through sharing their own lived experiences.
"Our own student population struggle greatly with many of the issues we are studying from food insecurity to homelessness to community issues… so part of what we do is really focusing so that they get their needs met here," she said. "They bring a deep understanding of what is it like to live in public housing, their own experience with being on welfare. So it's because of that …that has propelled the Center for Social Policy's work in this economic mobility research. We have this amazing student community here that allows us to contribute to the communities in the way that we do."
Nsiah-Jefferson spoke of the tension for faculty women of color not being able to fully actualize within the academy, but with this role of helping students actualize, particularly for the purpose of democracy.
"You have to keep that balance in your life between the community, your family, and the work that you do, and in many ways you do that for your own sanity, but you also do it because if you're stronger and you're more whole, you can do the work that needs to be done," she said.
Siqueira said that as a community-engaged professor, you should never have two feet in academia.
"My life has always been one foot here and one foot there, which means I'm never only committed to one side of the partnership," he said.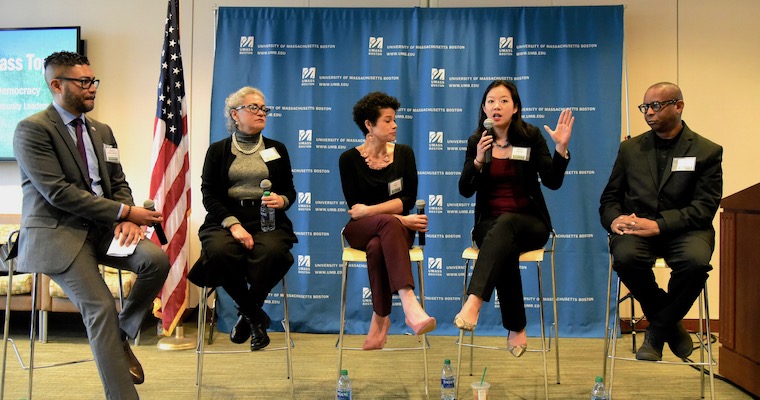 Maria Elena Letona, executive director of Neighbor to Neighbor, Boston City Councilor-at-Large Julia Mejia, Diana Hwang, founder and executive director of the Asian American Women's Political Initiative, and Kevin Peterson, founder and executive director of The New Democracy Coalition, also sat down for a conversation about the work being done in the community, and how institutions like UMass Boston might support their work in lifting up democratic grassroots movements.
"I think one of the things I've always admired about UMass Boston was how rooted in the community you all are," Hwang said. "I started the Asian American Women's Political Initiative ten years ago, and so many UMass Boston professors were so crucial to us forming it."
Letona applauded professors who are themselves a part of the community.
"I think it makes the kind of research more fruitful," she said. "Too often we get requests from universities who want to come into the communities and study us, and that doesn't always feel good or right. … The more professors are nested in communities, working with communities, alongside communities, I think that partnerships between communities and universities are going to be more authentic and yield results."
Peterson spoke about universities committing more deeply to issues of race, income, and housing.
"When I think about UMass as a public university, I think about the need to be more consciously committed to creating public intellectuals," he said.
This is the Office of Community Partnerships' third annual fireside chat with faculty and community leaders.
"This fireside series was born from heeding the call for UMass Boston to be a convener of important public discourse," Orellana said. "Events like these allow us to realize our shared energy and investment toward building stronger bridges to connect people and institutions, and to think about how we can each be part of processes of community engagement designed to address the most pressing issues facing our communities."
The Office of Student Leadership and Community Engagement, Community Relations, and the McCormack Graduate School of Policy and Global Studies cosponsored the event.
About UMass Boston
The University of Massachusetts Boston is deeply rooted in the city's history, yet poised to address the challenges of the future. Recognized for innovative research, metropolitan Boston's public university offers its diverse student population both an intimate learning environment and the rich experience of a great American city. UMass Boston's 10 colleges and graduate schools serve 16,000 students while engaging local and global constituents through academic programs, research centers, and public service. To learn more, visit www.umb.edu.