UMass Boston Professors Join COVID-19 Health Inequities Task Force
---
Mayor Marty Walsh recently established the COVID-19 Health Inequities Task Force—a 24-member panel that includes UMass Boston professors Paul Watanabe and Lorna Rivera—to review data and provide guidance on addressing imbalances in minority representation among those affected by the disease. A significant percentage of Boston's 2,812 coronavirus patients come from communities of color or immigrants, despite the fact that these communities are represented differently in the city's demographics.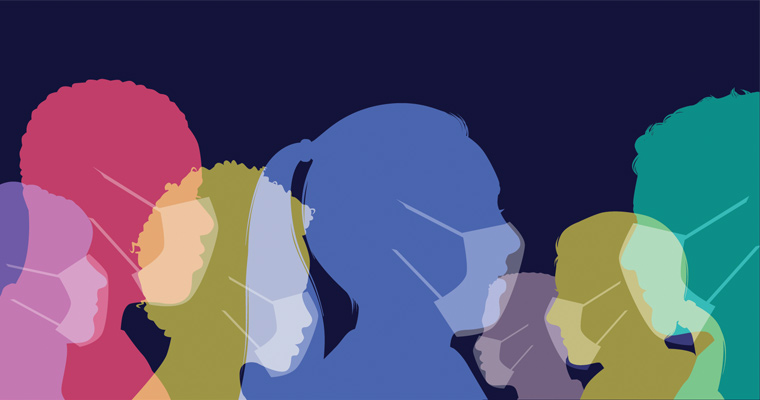 " This is our kind of work: to assess the specific needs of our community. "
Watanabe, director of the Institute for Asian American Studies, and Rivera, director of the Gaston Institute for Latino Public Policy, were asked to serve on the task force last week. They called it an honor to serve the city in its time of need.
"This is our mission at the Gaston Institute. We are a resource and public policy institute that has been here for decades. This is our kind of work: to assess the specific needs of our community," Rivera said.
According to local hospitals, communities of color and immigrants are highly affected by COVID-19, even though they usually comprise a smaller percentage of overall patients. Boston Medical Center (BMC) reported that 80 percent of coronavirus patients are either African-American or Hispanic/Latino, and 61 percent come from minority communities. Normally, 58 percent of BMC patients are African-American or Hispanic/Latino and 44 percent are from minority communities.
Massachusetts General Hospital (MGH), which has a higher rate of cases than the citywide average according to the Boston Public Health Commission, reported that 40 percent of COVID-19 patients speak Spanish as their native language, another spike.
The news was unsurprising to Rivera, who explained that people of color are susceptible to COVID-19 for many reasons: They disproportionately have preexisting conditions that make them vulnerable to the coronavirus, they live in areas with higher population density that don't provide adequate room for social distancing, and they are overrepresented in fields like the service industry and home health care where they are considered essential workers and where they are more likely to get infected.
These vulnerabilities also affect UMass Boston students, as they comprise a majority minority institution.
"There are students who have had to continue to work in hospitals and grocery stores or who have been called up to the military. This is the daily experience of our students," Watanabe added. "Our campus is not a part of the city. It's a reflection of the city."
Race/ethnicity data, however, is absent in 38 percent of Boston's coronavirus patients, an issue for the task force. Others include collecting more data and improving what is currently available, figuring out where people of color go for social services, creating community safety kits and public health campaigns, and deciding how best to translate new information for minority communities.
Apart from their work with the COVID-19 Health Inequities Task Force, Rivera and Watanabe want to continue to improve health care in communities of color, making sure health care is accessible to all, federal assistance is available to undocumented people, and regulations are consistent on how data is collected and released to the public.
"In the long term, it's a bigger agenda than just this virus," said Watanabe. "Without the Institute for Asian American Studies, without the Gaston Institute, these communities would be underrepresented in these issues."
About UMass Boston
The University of Massachusetts Boston is deeply rooted in the city's history, yet poised to address the challenges of the future. Recognized for innovative research, metropolitan Boston's public university offers its diverse student population both an intimate learning environment and the rich experience of a great American city. UMass Boston's 10 colleges and graduate schools serve 16,000 students while engaging local and global constituents through academic programs, research centers, and public service. To learn more, visit www.umb.edu.