UMass Boston Researcher Part of Study Analyzing Fall Prevention Intervention
---
07/16/2020
| Office of Communications
Randomized Trial of More Than 5,000 Participants Found 8 Percent Reduction in Serious Injuries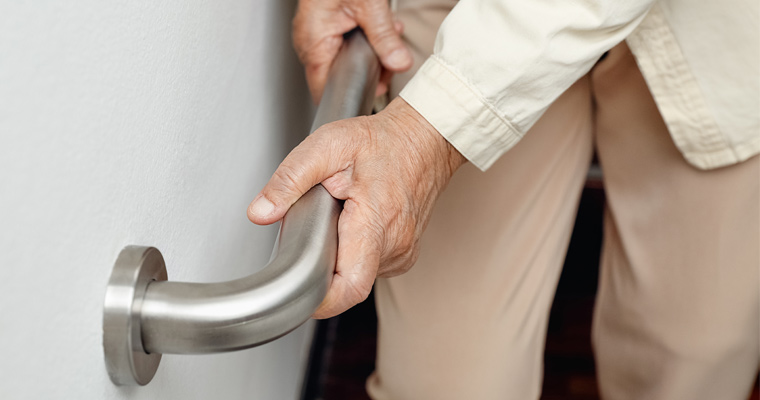 " Older adults face significant challenges in participating in exercise interventions, such as finding transportation. "
Falls are the leading cause of injury-related death among older Americans and lead to three million emergency department visits every year. About one out of every three adults age 65 and older falls each year, and 20 to 30 percent of those who fall suffer moderate-to-severe injuries such as broken hips or head trauma.
Priscilla Gazarian is the associate professor of nursing and graduate program director in UMass Boston's College of Nursing and Health Sciences. She was the nursing program director and co-lead of the intervention for the STRIDE (Strategies to Reduce Injuries and Develop Confidence in Elders) Study, which evaluated the effectiveness of a nurse-delivered, fall-injury prevention strategy delivered through primary care.
More than 100 people were involved in the study, which published findings last week in the New England Journal of Medicine.
Nurses who served as Falls Care Managers worked with study participants ages 70 and up and their doctors to identify risk factors for falls and fall-related injuries and to create care plans to reduce these risk factors. More than 5,400 patients from 10 health care systems in the United States participated.
The team reports that the intervention reduced serious fall injuries by 8 to 10 percent. That's less than expected and not statistically significant. The study did find a significant 10 percent reduction in self-reported injuries, a secondary outcome in the trial.
"The study reflects just how challenging it is to implement interventions to prevent fall injury in the real world," said the team's co-leader, Shalender Bhasin, MD, director of Research Programs in Men's Health, Aging and Metabolism at Brigham and Women's Hospital. "Our Falls Care Managers were passionate about the care of their patients and creating individualized plans for them. But measures that may reduce risk in the setting of a clinical trial can be less effective in the real world, where daily challenges such as being unable to afford transportation or the cost of follow-up care may delay or prevent access for patients."
Gazarian co-led the nursing intervention with the co-principal investigator of the study, David B. Reuben, MD, of the David Geffen School of Medicine at the University of California.
"One of the most important parts of the intervention was for older adults to participate in exercise," Gazarian said. "Yet older adults face significant challenges in participating in exercise interventions, such as finding transportation to exercise facilities or having significant out-of-pocket costs for physical therapy. These are system-level barriers in our health care system that need to be addressed."
This work was supported by the Patient-Centered Outcomes Research Institute and the National Institute on Aging (NIA) of the National Institutes of Health through a cooperative agreement between the NIA and Brigham and Women's Hospital.
About UMass Boston
The University of Massachusetts Boston is deeply rooted in the city's history, yet poised to address the challenges of the future. Recognized for innovative research, metropolitan Boston's public university offers its diverse student population both an intimate learning environment and the rich experience of a great American city. UMass Boston's colleges and graduate schools serve 16,000 students while engaging local and global constituents through academic programs, research centers, and public service. To learn more, visit www.umb.edu.