UMass Boston Scientists Donate Unused PPE from Labs
---
As the COVID-19 pandemic continues, health care workers have struggled to persist against the virus through a shortage of personal protective equipment (PPE) such as masks, gowns, gloves, and eye gear. To help mitigate the shortage, two members of the UMass Boston's School for the Environment (SFE) collected PPE from their labs, donating it to Boston Medical Center this past Friday.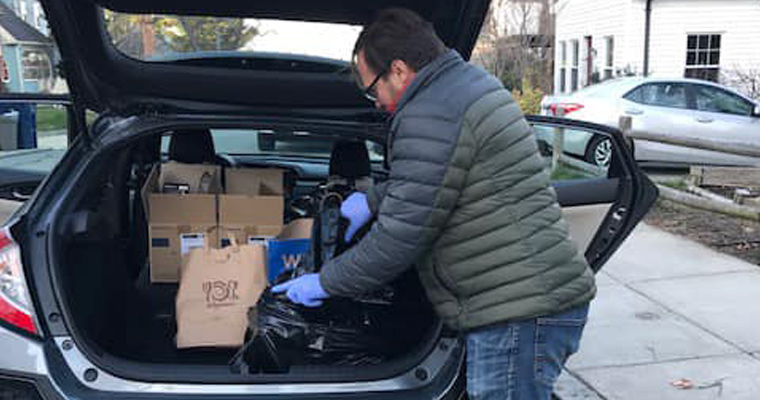 The School for the Environment donated surgical gloves, surgical masks, and laboratory goggles to Boston Medical Center.
" These are unprecedented times that require unprecedented actions. "
Aware of the severe PPE shortages, Helenmary Hotz, the director of academic labs for the SFE reached out to Bob Chen, interim dean for the SFE, seeking permission to donate supplies.
"Given that UMass Boston is locked down and on virtual operation, I knew the PPE could be put to better use to potentially save lives," Hotz said.
After Chen's approval, Hotz joined with Francesco Peri, research engineer and project manager in the SFE, to collect PPE from ten SFE labs. To reduce the chance of outside contamination, Peri and Hotz decided to donate only sealed boxes and full containers of PPE.
"We collected and donated approximately 50 boxes of 100-count surgical gloves, four boxes of 100-count surgical masks, and 25 laboratory goggles," said Peri. "I wore PPE and decontaminated each box individually by wiping it down with isopropanol to prevent any possibility of spreading the virus."
Both Peri and Hotz hope that other UMass Boston labs will follow their example, as Boston's hospitals are in critical need.
"I certainly hope that other labs will be most generous with any PPE or related equipment that is not currently in use," said Hotz. "These are unprecedented times that require unprecedented actions."
About UMass Boston
The University of Massachusetts Boston is deeply rooted in the city's history, yet poised to address the challenges of the future. Recognized for innovative research, metropolitan Boston's public university offers its diverse student population both an intimate learning environment and the rich experience of a great American city. UMass Boston's 10 colleges and graduate schools serve 16,000 students while engaging local and global constituents through academic programs, research centers, and public service. To learn more, visit www.umb.edu.