UMass Boston to Launch On-Campus Apprenticeship Program
---
03/03/2020
| Office of Communications
New Program Supported by $2.25 Million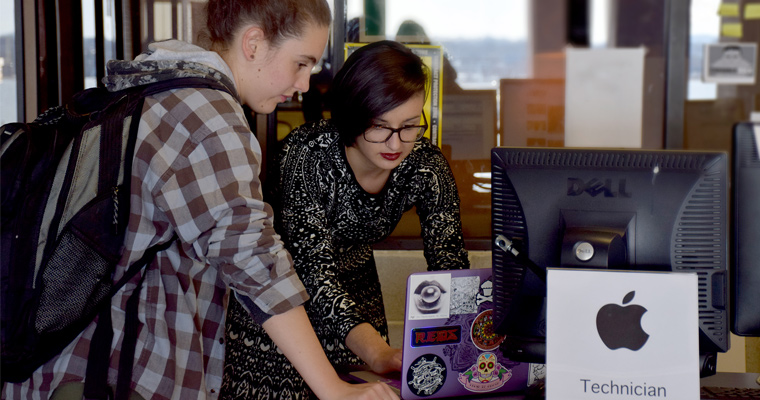 A five-year, $2.25 million gift from Ralph and Janice James will provide students with paying, career-related positions in fields like information technology.
Image By: Lisa Link
Gift Will Give Students Real-World Experience in their Chosen Career
The University of Massachusetts Boston is establishing a new professional apprenticeship program to provide students with paying, on-campus work experience that enables them to develop increasingly complex skills and project management experience. After two years, the student apprentices will be able to participate in off-campus opportunities with over twenty "industry clusters," UMass Boston-sponsored networks of private sector firms that are advising faculty and deans on the rapidly changing needs of their professions. The Professional Apprenticeship and Career Experience program (PACE) is being underwritten by a $2.25 million philanthropic gift from Ralph and Janice James.
"Thanks to the vision and generosity of the James family, we will be able to provide our students with invaluable work experience in their chosen careers, right on campus," said UMass Boston Interim Chancellor Katherine Newman. "They will be taught and mentored by our staff and faculty, acquiring the skills that employers look for. Our industry clusters will benefit from the education our students have been given and the practical experience they have accrued."
The program will provide students with paying, career-related positions in fields like information technology, lab-based scientific research, logistics, communications/public relations, or accounting during their first two years. Faculty and staff mentors will be responsible for guiding apprentices through the skill-building process, creating portfolios of projects they can present to future employers as evidence of their capabilities. For example, a business major with a concentration in accounting could work for UMass Boston's administration and finance department. After two years, the student may join the finance cluster, where he or she will meet prospective employers and apply for opportunities like internships and entry level positions at the Big Four accounting firms that participate, as well as banks and brokerage houses that are major employers in the field.
"University of Massachusetts Boston students have tremendous drive, ambition, and intellectual curiosity. What they often don't have, however, are connections to industry," said Ralph James. "UMass Boston is in a unique position to provide opportunities for these talented students to develop the skills and social relationships required to compete effectively in the job market, succeed in the career of their choice, and help their community thrive. We are pleased to be able to provide the university with a catalytic gift to get this program started."
"Thanks to Ralph and Janice James, the PACE program will provide the kind of practical, hands-on experience that will give our students a leg up in the labor market," said UMass President Marty Meehan. "It also represents the kind of innovation that Katherine will bring to the entire system in her new dual role as the System Chancellor of Academic Programs and Senior Vice President of Academic Affairs, Student Affairs and Economic Development."
"This program illustrates exactly why UMass Boston is such a vital institution and what drew me to the campus," said incoming Chancellor Marcelo Suárez-Orozco. "Katherine and Ralph and Janice James can be proud of developing a program that perfectly aligns with UMass Boston's mission of upward mobility and represents a model of public-private partnership that must be part of the future of public higher education. I look forward to retaining and building on this program and others like it."
The university intends to ramp up the program over the first five years, with 50, 200, 400, 575, and 775 students participating, respectively.
About Ralph and Janice James
Ralph and Janice James have made the Boston area their home for over 35 years. They both served in various positions at Harvard Business School (HBS), and Ralph is the former president of First Marblehead Corporation. They both formerly served on the Board of Visitors at UMass Boston.
About UMass Boston
The University of Massachusetts Boston is deeply rooted in the city's history, yet poised to address the challenges of the future. Recognized for innovative research, metropolitan Boston's public university offers its diverse student population both an intimate learning environment and the rich experience of a great American city. UMass Boston's 10 colleges and graduate schools serve 16,000 students while engaging local and global constituents through academic programs, research centers, and public service. To learn more, visit www.umb.edu.