UMass Boston Will Continue Remote Format for Fall Semester
---
06/22/2020
| Office of Communications
University's Unique Position Requires Heightened Safety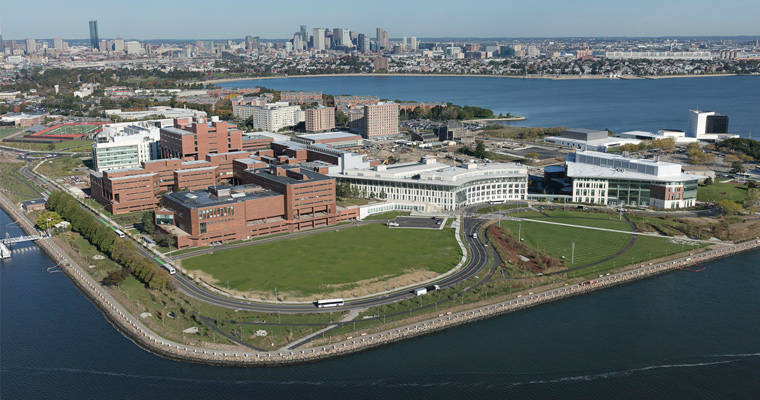 Image By: Steve Dunwell
UMass Boston Interim Chancellor Katherine Newman announced today that the university will continue to rely on its remote teaching and learning platform for the fall semester. Newman said the decision was taken out of respect for the health and well-being of students, faculty and staff – as well as the surrounding communities to which they commute every day.
"Many members of our community believe that this is the safest pathway," she noted. "Although we miss being together and look forward to the day when we can all come back to Columbia Point, relying on remote education enables our students to avoid closely packed public transit and exposure to dense interaction on campus." African American and Latinx populations have borne a disproportionate burden of morbidity and mortality in the pandemic, Newman explained, and many students live in multi-generational minority households where exposure to the virus would be particularly problematic.
"We are thinking positively about the fall semester," Newman remarked. "The faculty and the deans are hard at work creating exciting ways to welcome our first-year students." Beacon 2020, a festival of remote academic and social activities, is under construction and will involve thematic lectures, common books, films, and "days of service." Small clusters of students will work with advisors in social groups that will become the foundation of their university experience.
Many UMass Boston faculty members are reworking their course plans and developing new methods of interacting with students over electronic platforms. They are conducting workshops to learn from one another about effective techniques for stimulating discussion, working through problem sets, maintaining robust contact with their students, and encouraging break-out groups.
Laboratory-based classes and those that rely on the university's new nursing simulation center will occur on campus, and faculty research will continue to ramp up. The campus health center will also be in operation to provide medical services.
"We know other universities have come to different decisions, and we respect that," Newman said. "But in very important ways—especially the extent of daily reliance on public transportation and the prevalence of students from communities most affected by COVID-19—UMass Boston is unique. Public health officials have urged every campus to look to its particular circumstances. As a large, urban, commuter institution, we have done exactly that."
Attendance has been booming for the university's summer session and freshman enrollment is trending above projections for the fall, save for international students whose visas are slow to be processed. UMass Boston is responding by developing suites of courses that will be delivered to overseas students on the remote platform in the early morning hours, to fit the time zones where they live.
"We are exciting about the Class of 2024 and look forward to welcoming our transfer students and continuing students back to the academy," Newman noted. "I am confident that before too long, we will all be back in place, face-to-face where we belong."