UMass Boston's Virtual Welcome Day Streams into Accepted Students' Homes
---
04/07/2020
| Division of Enrollment Management
More than 1,900 admitted students and their guests were able to participate in Welcome Day activities last weekend because of the virtual format necessitated by COVID-19. Compare that to April 2019, when 1,750 admitted students and their guests were on campus.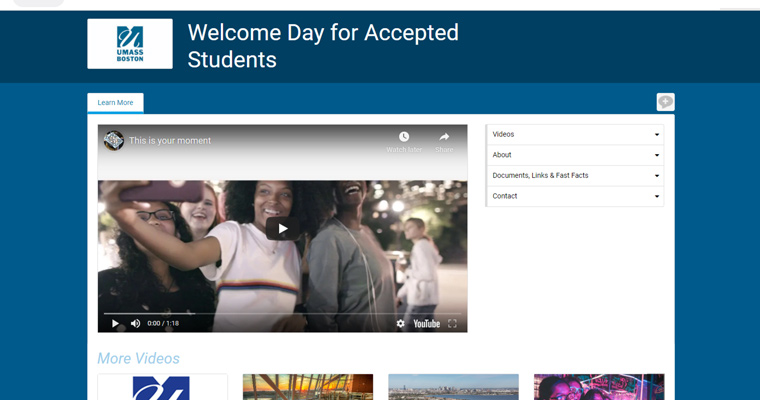 Accepted students used PlatformQ, a live online event management tool, to participate in UMass Boston's Virtual Welcome Day.
" As we look for a silver lining ... I'm just thrilled that our admitted students from all across the country can connect with us. "
From their living rooms, kitchens, bedrooms, and other spots in their homes, the Class of 2024 was able to use PlatformQ, a live online event management tool, to participate in a live student panel and get their questions answered in 12 different chat rooms. They could also watch video content, including a virtual campus tour and a message from Interim Chancellor Katherine Newman.
"I never would have imagined that I was going to be speaking to you over a computer," Newman said. "As we look for the silver lining in this new normal that we're living through I'm just thrilled that our admitted students from all across the country and all around the world are able to connect with us virtually and learn more about this amazing community that is UMass Boston."
Director of Financial Aid Katherine Lynch provided an overview on financial aid and helped guests understand the value of a UMass Boston education and Director of Undergraduate Admissions Corey Ford gave viewers an idea of what they can expect when they arrive on campus this fall.
"The Class of 2024 is large. You are diverse. And, you are incredibly accomplished. We received more than 15,000 undergraduate applications this year -- one of the largest applicant pools in university history. And you're incredibly diverse. UMass Boston was recently ranked by a 24/7 Wall Street poll as the third most diverse campus in the country," Ford said.
Students attending the event appreciated connecting with the UMass Boston community and found the student panel to be the highlight. A prospective student who participated in the event commented, "The students are very welcoming and made me excited about joining the community at UMass Boston."
Next, Enrollment Management will be working with the individual colleges to host virtual events for accepted students during the next few weeks. This will give prospective students and parents the opportunity to dive deeper into the specific majors and better understand the academic experience at UMass Boston.
About UMass Boston
The University of Massachusetts Boston is deeply rooted in the city's history, yet poised to address the challenges of the future. Recognized for innovative research, metropolitan Boston's public university offers its diverse student population both an intimate learning environment and the rich experience of a great American city. UMass Boston's 10 colleges and graduate schools serve 16,000 students while engaging local and global constituents through academic programs, research centers, and public service. To learn more, visit www.umb.edu.