UMass Boston's Women Beacons of Business Program Launches Virtual Book Club
---
Earlier this April, UMass Boston alumnae, College of Management students, and Boston executives took part in the first event of the Women Beacons of Business Program: a virtual book club featuring Sheryl Sandberg's Lean In for Graduates. A featured benefit of the program, the book club allows participants to share thoughts and experiences, and gives students the chance to ask questions and learn from willing mentors.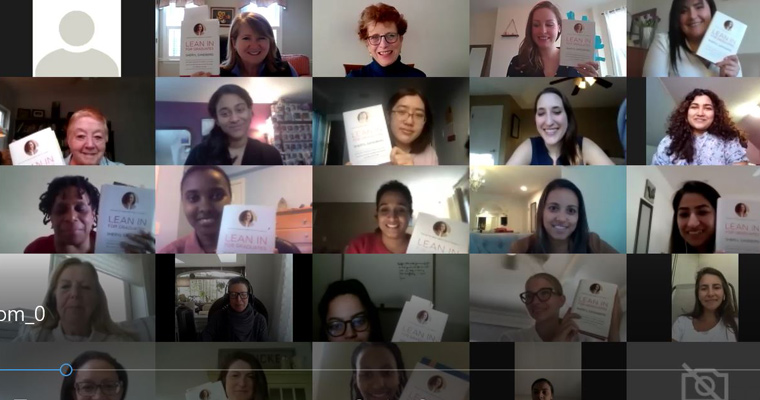 According to Heather Brigham '18 MBA, UMass Boston's director of College Engagement, the program came to be when alumni started expressing interest in supporting or joining a program for women in business. Simultaneously, faculty in the College of Management wanted to offer such a program, one that would connect female students with mentors, helping their confidence and feelings of empowerment in their field.
Alice Boushell, a participant in the book club, is a junior studying management and marketing as part of the 3YD Program. This June, she will work full time as the Director of Media with the North American Hockey League (NAHL) team, the Northeast Generals. After her graduation in 2021, she wants to pursue her MBA while continuing to develop a career in the hockey community. The first book club meeting has left her enthused.
"Working in the sports industry, I often find myself the only woman in the room or one of few. To me, it is important to share conversations and experiences with other women who find themselves in similar situations," Boushell said. "With the Women Beacons of Business group, we are able to have these conversations in a safe environment meant for growth."
Currently, 16 alumnae and friends of the university, and 16 UMass Boston students are part of the book club. Students were chosen based on their engagement with the College of Management. Alumnae and executives were picked to ensure diversity in age, background, and experience.
"I wanted to get involved with Women Beacons of Business because I owe much of my career to the mentorship and connections from my time at UMass Boston," said Whitney Dailey '11 MBA, vice president of marketing, research, and insights at Porter Novelli / Cone. "I hope that I can open the same doors for others through this experience."
Lean in for Graduates was chosen not only because graduation is looming for many book club participants, but also because its themes are helpful to alumnae as well as students.
"Every time I read this book, I come away with another lesson," said Mary Thistle '83, chief of staff at the Bill & Melinda Gates Medical Research Institute and member of the college's advisory board. "Sheryl [Sandberg] created a vehicle for people to safely talk about the gender inequities we face every day. More importantly she provides lots of tools we can use to make the changes needed to equal the playing field."
The second of three book club meetings will take place on April 29, but there will be more ways to get involved in the program in the future. Other featured benefits include speaker series, round table discussions, and access to leadership workshops, conferences, and seminars.
"This group is just one of many ways UMass Boston works to prepare students for the workforce. The UMass Boston Alumni Association played a vital part in creating this group, and we as a whole would like to thank them for that," said Boushell.
DonnaMarie Maguire '03 MS, a senior clinical compliance consultant at Brigham and Women's Hospital and president of the UMass Boston Alumni Association, hopes the Women Beacons of Business Program will open the door for all students across campus.
"There are many ways to help students at UMass Boston and many people love to belong to a book club," she said. "I would like to see UMass Boston book clubs for various majors that will pair alumni with students."
About UMass Boston
The University of Massachusetts Boston is deeply rooted in the city's history, yet poised to address the challenges of the future. Recognized for innovative research, metropolitan Boston's public university offers its diverse student population both an intimate learning environment and the rich experience of a great American city. UMass Boston's colleges and graduate schools serve 16,000 students while engaging local and global constituents through academic programs, research centers, and public service. To learn more, visit www.umb.edu.