UMass Research and Development Expenditures Rise to Record $684 Million
---
06/18/2020
| UMass Office of Communications
Fiscal Year 2019 Research Expenditures Grew by More Than $30 Million Over the Prior Year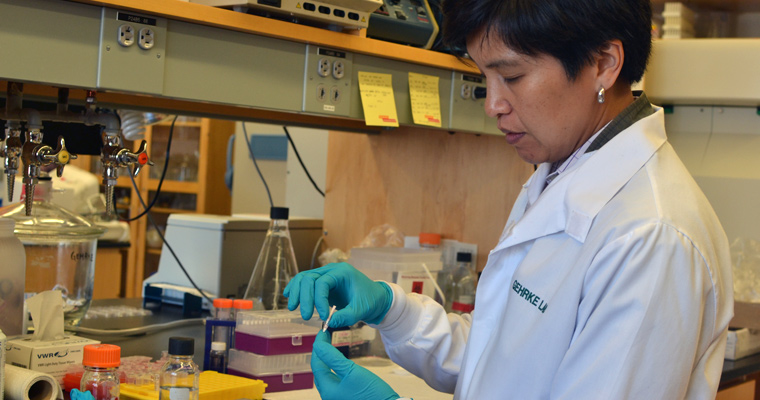 UMass Boston engineering professor Kim Hamad-Schifferli has developed a procedure that could help with COVID-19 diagnostics. Here, she works on a Zika test.
Image By: Colleen Locke
Research expenditures at the University of Massachusetts increased by $33 million in one fiscal year to a record high of $684 million in Fiscal Year 2019. This continued increase reflects the long-term growth of the university's research enterprise, which has grown by 14 percent since FY14 and 40 percent since FY09.
Federal funding remained the largest source of research funding at UMass in FY19, with federally funded research comprising $383 million, or roughly 56 percent of all expenditures. While federal research growth has been relatively steady, growing 6 percent over the past five years, UMass has seen its industry- and nonprofit-sponsored research grow by 43 percent over five years to its current total of $65 million in FY19.
The UMass research enterprise is the fourth-largest among New England universities and third-largest among Massachusetts universities.
In FY19, research expenditures rose at every single UMass campus:
UMass Amherst increased by 5.7% to $223.18 million
UMass Boston increased by 0.9% to $62.02 million
UMass Dartmouth increased by 5.3% to $28.04 million
UMass Lowell increased by 16.2% to $84 million
UMass Medical School increased by 2.7% to $281.51 million
The UMass President's Office, largely through the UMass Donahue Institute, had $4.92 million in research and development expenditures in FY19.
Research at UMass is concentrated in areas that are critical to the Massachusetts economy, with $370 million, or 54.1 percent being conducted in the life sciences in FY19. In addition to the life sciences, UMass is focused on a wide variety of research areas that is aimed at bolstering local, regional, and state-wide industries. Besides life science, these include manufacturing, renewable energy, climate resiliency, coastal preservation, commercial fishing, and national defense.
"As a public land-grant university, UMass has a deeper responsibility to support the Commonwealth, its citizens and its economy," said UMass President Marty Meehan, who was appointed to the Board of Directors of the Association for Public Land-grant Universities (APLU) in November. "A strong and diverse research ecosystem is central to our innovation economy and UMass is positioned to play a leading role in driving our economic recovery."
In addition to pronounced growth in the quantity of overall research, UMass is also seeing significant growth in its intellectual property and technology transfer program. In FY19 alone, UMass, mostly via the Medical School, filed 206 invention disclosures, 203 patent applications, and was issued 73 U.S. patents.
Over the past five years, UMass research has been the driving force behind:
1178 invention disclosures
1088 patent applications
382 issued patents
$323 million in gross licensing revenue
50 new spinoff companies
"The continued success of our intellectual property and commercialization program is a testament to the world-class faculty, researchers, and students that we have at UMass," Meehan said.
Recent research highlights from UMass include:
For the full FY19 UMass research report, visit: umass.info/fy19research-report.