University of Massachusetts Boston Receives First-gen Forward Designation
---
06/22/2020
| Office of Communications
National Honor Recognizes Commitment to First-generation Student Success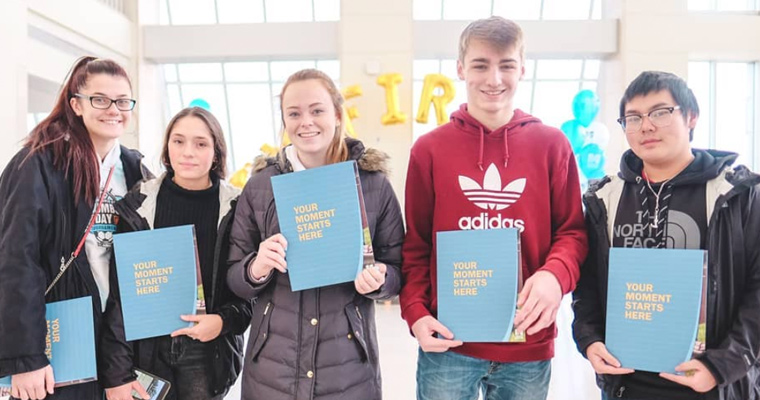 The Center for First-generation Student Success, an initiative of NASPA—Student Affairs Administrators in Higher Education and The Suder Foundation, recently announced their 2020-21 cohort of First-gen Forward Institutions, among them the University of Massachusetts Boston. The First-gen Forward designation recognizes institutions of higher education who have demonstrated a commitment to improving experiences and advancing outcomes of first-generation college students. Selected institutions receive professional development, community-building experiences, and a first look at the center's research and resources.
"First generation students, whose families hail from throughout the Commonwealth and all over the globe are treasured at UMass Boston," noted Interim Chancellor Katherine Newman. "They carry the ambitions of their parents and the respect of their communities with them. We know that this university provides them with a platform for upward mobility and are proud to see them graduate and take their place in the world."
UMass Boston intends to promote first-generation student success by providing resources and support for first-generation students and their families during orientation, identifying and creating new opportunities for mentoring and academic support for first-generation students, committing more resources to first-generation student success in the Residence Halls, developing of a first-year Living Learning Community accessible to students living on and off campus, dedicating staff positions and responsibilities to support first generation- students, sending every accepted first-year student a financial planning worksheet that will help explain how the financial aid they receive will apply to their university bill and show the bottom-line cost to attend UMass Boston, and continuing to seek out financial support for first-generation students.
"Across the 2020-21 First-gen Forward cohort there were themes directly tied to the findings from the First-generation Student Success: A Landscape Analysis of Programs and Services at Four-year Institutions report. We are proud to see how UMass Boston is implementing evidence-based practices, shifting to an institution-wide approach, and breaking down systemic barriers impeding student success," said Dr. Sarah E. Whitley, senior director of the Center for First-generation Student Success.
"UMass Boston is deeply honored by this designation, as it reflects our long standing institutional commitment in serving first-generation students," said Vice Chancellor of Student Affairs Gail DiSabatino. "With over 50% of our student body being First Gens, we eagerly look forward to our learning and growth in the space thanks to NASPA and new collaborations with our peer designee campuses and the center."
As a First-gen Forward Institution, select faculty and staff will be afforded multiple opportunities to engage with peer and aspirational institutions who are also creating environments that improve the experiences and outcomes of first-generation students. Selected institutions will send representatives to the First-gen Forward Workshop to be held in Baltimore in June and will participate in monthly phone calls, virtual professional development, goal setting, blog development, annual reporting, and more. After two successful years in the program, institutions are eligible to apply for the Advisory leadership designation.
"First-gen Forward is an exciting opportunity for UMass Boston to join an elite community of professionals prepared to share evidence-based practices and resources, troubleshoot challenges, generate knowledge, and continue to advance the success of first-generation students across the country. We are excited to see a groundswell of activity from the First-gen Forward cohort and know UMass Boston will be a significant contributor," offered Dr. Kevin Kruger, president and CEO of NASPA.
To learn more about first-generation efforts at UMass Boston, contact Shelby.Harris@umb.edu. To learn more about the Center for First-generation Student Success, visit firstgen.naspa.org.
NASPA—Student Affairs Administrators in Higher Education is the leading association for the advancement, health, and sustainability of the student affairs profession. Its work provides high-quality professional development, advocacy, and research for 15,000 members in all 50 states, 25 countries, and 8 U.S. territories. Visit naspa.org for more information.
The Center for First-generation Student Success is the premier source of evidence-based practices, professional development, and knowledge creation for the higher education community to advance the success of first-generation students. Through four strategic priority areas, the Center drives higher education innovation and advocacy for first-generation student success.