Virtual Chorus Concert Launches Wednesday, May 13
---
05/08/2020
| Bill Doncaster
The UMass Boston Chamber Singers and University Chorus went online this semester, like all courses. But through the magic of virtual meeting and video editing technology, this show will go on.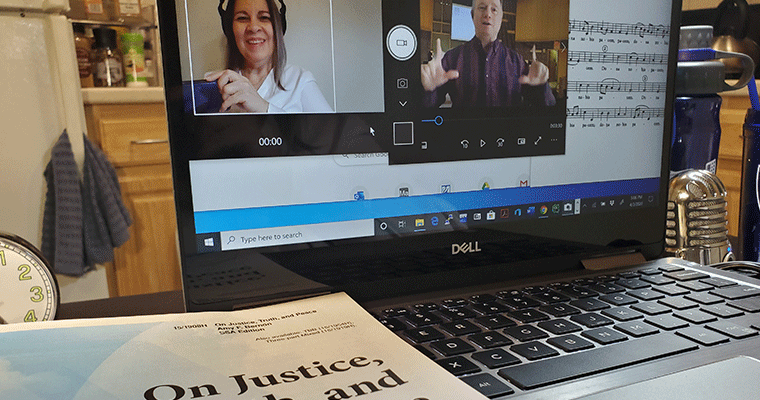 Image By: Donna Kimmel
" ... it's wonderful to be able to make and share music with the Universtiy community... "
Choral Director David Giessow invites all to join the UMass Boston Choruses for a virtual concert, On Justice, Truth, and Peace, appearing on the UMass Boston YouTube Channel on Wednesday, May 13 at noon. Direct link the video his HERE.
"Music has been playing such a big role in all our social distancing, and it's wonderful to be able to make and share music with the university community," Giessow said. "But it was no small endeavor."
"The idea to produce a virtual chorus happened at the beginning of our remote teaching and learning in March. Chorus and chamber singers agreed to continue rehearsing independently and each singer submitted a video of themselves singing their part," Giessow said. He mixed the audio and the Office of Alumni Engagement provided support by connecting him with student assistant Shawn Reardon to combine the videos into a cohesive concert experience.
In all, 48 singers join in the virtual performance, performing works like On Justice, Truth, and Peace by Amy Bernon; The God who gave us life (from The Testament of Freedom) where Randall Thompson set Thomas Jefferson's words to music; and the traditional round Dona Nobis Pacem (Grant Us Peace). Guest performers include pianist Matthew Curtis of Choral Tracks; percussionist Jim Popoulis, the composer of Sililiza; and Dr. Anthony Trecek-King, the conductor and arranger of Woke Up This Morning.
The video will be available on UMass Boston's YouTube Channel HERE beginning Wednesday, May 13, at noon.