Voices Raised Against Racism
---
10/20/2020
| Crystal Valencia
The UMass Boston campus was closed, but that didn't stop dozens of students, faculty, and staff from standing together—to grieve, express their anger, and to be heard.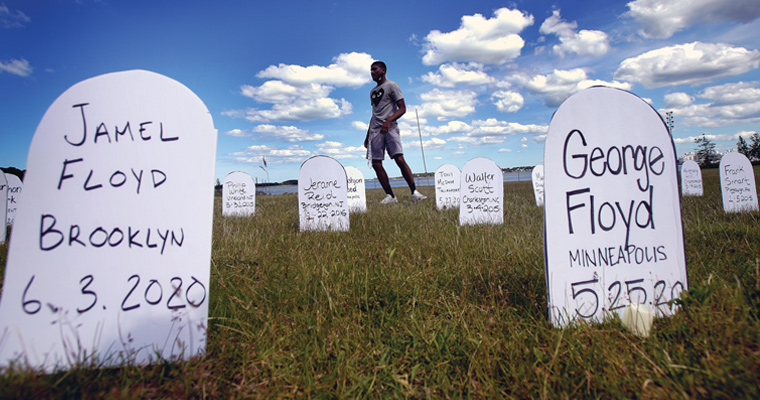 Abdullah Beckett '21, vice president of UMass Boston NAACP, installs names of 109 victims of racism and police brutality as part of a #saymyname memorial ground art installation at UMass Boston on Juneteenth, June 19, 2020.
Image By: Barry Chin/The Boston Globe via Getty Images
The Black Lives Matter movement spurs action, reflection at UMass Boston.
In the days following the death of George Floyd, a Black man killed while in police custody, the UMass Boston community rallied, arriving with face masks and signs and marching through campus to the chant of "Black Lives Matter."
"Like many of you, I am sick and tired of this global conscience epidemic of Black bodies being brutalized economically, socially, physically, and Black murders being normalized," student Celine Voyard '22 said to the crowd during the June 6 protest at the university.
As millions of people across the nation continue to protest against police brutality and call for sweeping reforms to address systemic racism, the UMass Boston community has begun its own dialogue around how the university can begin to eradicate racial injustice on campus and beyond.
From better supporting the recruitment, retention, and academic excellence of Black faculty, staff, and students, to adopting antiracist policies, curriculum, and trainings, the UMass Boston community is taking action and speaking out.
"Across UMass Boston and other campuses, Black students, faculty, and staff must continue to organize, raise their voices, and press the administration to push beyond the boundaries of the 'normal of racism,'" said Quito Swan, director of the Trotter Institute for the Study of Black Culture. "Black representatives should be among the critical architects in crafting any antiracism and restorative justice agenda, but the responsibility of ensuring successful implementation and transformative change rests on individuals of all races."
While UMass Boston is considered the most diverse university in New England, administrators agree that there is more work to be done. As one of his first tasks as chancellor, Marcelo Suárez-Orozco established the position of Special Advisor to the Chancellor for Black Life at UMass Boston. The special advisor will work with campus leadership as they commit to creating new structures and develop new practices "purposefully designed to put UMass Boston at the forefront of excellence, engagement, and relevance on racial justice, equity, diversity, and inclusion," Suárez-Orozco said.
UMass Boston Police Chief Donald Baynard implemented a Police Community Advisory Board to discuss national topics and come together to effect change. Over the summer, a committee of faculty and staff recommended ongoing antiracism and restorative justice training for all senior administrators, faculty, and staff, and first-year, transfer, international, continuing, and graduate students. They are coordinating with the Africana Studies Department and several of the university's centers and institutes to develop the programming.
Faculty across the university have expressed their commitment to furthering their own knowledge of institutional racism and to incorporating antiracist pedagogy into courses in all disciplines. The Sociology Department, which houses the criminology and criminal justice major, has vowed to reflect on the role it is playing in "either normalizing or raising critical awareness about institutional racism in law enforcement and all the other institutions that are the focus of our research and teaching."
Tracy Beard '21, a PhD student in the School for Global Inclusion and Social Development, said the university not only has to look at how it's creating an environment where Black students can thrive but also help non-Black students to understand the history and systemic issues at hand.
"It's not just what happens with the students of color, the Black students who are on campus, but what we're teaching our non-Black students and our other students of color as well," she said during a discussion of how to be antiracist at UMass Boston. "I think the most heartbreaking experience is sitting with other students and having them feel like they don't want to be Black in the institution. Having to also reassure ourselves that you fit here, that you're welcome here . . . There's an issue of belonging."
Nearly two weeks after the UMass Boston demonstration, Abdullah Beckett '21, vice president of UMass Boston's chapter of the NAACP, celebrated Juneteenth, which commemorates the abolition of slavery in the United States, by helping his fellow students place on the Campus Center lawn gravestones with the names of 109 victims of racism.
"We as young people need to use our youth and energy to keep striving, to join organizations fighting for racial equality, to teach it to our parents, to hold our friends and acquaintances accountable for their actions," Beckett said. "We must know that there are many forms of activism. You can be out protesting, or you can make spaces for healing for others. Both are equally important during these times."