Anthony C. Martin Named 2021 Graduate Commencement Speaker
---
05/26/2021
| DeWayne Lehman
Anthony C. Martin, who will graduate with a master of science in Critical Ethnic and Community Studies (CECS), has been named the graduate commencement speaker for 2021, the highest university honor for a graduate student.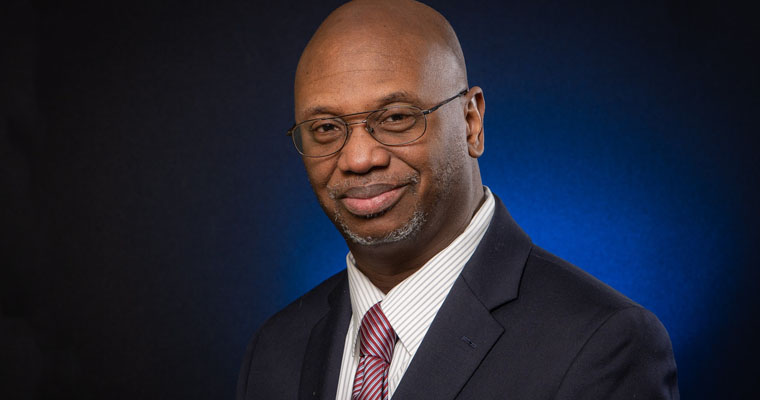 " The confidence expressed by the graduate committee to select me is truly humbling. "
The graduate speaker selection committee highlighted Martin's contributions as a graduate student who has focused on mentoring as a high-impact anti-racist and health promoting practice, positioning UMass Boston students to transform hardships into hard-won knowledge promoting justice.
"Anthony Martin, who graduated from UMB … with Honors in Political Science and Music and is completing his MS in CECS … offer[s] the most consistently outstanding, generous vision of service to the university and the community. With gratitude for what he has received, he is dedicated to giving back," his nomination stated. "Mr. Martin deeply believes, as many of us do at UMB, that educational equity saves lives."
His nomination noted his background of growing up in poverty and as a Black military veteran who took up his undergraduate studies as an adult. His contributions included connecting students on campus in creative ways, including veterans, ethnic minorities, immigrants, those interested in music and creative arts, among others.
"I believe we can improve our position when introduced to positive images, and we are encouraged to interact with each other in a safe space instead of the negative stereotypes that have been forced on our conscience over the last 400 years," Martin said. "It's a tremendous honor. The confidence expressed by the graduate committee to select me is truly humbling."
In CECS, he studied Black mental health, effective mentoring, and models of mental health resilience and recovery that transform hardships into knowledge call "cultural wealth" or "multi-systemic resilience." His focus is on developing an impactful model of mentoring for Black and brown men. He has worked with the National Forum for Black Administrators, NAACP, Joiner Veterans Center, Trotter and Gaston institutes, The Warrior Scholars Project, religious and other organizations to help students connect life experiences with communities of opportunity.
"I hope you, too, will dedicate yourselves to the service of others," Martin implores his classmates in his commencement address. "And I challenge you to continue to shine brightly, as a "beacon, a shining light upon a hill, that lights the way for those following behind."
Following graduation, Martin plans to pursue a PhD in urban leadership and post-secondary education.