Assistant Professor of English Receives Manning Prize for Excellence in Teaching
---
06/11/2021
| Danielle Bilotta
Assistant Professor of English Lauren Bowen has been named UMass Boston's recipient of the 2021 Manning Prize for Excellence in Teaching.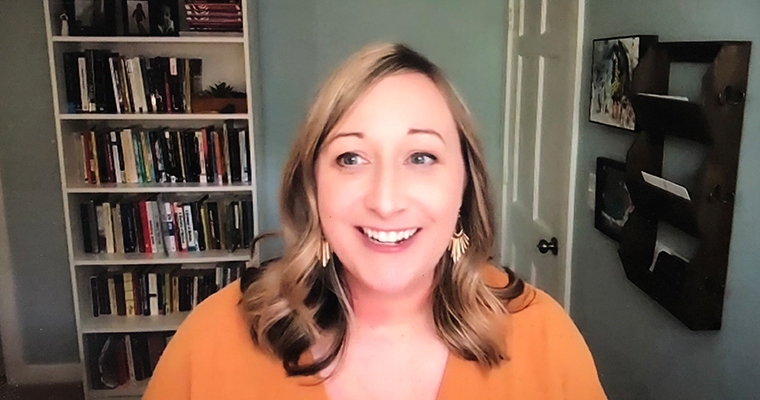 Assistant Professor of English Lauren Bowen
The Manning Prize, established by UMass Lowell alumni Rob and Donna Manning, is awarded to faculty members from every UMass campus who demonstrate excellence in teaching along with exemplary dedication to students and their campus community.
Bowen, who joined the university in 2015, also directs the Composition Program, in which 65 instructors teach first-year writing to more than 4,000 students each year. Under her leadership, the program has developed a research-informed writing curriculum to develop postsecondary writers' flexible, adaptable writing knowledge and practices.
During a special Zoom ceremony to honor the Manning Prize recipients, Bowen recognized her colleagues at UMass Boston and gave a special thank you to her fellow Composition Program instructors for their dedication and creativity.
"I'm fortunate to work alongside many colleagues at UMass Boston who set high bars for themselves and strive every day to be better teachers by enacting the practices of inquiry, of mentorship, of listening, and of inter-cultural communication," she said.
The Manning Prize recognizes the exceptional contributions of a junior faculty member who recently completed the tenure review process. Each faculty member will receive $10,000 awards.
"I believe that all problems in life, no matter what they are, can be solved through higher education. This award is a way for us to give back and to recognize the craft that you all have, which is a very, very special skill," Manning said. "It is extraordinarily difficult to connect with students and to teach in this remote world that we're in in the moment. The fact that you've been able to continue to impact your students in this remote manner is really inspiring."
Besides her work in the English Department, Bowen also teaches three volunteer courses for the Osher Lifelong Learning Institute. She encourages students at all levels to become researchers of writing and to "explore what writing is, what it does, how it is learned, and what it can do in the world."
"I have come to know Professor Bowen as a passionate educator. She is passionate about her students, passionate about her subject area, and passionate about her teaching," Chancellor Marcelo Suárez-Orozco said. "Clearly in sharing the examples of Dr. Bowen's work, it is most apparent that she is extremely deserving of this extraordinary award, and she represents and embodies in the ethos and eidos of her practice what it means to be an outstanding faculty member."
Bowen said she was deeply honored and grateful for the recognition but that it felt surreal to win a teaching prize "in a year that has been an enormous test for educators when at times it feels like teaching is like unicycling in quicksand while juggling."
"From what I've seen this year, I don't think it can be overstated, teachers and students have worked incredibly hard to build meaningful connections during a time when for many reasons, we've been compelled to distance ourselves from each other," Bowen said.
"I would like to acknowledge all public educators from pre-school to graduate school at UMass and beyond whose labor provides a much-needed source of stability, of belonging, and of healing in students' lives. It's my sincerest hope that one of the lessons we all take away from this academic year is about how much depends on the labors and talents of public educators and that all deserve to be celebrated and recognized as I and my fellow honorees are today."
Other Manning awardees include Anne F. Broadbridge, a professor of history and director of the program in Middle Eastern studies at UMass Amherst; Kiley Medeiros, a clinical assistant professor in nursing at UMass Dartmouth; Stacy Agee Szczesiul, an associate professor of education at UMass Lowell; and Frank J. Domino, a professor of family medicine and community health at UMass Medical School.
"I speak for all of us when I say that we are inspired every day by the connections between our faculty and the students," UMass President Marty Meehan said. "They're recognized globally for their innovation, their impact, and research. But equally as important as their contributions of discovery and advancement of knowledge is their day-to-day impact on our students. Teaching and mentorship are powerful components of the role of faculty and these incredible faculty members harness talent, curiosity and the ambition to create the leaders of tomorrow."