Biology Major Alexis Perry Named "29 Who Shine" Award Winner
---
05/13/2021
| Office of Communications
Alexis Perry '21, an Honors College student majoring in biology, has been selected as one of the "29 Who Shine" by the Massachusetts Department of Higher Education.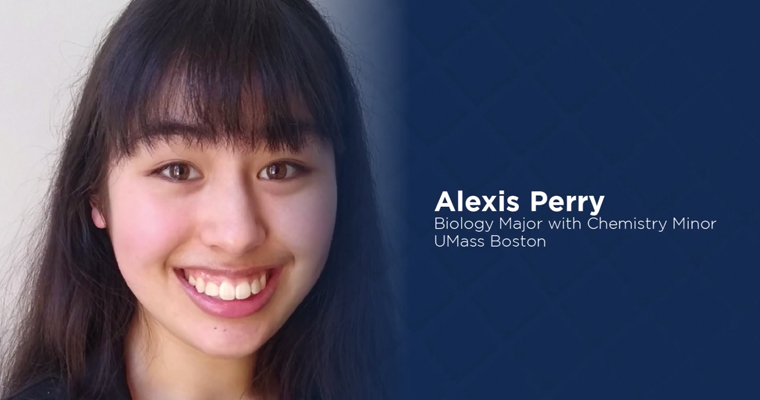 The 29 Who Shine is a commencement season awards program that recognizes outstanding student graduates from each of the Commonwealth's public higher education institutions. Perry was honored by Governor Charlie Baker during a virtual ceremony on YouTube on Thursday, May 13.
"When I heard that I was chosen to receive the award, I felt so honored. I was also grateful for all the people and experiences I encountered at UMass Boston that have allowed me to get to this point and receive such an award," she said. "It was through these opportunities that I was able to grow to become the person I am today. They helped focus my career goals, and empowered me to hopefully make a difference by providing service to others."
Perry, who holds a 4.0 grade point average, was a peer mentor for the College of Science and Mathematics' Freshman Success Community.
She has worked with the Rister Lab on two projects that examine the Drosophila (fruit fly) eye, which have possible applications for treating human diseases. She was nominated for the prestigious Barry Goldwater Scholarship for her research identifying novel proteins that slow down the deterioration of photoreceptor cells and novel proteins that serve as tumor suppressors, which could improve our understanding of human cancers. She plans to become a physician scientist with a career involving both clinical care and biomedical research.
"Working in the lab has made me realize what further purpose and medical applications my research could have," Perry said. "I hope to continue to pursue my fascination with science and to apply research findings to real-world problems," she said.
Perry worked as a home health aide for Visiting Angels, providing care and support to hospice patients and their families. She also served as a job coach at the ARC of Greater Plymouth, helping individuals with disabilities become competitive applicants for jobs. Adding to her extraordinary record of service, Perry ran a music program—through Hingham Active Day—for individuals with dementia and Alzheimer's to enhance cognitive skills, stimulate brain activity, enhance motor coordination.
"Ten years from now, the letter grades of the '29 Who Shine' won't matter. What we will remember is their commitment to their communities in a time of crisis," said Governor Charlie Baker. "Our public colleges and universities educate homegrown Massachusetts natives – people who are here to learn, and here to stay. They have shown how much they care about where they come from, how much they care about us, and how much they will contribute to the civic and economic future of our Commonwealth."
All student honorees' photos and bios are available on the Department of Higher Education web site here.