Celebrating Service and Sacrifice: UMass Boston Honors Its Veterans
---
11/11/2021
| Gray Milkowski
On the eve of Veterans Day, the UMass Boston community came together to honor veterans, past and present, and reflect on the meaning of their service and sacrifice at a Celebration of Service. The annual event is put on by Enrollment Management, the William Joiner Institute, and the Student Veterans Center.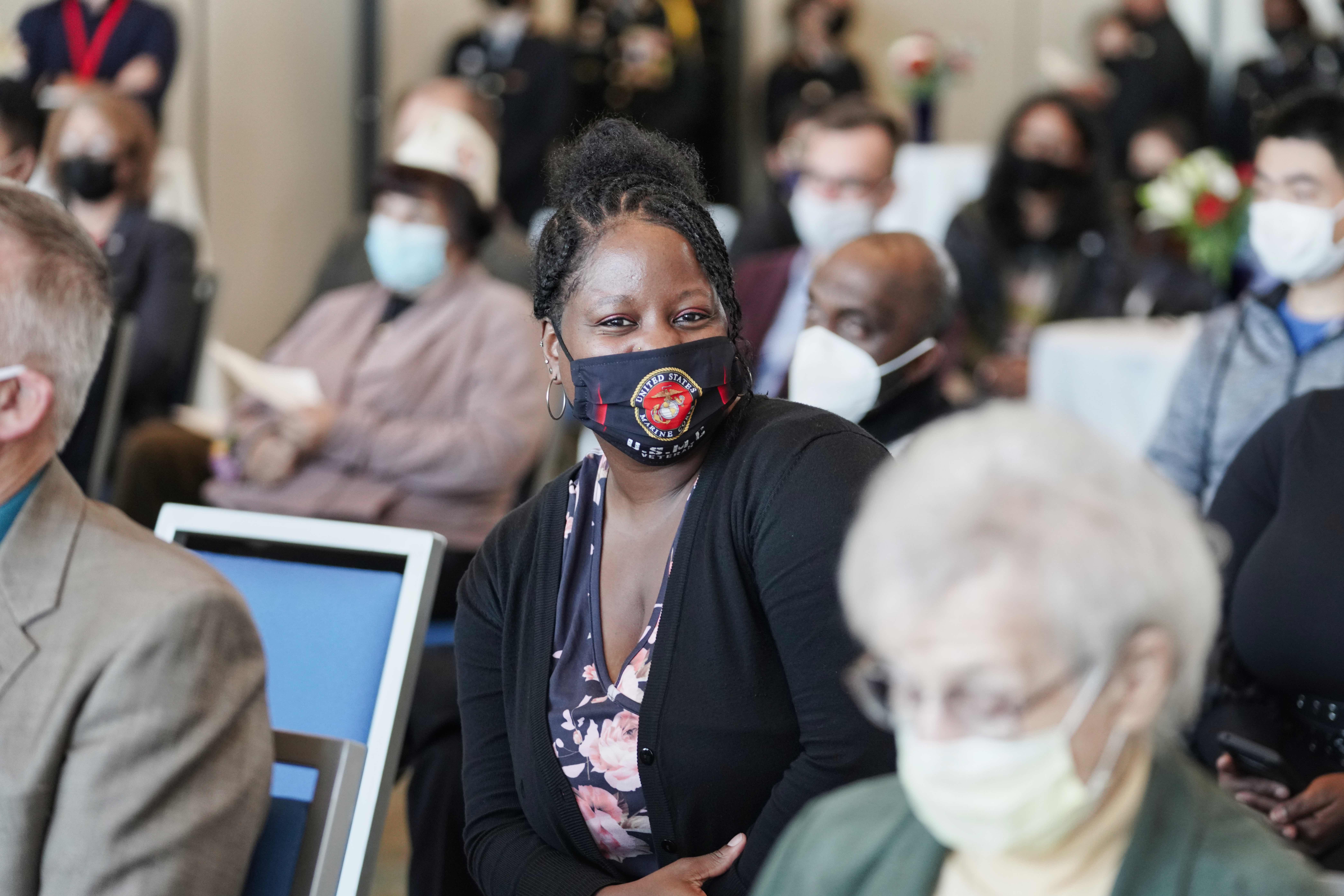 Students, staff, faculty, administrators, and service members past and present joined the Veteran's Day celebration in the Campus Center.
Image By: Janina Seibel
A crowd of faculty, staff, students, siblings, parents, alumni, administrators, and ROTC members from around Dorchester and South Boston packed the room to hear from distinguished servicemembers and watch several of their brothers and sisters in uniform be recognized for outstanding service.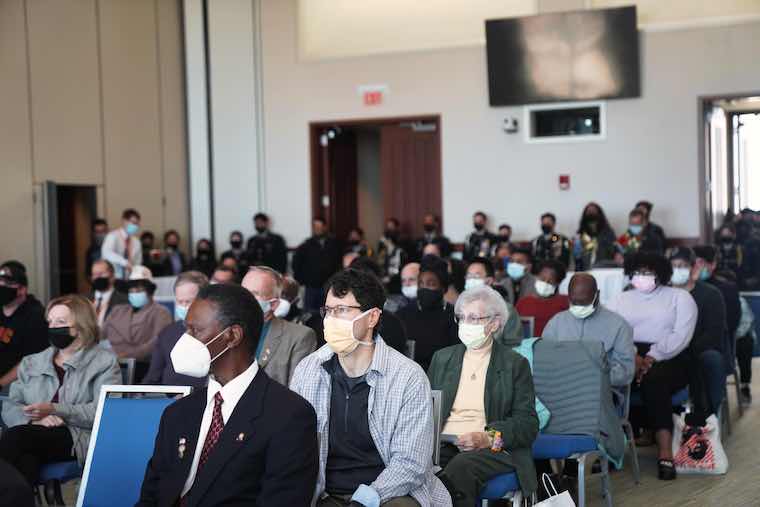 People from around UMass Boston and ROTC cadets from South Boston and Dorchester filled the Campus Center ballroom. Photo by Janina Seibel.
Kenny Derivial '19, who served in the Marine Corps from 2014 to 2017, earned his bachelor's from UMass Boston, and is now studying towards his master's degree, is one of the more than 600 veterans enrolled at UMass Boston. He spoke about what it meant to him to see veterans be recognized in such a prominent way.
"It's a good opportunity to have veterans be recognized for their sacrifices and leadership," he said. "Overall it's only one percent of the population that gets to serve in the U.S. military, so it's ... a good thing to be recognized for the service that they've devoted to the country. It's a humbling experience."
In opening remarks to the room, Chancellor Marcelo Suárez-Orozco spoke pridefully about those who have served in the U.S. and around the world.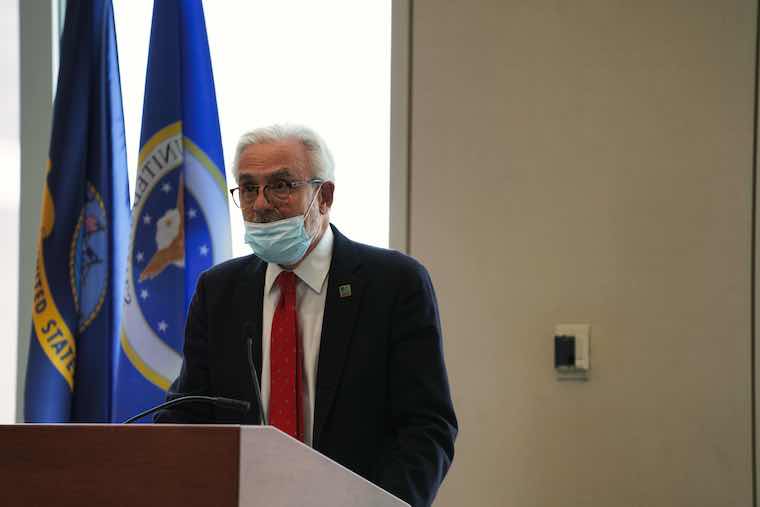 Chancellor Marcelo Suárez-Orozco speaks at the University's Veteran's Day celebration. Photo by Janina Seibel.
"In an unbroken narrative of duty in the U.S. Armed Forces, Beacons have answered the call through their valor, love of country, and selflessness in the name of the greater good," the chancellor said.
"From the Vietnam War to Operation Enduring Freedom, to humanitarian relief, it is impossible to reflect on UMass Boston's history and not grasp the immensity of the contributions our veterans have made. Whether to protect the values and virtues we cherish, defend those unable to defend themselves, or advance peace and justice in the world, UMass Boston veterans have distinguished themselves and made us proud."
The room then looked on as servicemembers honored UMass Boston's Gold Star families, whose loved ones made the ultimate sacrifice. Each family member was pinned with a yellow boutonniere or corsage, symbolic of their sacrifice.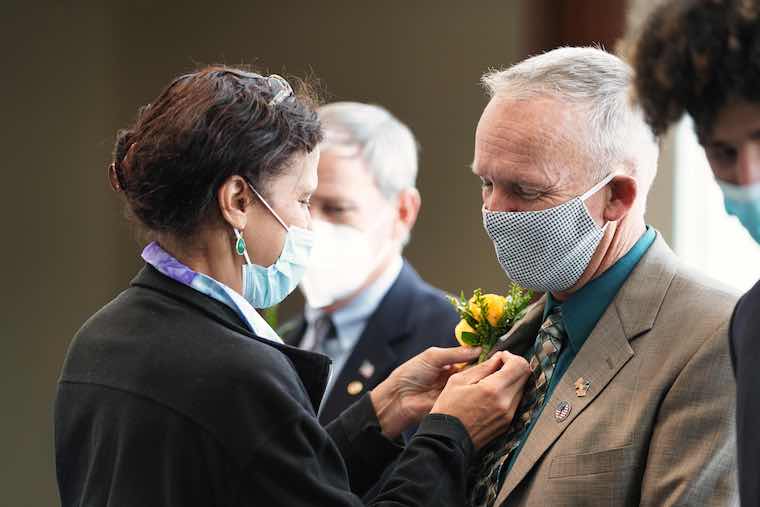 A Gold Star father receives a pin, a symbol of his family's sacrifice. Photo by Janina Seibel.
Muhaned Ghabour '22, whose brother passed away last year during a peacekeeping mission in Egypt, said the ceremony meant a lot, since it reminded him of just how proud he is of his brother.
"He loved what he did," Ghabour said. "He was part of something that was bigger than himself, and I wouldn't be who I am today without him. He taught me so much. He was such a caring person."
Ghabour received the Arredondo Brothers' Memorial Scholarship, one of several scholarships given to current students who served or lost a loved one in the line of duty.
Attendees also heard from Colonel Cheryl Lussier Poppe, the secretary of the Massachusetts Department of Veterans' Services and the afternoon's keynote speaker.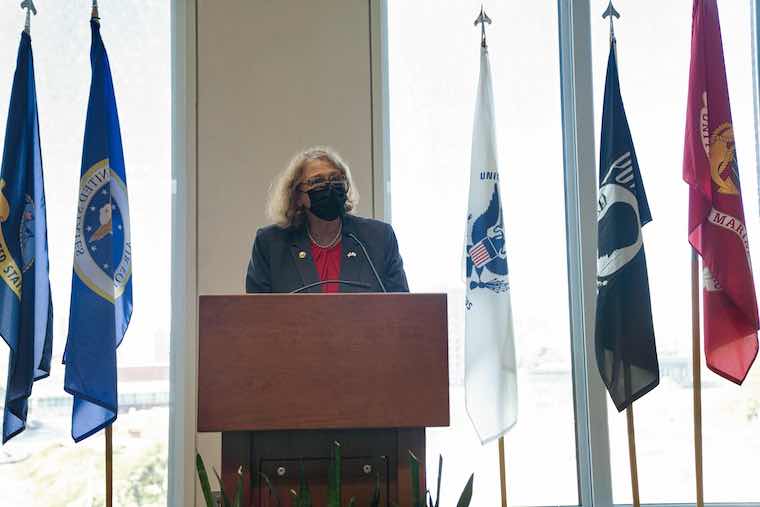 Secretary Poppe speaks at Wednesday's celebration. Photo by Janina Seibel.
She began with the question, "Have you or a loved one ever served in the military?"
It's a simple question, but one that her department wants to ask more often, since the bond of service goes beyond familial ties. By asking the question, she hopes that more people will identify themselves and be connected with services and support systems available to them. She also emphasized her department's initiatives to educate civilians about military culture to make it more comfortable for veterans to assimilate.
"Not everyone understands your lingo, your language, how you approach an interview," Poppe said, giving examples of challenges veterans face after their service.
Poppe thanked the university for its history of support for the veterans on Columbia Point.
"I'm very grateful for the fact that UMass Boston has such a large veteran community, and that it's so well supported by the school," she said. "Sometimes it's not easy trying to come back from service and then getting back into that whole routine of going to school again."
The ceremony wrapped up with four awards being given to UMass Boston affiliates who were exemplary servants of both their country and their university.
Thomas Kane, the former director of the Joiner Institute, was awarded the Theodore Parker Award for Outstanding Service to the Veteran Community; Anthony Martin '19 M.S. '21 was awarded the William Joiner Award for Excellence; Susan Bartzak-Graham, director of student support services, was awarded the Appreciation Award; and Martha B. Kelly-Challas '03 was awarded the Distinguished Alumni Award.
Speaking to the crowd after receiving the award, Kelly-Challas, a retired master sergeant with the U.S. Army Reserve, said, "I am very honored and humbled to receive this honorable mention. Thank you to the chancellor, and my fellow soldiers, and I wish you a peaceful and enjoyable Veterans Day."