Center for Women in Politics and Public Policy to Celebrate the 100th Birthday of Women's Leadership Advocate Betty Taymor
---
03/17/2021
| Center for Women in Politics and Public Policy
Gloria Steinem, Ayanna Pressley, Barbara Lee, and Hubie Jones Among the Many to Sing Her Praises and Accolades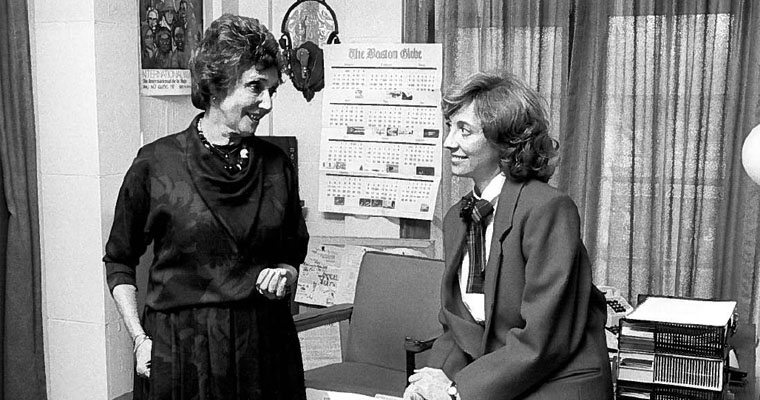 Betty Taymor (L) with Elizabeth Sherman, the founding director of the Center for Women in Politics and Public Policy
" The fact that we are celebrating Betty during Women's History Month when we celebrate our sheroes is more than meaningful. "
Reaching the age of 100 is always a notable accomplishment worth celebrating, but Betty Taymor's pioneering life's work of empowering women—a gift that keeps on giving—also deserves celebration.
Local and national political luminaries, many of whom have been inspired by and benefitted from her vision and promotion of gender equality, are coming together later this month to honor Betty for her invaluable contributions, guidance, mentorship, and cultivation of women's leadership.
Betty Taymor's 100th Birthday Celebration will take place virtually via Zoom on Sunday, March 21 from 2 to 3 p.m. Organized by the Center for Women in Politics and Public Policy (CWPPP) at UMass Boston, the event is free and open to the public (register here).
The event will highlight Betty's inspirational leadership with testimonies from generations of prominent leaders including iconic feminist figure Gloria Steinem, members of the Massachusetts Congressional delegation, and state and local leaders—past and present—as well as admirers who were colleagues, friends, mentees, supporters, and students who acknowledge with gratitude her strong role in advancing equity and creating spaces at decision-making tables for women.
"The fact that we are celebrating Betty during Women's History Month when we celebrate our sheroes is more than meaningful," said CWPPP Director Dr. Laurie Nsiah-Jefferson.
Betty Taymor: A Lasting Legacy of Advancing Women's Leadership
Back in the mid 1960s, Betty found herself compelled to act as she observed that women were glaringly missing from local and national halls of power as elected officials and as advocates. She understood that without women's voices, critical perspectives were missing from policy decisions. Reflecting back, she explains how pleased she is that times have changed and more progress is being made every day.
"Back in the day, the few women who were successful in the political arena often climbed the ladder alone," she said. "Today, women are climbing together and not just ladders, but mountains, breaking more and more barriers along the way. I am thrilled by what I see and humbled to have contributed in some small way to that progress."
Betty believed an important ingredient in promoting political leadership and equity for women was education. In 1968, she founded the Program for Women in Politics and Government, a graduate certificate program initially housed at Simmons College and later at Boston College.
As the program grew, it relocated to UMass Boston under the leadership of Dr. Sherry Penney, the first woman to lead the campus as a permanent chancellor.
"The move to UMass Boston was aligned to the mission of the public university and designed to increase the program's diversity," explains Nsiah-Jefferson, CWPPP's current and first African-American director.
The Center for Women in Politics and Public Policy (CWPPP) was established at UMass Boston with support from the Massachusetts Caucus of Women Legislators. Based in UMass Boston's nationally renowned McCormack Graduate School of Policy and Global Studies, CWPPP is known for its intersectional, anti-racist research and policy analysis and impactful convenings on policy related to gender, race, and electoral representation. Now called the Gender, Leadership, and Public Policy (GLPP) graduate certificate, CWPPP's award winning program that Betty founded counts over 900 alumnae who have gone on to become accomplished leaders in government and the nonprofit sector. GLPP graduates are particularly recognized for their commitment to diversity and inclusivity.
Event Aims to Raise $100K for the Betty Taymor Scholarship Fund and to Support CWPPP's Work
Recognizing the high cost of education, especially for low-income women, Betty established the Betty Taymor Scholarship Fund that has enabled hundreds of talented students locally, nationally, and internationally with limited finances to attend UMass Boston. An important goal of this celebration is to build on the existing endowment fund to allow more students to gain access to the program and to support the cutting-edge work of the center.
Chanel Fields, a recipient of a Betty Taymor Scholarship and a 2019 GLPP alumna explains the program's impact: "The Betty Taymor scholarship gave me the opportunity to focus on my studies in the male dominated field of public policy and has allowed me to unapologetically pull up a chair at tables and spaces that women of color were never invited to."
"The response to Betty's 100th birthday party has been tremendous," says Nsiah-Jefferson. "Many people want to say thank you to Betty for her foresight and guidance in establishing a program that has helped open many doors for women. We are very grateful for the generous gifts we have received in Betty's honor that will strengthen the work of the center and enable us to grant more low-income students needed scholarships to continue their graduate education."
Nsiah-Jefferson notes that CWPPP is aiming to raise $100,000 to add to the endowed Betty Taymor Scholarship Fund and strengthen CWPPP's work of advancing diverse women's political leadership. Nsiah-Jefferson also commends the over 150 influential and prominent business, political, education, community, and advocacy leaders in Massachusetts and across the country who have volunteered to be part of the event's honorary host committee.
"Betty Taymor is a giant among leaders for women's rights and empowerment," says David Cash, dean of the McCormack Graduate School. "We all, women and men, stand on her shoulders so we can see a better future of greater equity where our democratic ideals match our political reality."
Those interested in attending the virtual centennial celebration for Betty Taymor or in making a gift in her honor can visit the UMass Boston event page for more information.