Chemistry Professor Niya Sa Receives CAREER Grant to Study Beyond Lithium Ion Rechargeable Batteries
---
03/23/2021
| Danielle Bilotta
Assistant Professor of Chemistry Niya Sa has been awarded the Faculty Early Career Development, or CAREER award, from the National Science Foundation (NSF) to understand the interfacial challenges of new battery materials, which is closely related to the development of next generation rechargeable battery technology.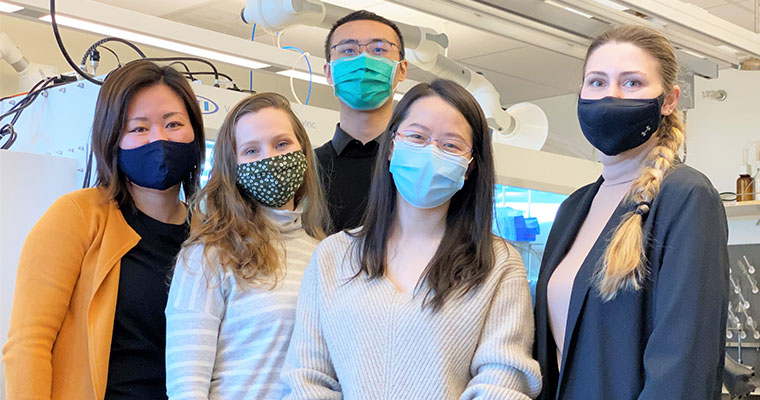 Assistant Professor of Chemistry Niya Sa with her research team.
" I'm excited that the research we carry out in the lab can potentially make a difference for our society and our environment. "
The Faculty Early Career Development (CAREER) Program is an NSF-wide activity that offers the National Science Foundation's most prestigious awards in support of early-career faculty who have the potential to serve as academic role models in research and education and to lead advances in the mission of their department or organization.
Sa will receive $589,037 over five years, starting in June 2021, for her proposal, "CAREER: Probing Interfaces in Energy Storage Materials Using Dynamic Impedance Spectroscopy and Multiharmonic Electrochemical Quartz Crystal Microbalance Dissipation." She said it's a great honor to receive such a prestigious award and for her work to be recognized by the science community.
"We hope to offer new design strategies for developing stable solid/liquid interfaces to improve the performance of the beyond lithium ion battery technology," she said. "The materials we proposed to study are new systems that are different from a traditional lithium ion battery design."
To push forward rechargeable battery technology, Sa and her team need to fundamentally understand the interfacial evolution of the rechargeable ion battery. To achieve this goal, Sa said the research team aims to develop and apply advanced electroanalytical tools to probe the interfacial evolution for the next generation battery materials, to better understand the limiting factors and offer possible solutions to develop the beyond lithium ion technologies.
"The bigger picture is that we want to build rechargeable ion batteries that are low cost and could cycle with longer time and more stability," she said. "From an analytical chemistry point of view, we want to explore fundamental mechanisms that determine the stability of the battery interface. I am convinced that in order to tackle the global energy crisis and make electric vehicle more affordable and acceptable, we need novel interfacial designs, and new concepts and materials."
Sa said this grant lets her team bring on graduate students and scientists who are passionate about a career in crosscutting, interdisciplinary science in Analytical Chemistry and Material Engineering. She said this grant will also give undergraduate students, especially those from underrepresented communities, an opportunity to see what scientists are doing "in the real world" and whether it's something they are interested in working on for their own career.
"We know we've got to deliver," Sa said. "This is taxpayers' money, and we want to spend every dollar fully and spend it correctly to make sure what we do is important, and our money is spent wisely, and that science and technology is pushed forward."
The COVID-19 pandemic meant Sa's research team had to adjust their work to abide by campus restrictions. While working remotely, their team kept making progress and have recently published two research papers with their previous results and with new safety guidelines, they've started working in the lab on rotating schedules in order to continue towards their research goals.
Along with the research work, Sa believes advocating for diversity and inclusion with women scientists and engineers in the STEM workforce is critical. Sa said that because women are less visible in STEM, her research proposals include advancing women scholars in STEM within underrepresented groups.
Sa's grant will be the first CAREER award for the chemistry department in the last 40 years and Sa said the NSF grant will help people recognize the quality of research happening at the UMass Boston.
"It makes our university stand out," Sa said. "I'm excited that the research we carry out in the lab can potentially make a difference for our society and our environment."