Church Congregation Creates New Scholarship Fund at UMass Boston
---
05/06/2021
| Office of Communications
$456K Commitment Honors Former Philosophy Professor Klein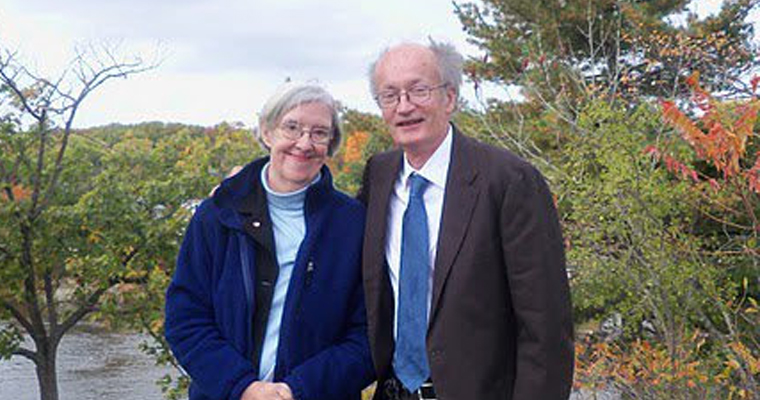 Rev. Dr. Theodore "Ted" Klein and his wife Mary Kay.
" In remembering all that Reverend Klein has done, there is no school in Boston that represents who he was as much as UMass Boston. "
The Church on the Hill on Bowdoin Street in Boston's Beacon Hill neighborhood has committed to a $456,000 gift over five years to UMass Boston's Philosophy Department in honor of a former member and pastor, the Rev. Dr. Theodore "Ted" Klein. Dr. Klein passed away in August at the age of 79, shortly after retiring as a faculty member in the Philosophy Department, where he taught for three decades. He leaves behind a loving family and adoring communities at both Church on the Hill and UMass Boston.
The newly established Rev. Dr. J. Theodore Klein Scholarship Fund at UMass Boston will provide a scholarship annually to one or more students with financial need studying ethics or philosophy.
"Your endowed scholarship is a tremendous act of generosity that will continue Rev. Dr. Klein's educational legacy," Chancellor Marcelo Suárez-Orozco wrote to Rev. Kevin Baxter, who guided the founding of the fund. "As our largest scholarship for philosophy students, the Dr. Rev. J. Theodore Klein Scholarship will help our students arrive more quickly at their dreams by offering the resources they need to excel."
As an educator, Dr. Klein gave many "brown bag" talks in the department, as well as presentations to Philosophy Club students. He also published several books and papers on the ethics of care, education, service, social justice, and moral philosophy.
In addition to serving on the faculty at UMass Boston and other area colleges, Dr. Klein served in various capacities over the past 20 years at the Church on the Hill, known formally as the Boston Society of the New Jerusalem (Swedenborgian).
He shared his passion for philosophical debate with his fellow parishioners, who reveled in hearing about Dr. Klein's students and their diverse backgrounds. He was also a talented photographer who enjoyed capturing images of Boston on his early morning commutes to campus.
"Colleagues described his talks as 'lucid, perfectly insightful, and extremely interesting' and summarized his personality as being [one of] the 'sweetest, kindest, gentlest individuals whom I ever knew,'" Rev. Baxter, pastor of Church on the Hill, said in a eulogy for Dr. Klein. "The ethics of care was clearly at the center of his philosophical focus…his impact on students and faculty was such that, his ideas will reverberate forever and ever.'"
The Church had, for years, made private scholarships available to local students who had great ambition but lacked financial resources for college, but found it was a challenging process. By creating the Klein Scholarship program at UMass Boston, the Church has no question that their generosity will improve the lives of diverse, driven, and curious students.
"In remembering all that Reverend Klein has done, there is no school in Boston that represents who he was as much as UMass Boston… when you look at the issues of social justice that surround education… UMass Boston is a lighthouse…Perfect time, perfect moment, perfect place," Reverend Baxter shared when expressing why this scholarship was so important to his congregation.
Agreeing, and sharing her own perspective, Dr. Klein's wife, Mary Kay, shared, "The scholarships that Ted received going through his education made a big difference for him. He never would have been ordained or received his PhD without them. He definitely saw the importance of UMass Boston as an institution in the city of Boston… he was a very compassionate and caring person. I think he tried to embody what he taught, and he did."