Director of the UCLA Pritzker Center Delivers Keynote at the 2021 Fall Convocation
---
09/24/2021
| Danielle Bilotta
Dr. Tyrone C. Howard, the Pritzker Family Endowed Chair in the School of Education and Information Studies at UCLA delivered the keynote address at the 2021 Fall Convocation, calling for concerted efforts to combat racial inequality and promote justice.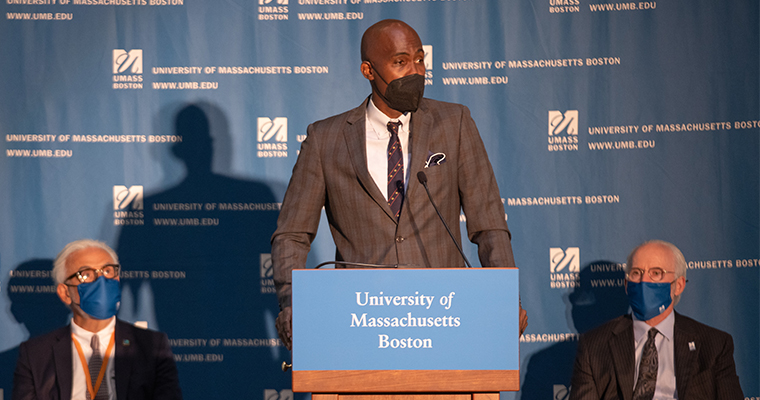 Calls for Action on Justice and Inequality
"UMass Boston, you are the most diverse public institution here in the New England area. You are the mirror into our future. You are the working class. You are the daughters and sons of immigrants. You represent Americans in so many ways," he said. "I am asking you in this moment to think big. To act big. To walk big. To dream big. And to hope big."
Dr. Howard is the director of the UCLA Pritzker Center for Strengthening Children & Families, the UCLA Black Male Institute, and the UCLA Center for the Transformation of Schools. While addressing the UMass Boston community, he spoke about race, education, democracy, radical realism and radical hope, and the lessons his father taught him.
"My father talked about education as a way to combat and eradicate racism. He said education mattered. It's something that no one can ever take away from you. He said it was a tool to fight discrimination and prejudice" he said. "He also talked about how education could bring you the four-letter word called hope."
In his introduction, Chancellor Marcelo Suárez-Orozco shared that during the past five years, Dr. Howard has been listed by Education Week as one of the most influential scholars in the nation informing educational policy, practice, and reform.
Dr. Howard's research examines race, culture, and educational equity. A native and former classroom teacher from Compton, California, Dr. Howard was named the recipient of the 2015 UCLA Distinguished Teaching Awards, which is the university's highest award for teaching excellence. In his address, Dr. Howard talked about the impact of racial and wealth inequality and the importance of "keeping your mind" while pursuing an education in a world where racial segregation is still as rampant as it was 60 years ago.
"In a democratic society, how can we say that we are beacons of justice and equality when we recognize that there are over 40 million people in our country that are living in poverty," he said. "We have to do better. We must do better."
After sharing the realities many disenfranchised communities face today, Dr. Howard urged the audience to be beacons of democracy by recognizing we share more in common than we believe and by creating a global community centered on love, justice, hope, and healing.
"What we need now is hope. But we don't need just simple hope. We don't need just gradual hope. Or progressive hope," he said. "I maintain that what we need in this moment is what I refer to as radical hope. Radical hope is about a belief in our fundamental collaborative humanity. Our ability to transform our collective way of being to prioritize the most disadvantaged amongst us."
Dr. Howard emphasized that radical hope requires bold and fierce leadership by not being afraid to engage in courageous conversations or taking an unpopular stance in the name of righteousness and making difficult decisions in the name of what's best for the common good.
"If we are committed to radical hope, we have to eliminate hate wherever we see it. We have to speak out against any legislative action that undermines our democracy," he said. "Radical hope is about eliminating indifference."