From Beaconville to Tokyo: UMass Boston Track Alum Wadeline Jonathas to Compete In 2021 Olympic Games
---
It seems like yesterday when then-freshman Wadeline Jonathas first stepped into the track and field office at UMass Boston. Little did anyone know at the time, just five years later, her meteoric rise would reach unprecedented heights.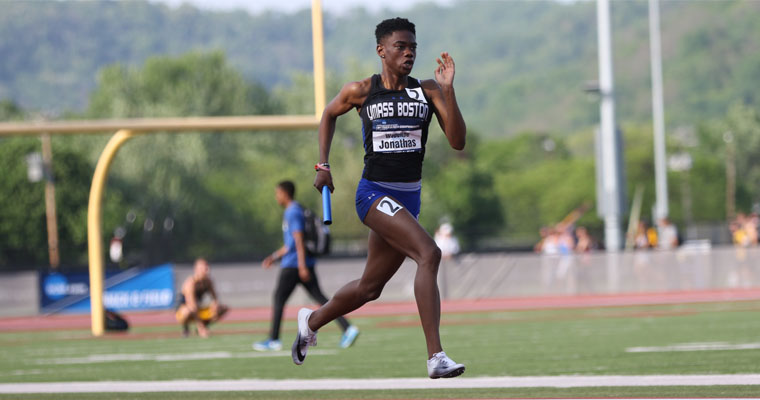 " We're extremely proud of Wade, what she accomplished here... and most importantly how she carries herself with dignity and grace. "
On June 19, just after 10 p.m. EST, Jonathas sprinted her way to a spot in the 2021 Tokyo Olympics as a member of Team USA.
"We are extremely proud of Wade, what she accomplished here at UMass Boston, making the Olympic Team and most importantly how she carries herself with dignity and grace," said Interim Director of Athletics Darlene Gordon. "Much success in Tokyo...Go Beacon!"
In her two years studying and competing at UMass Boston, Jonathas, who hails from Gonaïves, Haiti, wasted little time becoming one of the most dominant track athletes in the history of Division III. She became a nine-time individual national champion, a 13-time All-American, and led the Beacons to an indoor and outdoor national track and field championship in 2018.
She earned enough points on her own at the 2018 NCAA indoor meet to secure the team championship for the Beacons.
Jonathas also competed in Division I as a junior at the University of South Carolina. In her lone year with the Lady Gamecocks, she was a national champion in the indoor 4x4 and the outdoor 400, a three-time All-American, and won both the 4x2 and 4x4 at the historic Penn Relays. She also was a two-time sliver medalist at the Southern Eastern Conference Championship meets. Facing some of the top sprinters in the country, and with her unmatched work ethic, Jonathas caught the attention of scouts and sponsors from across the globe.
Recently, Jonathas has traveled the world competing against the best-of-the-best. Her hard work and determination would pay off as she qualified for the U.S. Olympic Team trials. Competing at one of the most impressive track facilities on the planet, Tracktown USA, Jonathas showed the world what she was made of.
Like a seasoned veteran, Jonathas outdid herself in each of the two preliminary meets. Then on Sunday evening, Jonathas cemented her place as one of the best in the world. With a third-place finish and a time of 50.03 seconds, Jonathas secured her trip to Tokyo, where she will proudly represent USA.
Jonathas, who stands on a platform that only a few will ever reach in their lifetime, has forever left her mark on Beaconville not just by her unmatched talent, but with her quiet, infectious smile and her unbridled determination.