Gastón Institute Report Lays Bare Key Gaps in Development for Latino Children in Massachusetts
---
09/20/2021
| Gray Milkowski
Late last month, the Mauricio Gastón Institute for Latino Community Development and Public Policy released A Portrait of Latino Children: The Gap with Non-Latinos in Massachusetts, a report that describes in intimate detail the educational, health, environmental, and socioeconomic challenges that Latino children - one of the fastest growing segments of the Massachusetts population - face, and the impacts those gaps have on individual outcomes.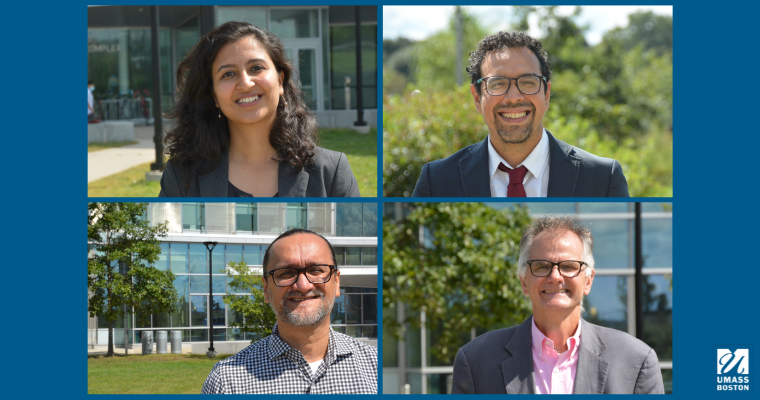 Researchers from the Gastón Institute. Clockwise from top left: Vishakha Agarwal, Alejandro Alvarez, Phillip Granberry, and Fabián Torres-Ardila.
" Latino children are not receiving the institutional support they need. "
"This report comes at a most critical time for the Commonwealth and its Latino communities," said UMass Boston Chancellor Marcelo Suárez-Orozco. "In a moment in which we collectively face the systemic realities of inequality, this report serves as a building block for those in our community and beyond who are creating solutions to close the learning and achievement gaps that the Latino community disproportionately experiences, so the next generation of children can grow up with the same access and opportunities as their non-Latino peers."
The gaps described in the report are stunning and show that much progress must be made should Massachusetts want to level the playing field for Latino children. Notable statistics collected in the report include:
29.5% of Latino children live below the poverty line, as opposed to 7.9% of non-Latino children
Latino children were more than twice as likely to not have internet access in their home, compared to their non-Latino peers
Only 61.7% of Latino children reported passing the 9th grade, and only 55.3% of English language learners (ELLs), compared to 78.1% of non-Latino students
Latinos have the lowest high school graduation rate of all ethno-racial groups, at 74.4%
Latino ELLs have a graduation rate of 57.7%, compared to 75% of non-Latino ELLs
Latino children are almost twice as likely to not have health insurance than their non-Latino peers
16.2% of parents of Latino children reported not having a routine place of care to obtain preventative services, compared to 4.3% of non-Latino peers
Only 30.1% of Latino children perform physical activity more than four days a week compared to 54.7% of non-Latino children
The percentage of Latino children with BMI equal to or greater than the 95th weight percentile is nearly three times (29.9%) the share of non-Latino children (10.7%)
Parents of Latino children were nearly three times as likely to ever have been told their children had depression (11.6%) compared to parents of non-Latino children (3.9%)
"Latino children are growing at a faster rate than white, Black, and Asian children in Massachusetts, according to the 2020 Decennial Census," said Phillip Granberry, a research associate at the Gastón Institute and co-author of the report. "Their preparation for adulthood is essential for Massachusetts' future economic, political, and social wellbeing. This report suggests that Latino children are not receiving the institutional support they need during this transition to adulthood."
The report also draws correlations between the cited gaps and several socioeconomic factors that are known to disproportionately impact Latinos in Massachusetts, including share of poverty by municipality, parental education, and median household income.
The report notes that the research included in it is only a first step to understanding the achievement gaps between Latino and non-Latino populations. The authors wrote that further research is needed if the academic community and others are to fully understand the causes of the disparities that exist, and based on that research, action must be taken by governments, nonprofits, business leaders, and others to create greater equality in outcomes.
In addition to Granberry, the report was co-authored by a team of UMass Boston affiliates that included Alejandro Alvarez, MPH, MS, a public health expert from JSI Research and Training Institute Inc.; Fabián Torres-Ardila, associate director of the Gastón Institute; and Vishakha Agarwal, a Ph.D. candidate in public policy at the McCormack Graduate School at UMass Boston.
About the Gastón Institute
The Mauricio Gastón Institute for Latino Community Development and Public Policy was established in 1989 by the Massachusetts Legislature in response to a need for improved understanding of the Latino experience in the Commonwealth. Now in its 30th year, the Gastón Institute continues in its mission of informing policymakers about issues vital to the state's growing Latino community and providing information and analysis necessary for effective Latino participation in public policy development. To learn more about the Gastón Institute, visit www.umb.edu/gastoninstitute.
About UMass Boston
The University of Massachusetts Boston is deeply rooted in the city's history yet poised to address the challenges of the future. Recognized for innovative research, metropolitan Boston's public university offers its diverse student population both an intimate learning environment and the rich experience of a great American city. UMass Boston's 10 colleges and graduate schools serve more than 16,000 students while engaging local and global constituents through academic programs, research centers, and public service. To learn more, visit www.umb.edu.