Jacqueline Schuman Named Director of Athletics and Recreation at UMass Boston
---
06/02/2021
| UMass Boston Athletics
UMass Boston Chancellor Marcelo Suárez-Orozco has announced the appointment of Jacqueline Schuman as the university's new director of athletics and recreation. Schuman, currently the senior associate athletic director at Colby College, will assume the role on July 19, 2021.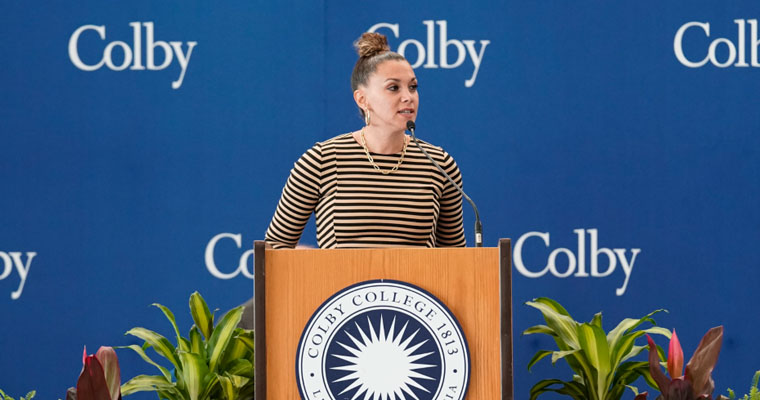 " Jacqueline's passion for sport is infectious, and I cannot wait for her to begin her new role here on our beautiful campus. "
Schuman will be the first permanent female director of athletics in UMass Boston history. She takes the reins from Interim Director of Athletics Darlene Gordon, who guided the program through the past year after longtime leader Charlie Titus retired.
"Jacqueline's passion for sport is infectious, and I cannot wait for her to begin her new role here on our beautiful campus," said Chancellor Suárez-Orozco. "I know that her experience, expertise, and passion for excellence and equity will be a significant contribution to our athletics program, our campus community, and the goals we share for the university."
Schuman brings to UMass Boston a wealth of experience in college sports management, leadership, and fundraising. At Colby, she had direct oversight of 12 highly successful sports programs, provided strategic planning for athletics advancement, and served as deputy Title IX coordinator. She has worked on issues of diversity, equity, and inclusion at the college level, statewide, and regionally.
"Through my time getting to know people in the UMass Boston community, I found that educators, staff, and coaches care deeply about the opportunities afforded to young people and communities through access to education and a full investment in health and wellbeing and are committed to the advancement of the student experience and society through participation and excellence in sports," Schuman said. "UMass Boston has had a great tradition of success in athletics, which has solidified the foundation for future aspirations."
In addition, Schuman has been a consultant, facilitator, and advisor to the Institute for Sport and Social Justice in Orlando for more than a dozen years and has served in leadership roles in athletics and student affairs at the University of Delaware; Convent of the Sacred Heart, New York, NY; Catholic University of America, Washington, D.C.; University of Tennessee; and Florida Atlantic University.
She holds a BS in Human and Organizational Development from Vanderbilt University, an MA in Exercise and Sport Sciences from the University of North Carolina at Chapel Hill and is expected to complete her EdD in Leadership and Learning in Organizations from Vanderbilt University this August. The diversity of experience she embodies will be a welcome addition to our campus.
At UMass Boston, Schuman will be charged with building on the success of her predecessors in guiding a collegiate athletics and intramural sports program that includes a highly diverse body of student-athletes in a manner that promotes academic achievement as well as excellence in athletics. Additionally, she will be tasked with strengthening community engagement and to help coordinate fundraising efforts for athletics.
UMass Boston sponsors 18 NCAA Division III varsity programs (m/w soccer, women's volleyball, m/w tennis, m/w basketball, m/w ice hockey, baseball, softball, men's lacrosse, m/w cross country, m/w track and field (indoor & outdoor).
Since 1980, the Beacons have won six NCAA Division III National Championships, six NCAA Division III Regional and Super Regional Championships, and over 30 Little East Conference and New England Hockey Conference Championships. Student-athletes have earned All-America honors over 130 times.