Joy, delivered in four languages
---
12/22/2021
| Gray Milkowski
Paola Dionisio isn't quite sure what her title at work is.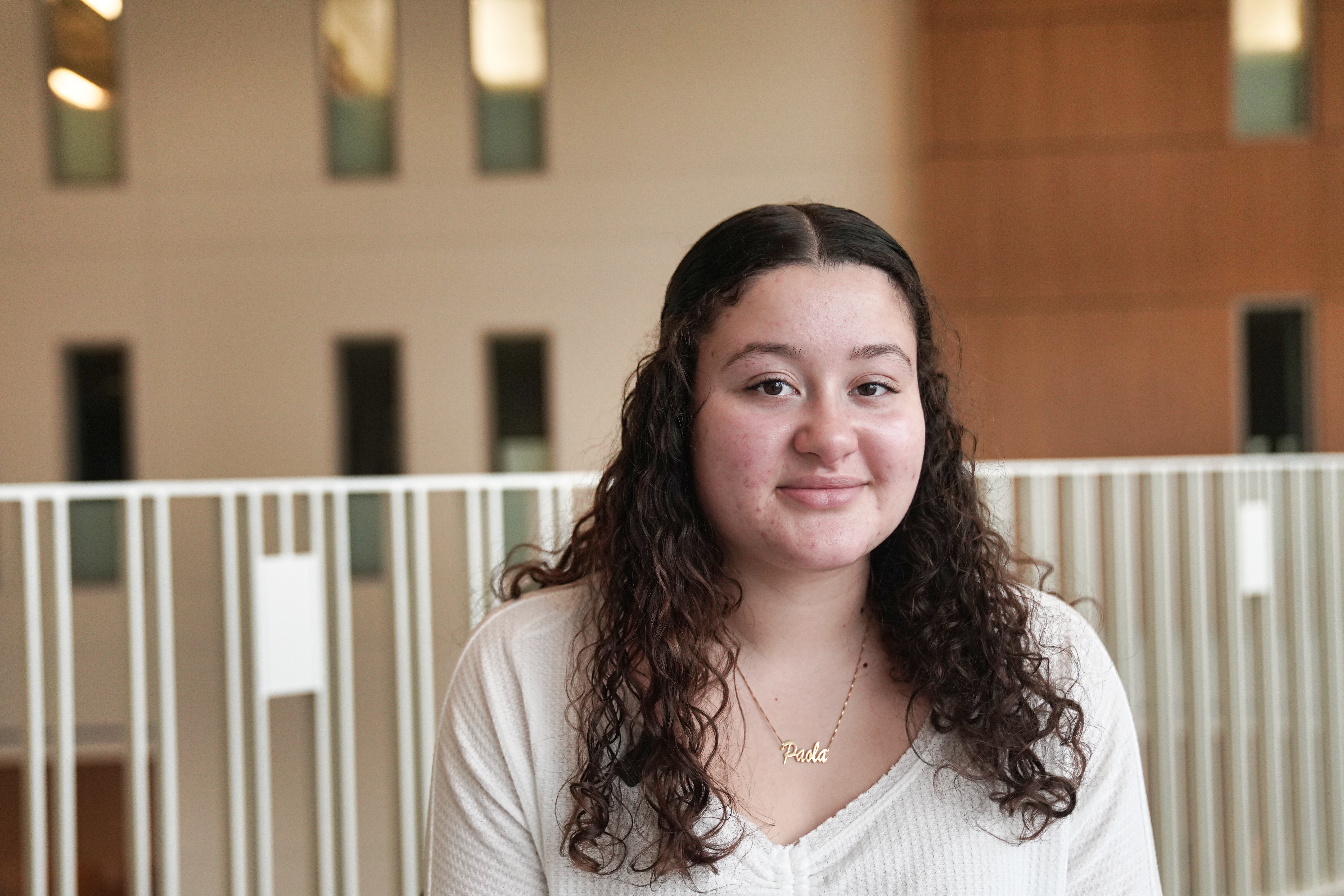 Image By: Janina Seibel
" My true passion is helping people – that's just my thing. "
She's between either "Santa" or "elf."
"People write letters to Santa, and I read them, so does that mean that I'm Santa or an elf?" she asks, chuckling.
Dionisio, a third-year Exercise Health Science student, is part of Globe Santa, a 66-year-old program led by the Boston Globe Foundation that "exists solely to deliver joy to local children." Thousands of children and families in need send letters to "Santa," and Dionisio and her coworkers read them and make sure gifts are delivered in return, hoping to make the holidays a little more special.
This was Dionisio's first year with the program, which she joined because of a unique Santa-like skill: she is quadrilingual. She speaks English, Spanish, Portuguese, and French, which allows her to translate letters from the many people in the Greater Boston area whose first language isn't English, ensuring that language doesn't prohibit Santa from getting down the chimney.
Originally from Weymouth, she started with the program in October (yes, Santa does get letters in October, she says), and so far, has had a wonderful experience.
"I love it," Dionisio says. "I feel very purposeful … my true passion is helping people – that's just my thing."
Most of the letters she opens are filled with gratitude and describe how the gift will make a real difference for their holiday. Some people even send small gifts along with their letters to Santa as a thank you. A few days prior to being interviewed, Dionisio received a small Haitian flag from a woman whose child has written to Globe Santa for years. Her colleagues have received keychains in the past, and other small tokens of gratitude.
"It's a relationship that we build with these people," she says.
Sometimes the letters are spirit-raisers. Dionisio says that the best ones are from children who hand write the letters themselves, and favorites are the ones that come with hand-drawn festive images.
"We hang them on the wall of the office," she says, smiling.
Others are more emotional, many from single mothers and fathers who are living on a low income, describing how they are stretched thin between working, paying the bills, and taking care of their children. Dionisio described reading one letter from a grandmother who was taking care of her grandchildren, but too old to work. Another came from a family of a little boy with a lung condition, who said this might be his last Christmas.
"It's heartbreaking … a lot of people pour out a lot," she says.
But Dionisio and her team move forward, working to deliver a gift to each child or family that wrote to Globe Santa this year. The Randolph office, one of two intake locations, received approximately 17,000 letters. It's a volume of work that's helped her get just a little closer to picking the right title, albeit one without milk and cookies.
"I think I'm more of an elf."