Lincoln Institute of Land Policy and the Sustainable Solutions Lab Release Working Paper on the Climate and Housing Crisis
---
10/25/2021
| Sustainable Solutions Lab
Although unaffordable housing and climate change adversely affect the lives of Boston area residents, especially those of low- and moderate-income people and people of color, there isn't an established body of academic research, municipal plans, or an advocacy agenda that addresses these crises systematically and simultaneously.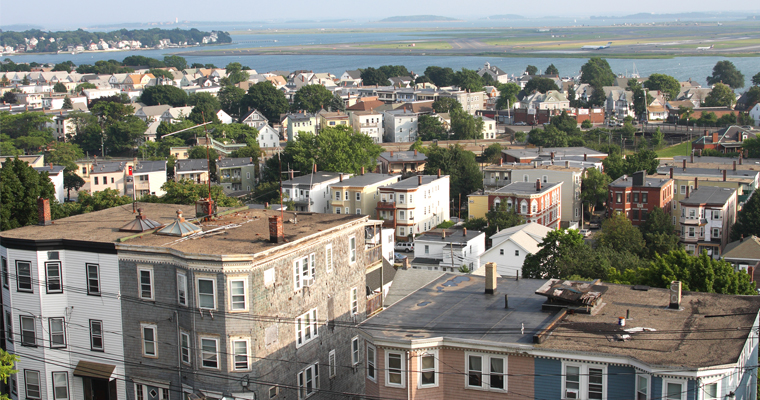 Image By: Getty Images
" One of the challenges is that housing advocates and climate advocates are not talking to each other enough. "
The Lincoln Institute of Land Policy, in partnership with the Sustainable Solutions Lab at UMass Boston, has released a working paper entitled "Climate and Housing Crisis: A Research Agenda for Urban Communities." This piece identifies some key research questions that could substantially advance our ability to make investments that support housing stability and respond to climate change at the same time. A briefing on the working paper was held on September 23, featuring a presentation on the findings and a robust discussion among participants from diverse sectors, including researchers, advocates, public officials, analysts, and practitioners.
The report authors are Michael P. Johnson, professor and chair, Department of Public Policy and Public Affairs; Patricio Belloy, graduate student, Department of Public Policy and Public Affairs; Heather MacLean, graduate student, Department of Urban Planning and Community Development; and Sajani Kandel, graduate student, School for the Environment.
"One of the challenges is that housing advocates and climate advocates are not talking to each other enough," explained Professor Johnson, who is the principal investigator for the report. "To understand the intersecting challenges, we brought together a wide range of practitioners to inform this research agenda."
The paper proposes a research agenda that is equitable, centered on the needs of those who are most affected by the housing and climate crises, rooted in empirical and primary analysis, reflecting a critical approach, and accommodating diverse analytic methods and disciplinary traditions.
"In order to create climate-resilient communities, we need more research that integrates theory and practice," said Amy Cotter, director of climate strategies at the Lincoln Institute of Land Policy. "This working paper is laying the foundation for further study that can lead to the development of creative approaches to addressing the climate and housing crises in tandem."
The project included stakeholder interviews, a Climate, Housing and Covid Town Hall in partnership with community-based organizations City Life/Vida Urbana, Alternatives to Community and Environment, Codman Square NDC, and GreenRoots Chelsea in addition to the City of Boston's Housing and Environment Departments and a policy summit with a smaller group of community experts, practitioners, and policy makers.
Professor Johnson is based in the Public Policy Department in the McCormack Graduate School of Public Policy and Global Studies but this work is, by definition, interdisciplinary. The questions that emerged from the project weave together issues of climate change, infrastructure, policy, and social resilience. Anyone interested in partnering with him on the next phase of this research can email michael.johnson@umb.edu.
About Sustainable Solutions Lab
The Sustainable Solutions Lab at UMass Boston is a collaborative research and action institute focused on keeping historically excluded people and communities safe and healthy as our climate changes. We are a groundbreaking, cross-disciplinary partnership of four institutes and five schools across the University: the Collaborative of Asian American, Native American, Latino, and African American Institutes (CANALA), College of Liberal Arts, College of Management, College of Nursing and Health Sciences, John W. McCormack Graduate School of Policy and Global Studies, and School for the Environment. For more information: visit www.umb.edu/ssl.