Local Artists Talk Mental Health, Self-Care at University Hall Gallery
---
10/25/2021
| Gray Milkowski
Were you wearing your pajamas in University Hall last Wednesday evening? If not, you were missing out.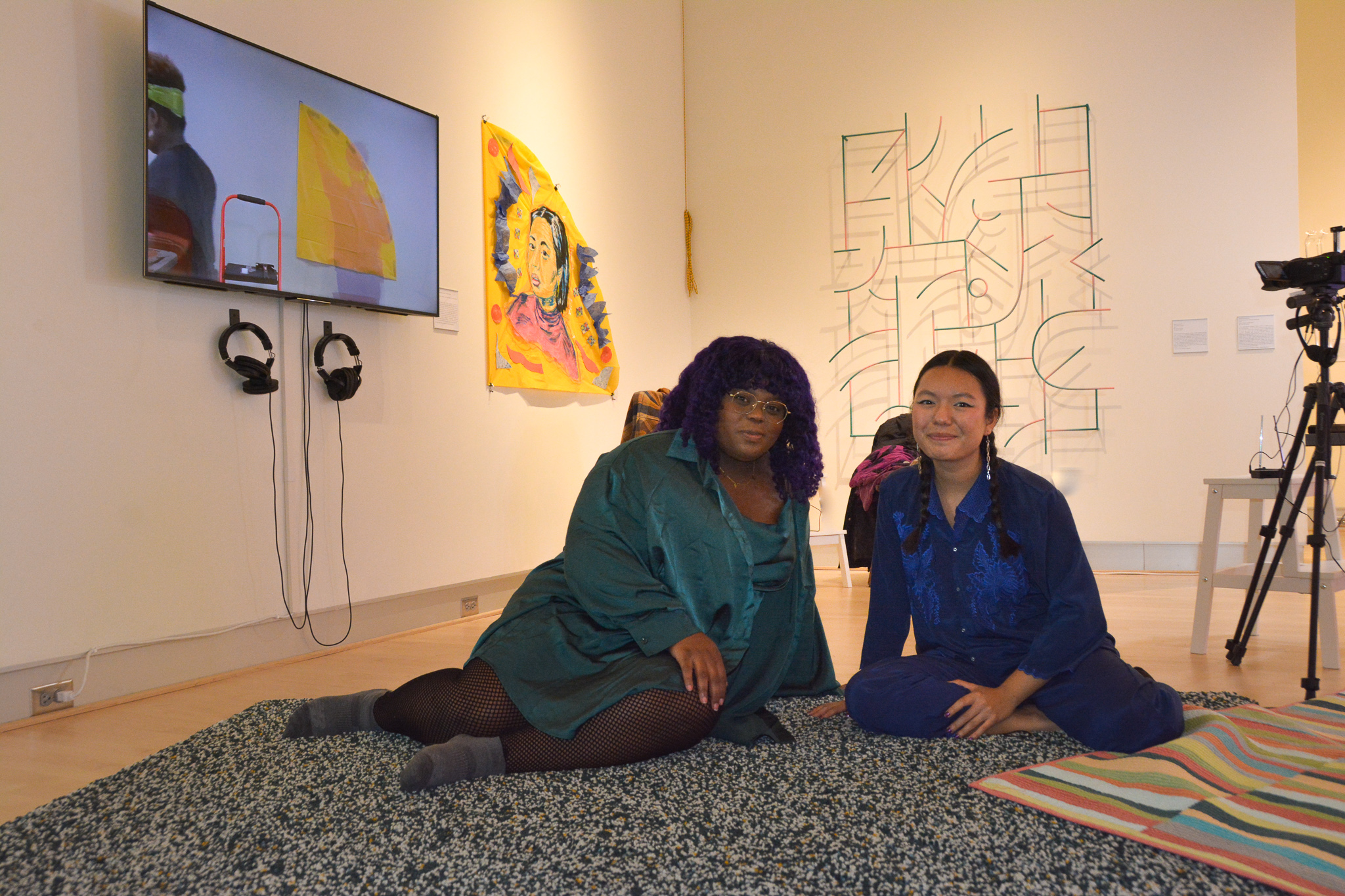 Chanel Thervil and Mel Taing, sitting in front of Thervil's Portrait of Mel in the University Hall Gallery.
" Instead of glorifying people who are ahead of me, thinking about the people who are beside me. "
Students and staff brought their warm blankets, silk pants, and favorite hoodies to the University Hall Gallery for Portraits and Pajamas, a discussion with local artists Chanel Thervil and Mel Taing that is a part of an Instagram live series focusing on mental health and self-care during the pandemic.
The centerpiece of the conversation was Tomorrow is Another Chance: Portrait of Mel, a mixed media piece that Thervil created of Taing that represents not only her physical look but is also symbolic of the anxieties and uncertainties that the Boston-based photographer was feeling during the first months of the pandemic.
Portrait of Mel is on display in the University Hall Gallery until November 7 as part of In Place, the first exhibition in the gallery since the start of the pandemic. The exhibit gathers objects and experiences that deal with communication, vulnerability, and interconnectivity.
Thervil is hopeful that through the open dialogue, she can create a healthier mental space for artists of color to have honest conversations about mental health and self-care in the era of COVID-19.
"It felt nice to have honest conversations about these hard things, and also see that other people were asking themselves some of the same types of questions or even feeling like things they've heard us talk about, like, help them through," Thervil said.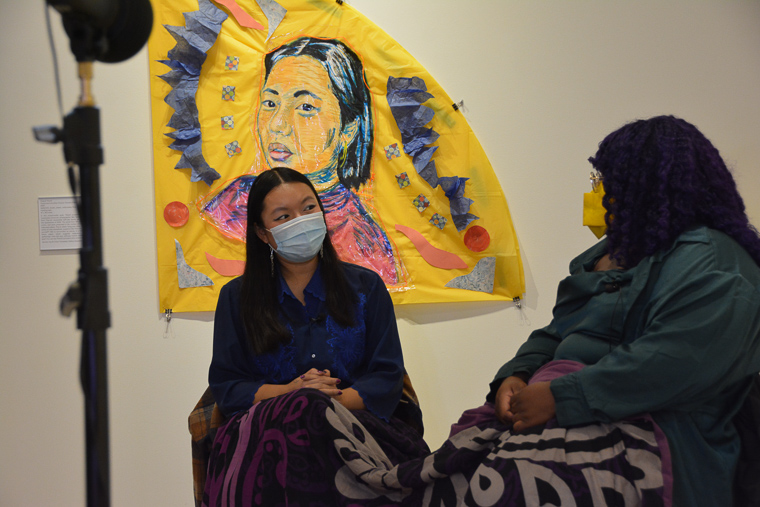 Taing and Thervil during their conversation, sitting in front of "Portrait of Mel".
The inspiration behind Portrait of Mel came from Thervil's own experience as an artist going through the pandemic. When the world shut down in early 2020, she found herself needing to find a way to connect with others about shared experiences of loneliness, anxiety, and other feelings that accompanied a lockdown.
"The idea behind was to try to have more conversations about mental health and how people are taking care of themselves during this ­­­­time and trying to figure out how other creatives of color were managing [the effects of the pandemic]," she said.
Wednesday's event in the University Hall Gallery was the first time that Portraits and Pajamas was held in person. The series had been hosted on Instagram live up to that point, where dozens of people would come together virtually to watch Thervil's discussions with other artists.
"It was a way that we exhibit the artwork and also have a conversation between the two of us that people can participate in or they can actually be a part of," she said.
Sam Toabe, the gallery director, was excited to be able to host the pair's conversation.
"Having Mel and Chanel in the gallery, in person, and in place, live streaming from the gallery is a new touchstone moment for us as we return to campus," Toabe said.
"This gathering and creating of cathartic space where creatives can support one another and gas each other up is important in this moment, and I am thrilled that we were able to give a platform for Chanel and Mel to revisit this project in the context of In Place."
In Place also includes works by Danielle Abrams and Dave Wade, Alexi Antoniadis, Kevin Clancy, Corey Escoto, Samantha Fields, Danielle Freiman, Jillian Freyer, and Leah Piepgras.
Asked what she wanted viewers to take away from the art when they put their eyes on it, Thervil said people should leave it to their own interpretation.
"I'm kind of just taken out and see what you can glean from it," she said.
"My practice has always been around simplifying the beauty of the average person, you know, and I think creatives of color in particular in Boston don't necessarily get all of the love and flowers that they should be getting. So, for me, I've been thinking a lot about instead of glorifying people who are ahead of me, thinking about the people who are beside me."
You can follow the University Hall Gallery on Instagram @uhgallery, Chanel Thervil @chanelthervil, and Mel Taing @mel.ltaing