New Mural Welcomes Native Students to UMass Boston Campus
---
10/08/2021
| School for Global Inclusion and Social Development
This year, we observe Indigenous Peoples' Day on Monday, October 11. UMass Boston is on the traditional land of Massachusett people.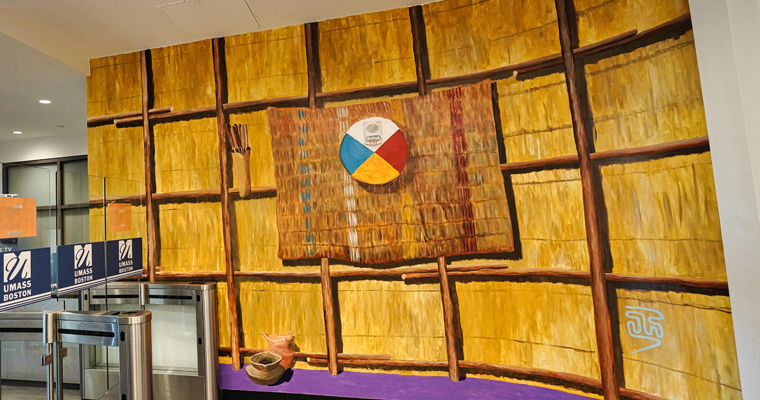 One focal point of the mural is the depiction of a medicine wheel. There are diverse interpretations of the medicine wheel among indigenous people, and many native tribes have used the medicine wheel for a variety of healing and teaching practices.
To welcome students to UMass Boston's campus this year, and to emphasize that UMass Boston is still Indigenous space, Robert Peters, an artist and member of the Mashpee Wampanoag Tribe, created a mural in UMass Boston's first residence hall.
Peters created this mural to help Native students feel more at home. This mural also encourages non-Native students to think about what "home" means, while also making them feel at home as a guest to the territory. The design depicts a wall in a traditional Eastern Woodlands home and includes representations and symbols of Mashpee Wampanoag culture.
With support from the Mashpee Wampanoag tribe and New England Foundation Arts, Peters had directed the Menz Wetu Project. Together, 24 native youth built a 32-foot longhouse on Mashpee land. He used photographs from this longhouse to design the mural for UMass Boston.
"I wanted to share our sophisticated architecture. We showed photographs of the longhouse that we actually built on our land in Mashpee, and incorporated it in the design," Peters said. "The curve of the wall in the residence hall mirrors the curve of the longhouse we built. Our structures were round, and we used cedar poles to bend the structures. Cedar is not like all wood; it can grow in swamps and in all water. It ages more slowly and creates more resilient structures."
Peters described the significance of each aspect of the mural, from the bullrush grass wall to his signature symbol. The images of cattails are significant as well. "Cattails covered our lodges in the summer. They act as a natural air conditioner; when cattails are wet, they swell and help transfer cool air into the home," he said.
UMass Boston's Institute for New England Native American Studies and Native American and Indigenous Studies program reached out to Peters to design and paint the mural. Michael Metzger, special assistant to the vice chancellor of Student Affairs, shared about the significance of UMass Boston's mural project:
"This project represents an important collaboration of students, faculty, and staff to bring an indigenous visual to our campus Residence Halls. For the Office of the Vice Chancellor for Student Affairs, as well as the Housing and Residential Life team, we aimed to provide a piece that could contribute to an ecology of acknowledgement of native communities as the traditional land caretakers of Massachusetts," he said. "As these buildings are the campus home for many first-year students, we sought to also provide a piece that would offer a sense of welcome and community, as expressed through Robert's native iconography that beautifully provides a window into cultural elements for the traditional caretakers of the land that our students' home now sits upon."
Read more about the mural and Indigenous People's Day on the School for Global Inclusion and Social Development blog.