New UTeach Boston Initiative Partners UMB Students with Classrooms in Malaysia
---
01/11/2021
| Danielle Bilotta
While the COVID-19 pandemic forced teachers across the country to adapt to remote learning environments, the UTeach Boston STEM teacher education program at UMass Boston is preparing future educators to teach virtually with an international twist.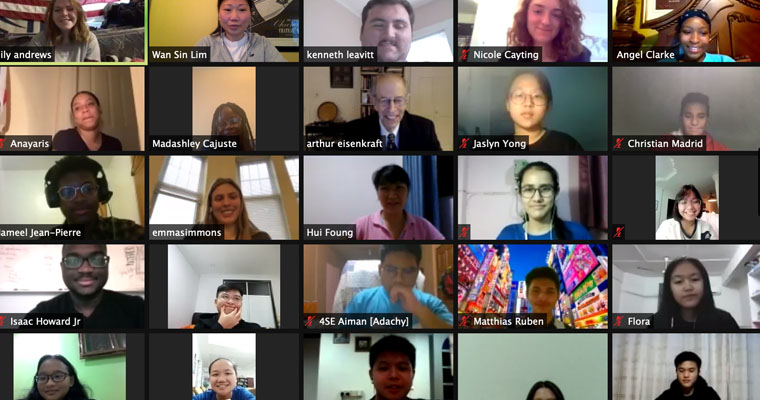 UMass Boston's UTeach Boston participants interact with Malaysian students in a virtual classroom this fall.
" They can see their students are loving the experience. It's a fun activity for them. "
A new initiative started by UTeach Boston Master Teacher WanSin Lim connected the program with classrooms in Malaysia this fall, giving UTeach Boston students a new global perspective.
"I'm from Malaysia, and I still have a lot of teacher friends in Malaysia," Lim said. "Their students need someone to teach them science, and our students here have content knowledge in science or math. It's mutually beneficial for the UTeach students and the Malaysia students."
The UTeach Boston program partners with teachers from Boston Public Schools, which often have diverse student populations. Many students speak two languages similar to students in Malaysia, Lim said. After teaching bilingual students in Malaysia, UTeach Boston students reflected on how language is a very important piece of learning, and the experience inspired them to use different teaching tools, such as visual aids.
"Allowing [UTeach students] to see and experience other cultures and show them that they can actually teach these students and the students can learn from them was a wonderful experience," UTeach Program Associate Sara Beberman said.
The UTeach Boston program recruits current undergraduate students earning a degree in a STEM discipline that may also have an interest in teaching. Students can take an introductory course that gives them hands-on learning experiences, and if they decide to complete to the program, they will also earn a secondary licensure to teach in Massachusetts, which gives them more career options when they graduate, Lim said.
"It's very much about experiencing teaching. It's for them to see how wonderful and how rewarding it is to mentor the youth and to inspire the youth," Lim said. "If you want to be a computer scientist, you can be a computer scientist, but you also have the option to teach at schools."
Beberman said building relationships with classrooms and nonprofits is a huge part of the UTeach Boston program that helps give students as many opportunities as available, including earning a stipend for completing the first introductory course.
"The skills that you're learning in the classroom are really applicable to any job or any role that you take on, which I think is a really important component of the program as well," Beberman said. "Our first course is one credit. It meets one time a week and you get a $114 stipend just to try it out. You're getting paid to try out an incredible program and learn skills that you wouldn't have learned otherwise."
Beberman and Lim hope to continue their virtual partnership with the teachers from Malaysia and potentially open up other virtual opportunities, even after schools return to in-person learning.
"All of the mentor teachers that work with us from Malaysia want to do this again," Lim said. "They can see their students are loving the experience. It's a fun activity for them. It's very easy to follow and having a younger teacher with them gives them someone they can look up to."