Off to a Running Start: Alumni Engagement Hosts First In-Person Beacon 5K
---
10/05/2021
| Vanessa Chatterley
After hosting three successful virtual 5K's over the past 18 months, the Office of Alumni Engagement was finally able to hold its first in-person Beacon 5K at the Boston Harborwalk on October 3.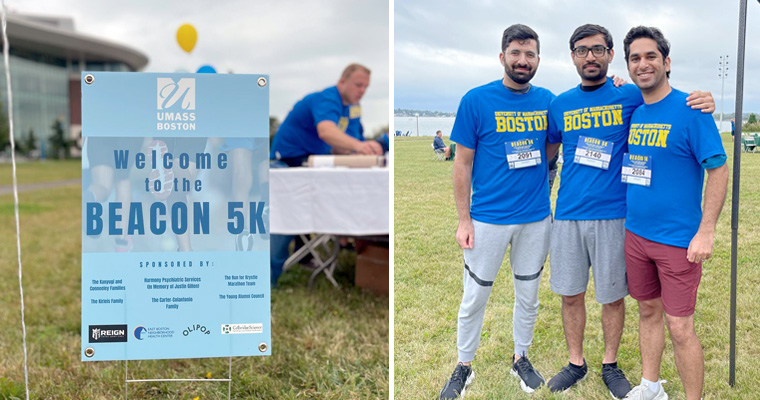 " It's inspiring to see ... the UMass Boston community come together to further the university's mission in such a monumental way. "
More than 300 guests registered for the event, nearly one-third of whom opted to participate remotely from their own parts of the world. Beacons represented 16 states and five countries, including Canada, Colombia, India, and South Korea.
Director of Alumni Engagement Steve Whittemore launched the first Beacon 5K in April 2020, shortly after UMass Boston mandated a university-wide lockdown for faculty, staff, and students. With the intention of keeping the UMass Boston community connected through remote programming, the Alumni Engagement Team launched a variety of virtual events over the next several months.
Whittemore said the turnout and overall response of the Beacon 5K has been phenomenal, adding that the Alumni Engagement Team is always looking for new and innovative ways to expand its outreach with the UMass Boston community.
"This event was unique in the sense that it had something for everyone — regardless of whether you were a family with small children or returning to campus 10, 20, or 30 years after graduating," said Whittemore.
At the conclusion of the 5K, guests were invited to an after-party on the Campus Center front lawn, which included lunch, music, yoga, games, and a beer garden for those of age.
"We're beyond pleased to offer such robust programming for our alumni and friends and will continue to develop our events and initiatives with this goal at the forefront of our planning."
Alumni from a wide range of class years, from 1969 to 2021, were present to take part in the 5K. Bob Tucker, who graduated in 1976, said he hadn't been back to the university in years and was excited to visit the ever-evolving campus.
"I was so jazzed about coming back and seeing the campus and just experiencing what it felt like just to be back here again," he said. "I'm looking forward to getting a better sense of the place, the campus, the feel of it."
The Perry family — consisting of Laura, alumnae Jackie '14 and Alexis '21, and UMass Boston student Erica '22 — had participated in past virtual 5K's as a way to get outside during what had become a stagnant time for many.
"During COVID, we were looking for things we could do together as a family. We took the opportunity to do the virtual 5Ks in our neighborhood," said Alexis Perry. "When we saw the Beacon 5K this year, we decided to do it in-person, especially because it's Erica's senior year. It's a fundraiser, and it's an awesome opportunity to do something fun together as well."
"I love UMB, I love running, and I love getting back to the school," said Christina Navarro '06, who was eager to combine all three passions by signing up to run the 5K.
Another passion of Navarro's is giving back to her university, where she had worked as a phone-a-thon student employee.
"I've donated every year since I graduated….I know how important it is. One of the most important things I remember was, 'It doesn't matter how much alumni give. It's how many alumni give.'"
In lieu of a registration fee, guests were encouraged to donate to either the Krystle Campbell Scholarship Fund or the Young Alumni Council Scholarship. Nearly 60 percent of primary registrants made an additional gift to one or both funds, raising a combined total of $7,000.
Additionally, several sponsors came forward to support the 5K, playing a critical role in making the on-campus event a success. Sponsors included Reign Total Body Fuel, East Boston Neighborhood Health Center, Celbridge Science, Harmony Psychiatric Services/In Memory of Justin Gillen, The Kirleis Family, and The Kanyugi and Conneeley Families.
Director of College Engagement Heather Brigham, who co-hosted the event alongside Whittemore, called the outpour of support "a true testament to what it means to be a Beacon."
"It's inspiring to see members of the UMass Boston community come together to further the university's mission in such a monumental way," said Brigham. "By giving back, they're providing students with the financial resources necessary to continue on their academic trajectory. It's invaluable and critical."
To support the Krystle Campbell Scholarship Fund or the Young Alumni Council Scholarship, please visit our giving page.