"Pro is for, Black is Our People": Boston Art Icon Visits Two UMB Classes
---
10/29/2021
| Gray Milkowski
When you think of the art scene in Boston, maybe the first thing that comes to mind is the MFA or the ICA.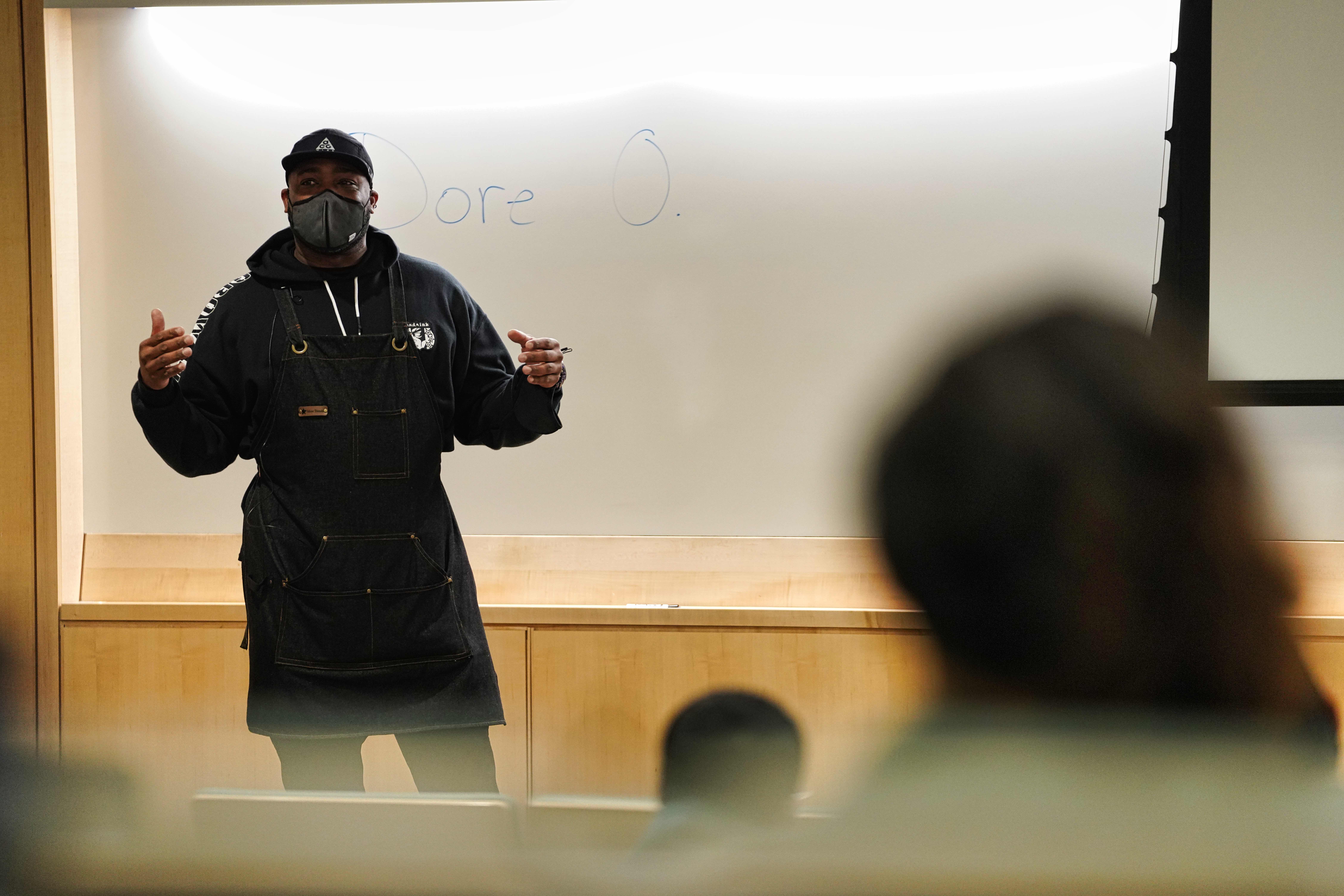 ProBlak speaks to American Studies 263: The History of Hip-Hop and Hip-Hop as History.
" Just imagine when your picture's no longer limited to 1,000 words. "
But some of the most meaningful art in Boston isn't in any building at all – it's on them – and often, it's courtesy of the man who delivered guest lectures in two UMass Boston classes last week.
That man is ProBlak, an icon of the Boston arts world.
A critically-acclaimed artist who started tagging the city in the early 90's, Rob "ProBlak" Gibbs joined students in The History of Hip-Hop and Hip-Hop as History and The World of Hip-Hop: An Inside View to talk about his life's work, his experience as a Black artist in Boston, and how hip-hop was influential in his upbringing and work around the city.
"Pro means for, Black is our people," the artist told the class as he introduced himself.
Talking to students about his art and his purpose, ProBlak called upon a metaphor that one of his mentors shared with him as a young man.
"We all know that picture's worth 1,000 words, right? But just imagine when your picture's no longer limited to 1,000 words," he said. "I'm only passing [this art] along as a relay to inspire potential people who are coming up that want to take on that path, whether it's visually, or the ability to represent any form or facet of this culture that we love to like."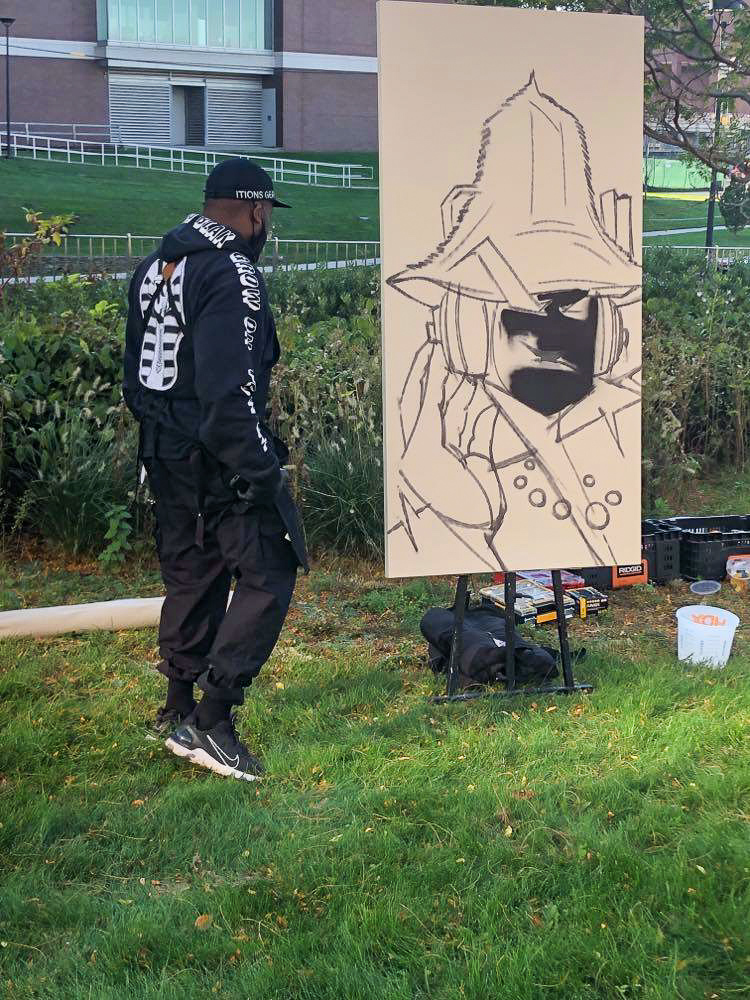 ProBlak spent time between classes working on a mural behind University Hall. Photo courtesy of Jeff Melnick.
He also spoke about how hip-hop was an inspiration to him, and how both art forms are expressions of culture.
"I'm trying to reflect [the same kind of work] in the murals … And if anybody ever asked me what does hip-hop mean, I'd just hold up a mirror. Hip-hop is you, hip-hop is me."
The Boston art icon was invited to campus by Boston rapper and Honors College lecturer Akrobatik, and Jeff Melnick, a professor of American Studies in the College of Liberal Arts. Both were thrilled that ProBlak took the time to speak to their classes.
"It is hard to think of an artist in the Boston area who has done more consequential work than ProBlak with respect to tearing down the walls that so often divide us across neighborhoods, across groups usually divided by age, or race, or socioeconomic status," said Melnick, who teaches the class The History of Hip-Hop and Hip-Hop as History alongside Akrobatik.
"His series of Breathe Life murals are the kind of public art that we are so desperately in need of. This series of three murals is a model of what public can be, what it can do," Melnick said.
Though many in the class were familiar with his work, some students were not. ProBlak had one request for the people who had not yet been to see them.
"Hopefully after this class you get to, not just go on your phone and look online, but to actually take a venture into the neighborhood and walk the path that I've walked … To have you walk in our neighborhood, walk in our footsteps, is to have you walk the talk."