Recent CNHS Graduate Nicole Bajdek Wins Student Investigator Award
---
01/04/2021
| Crystal Valencia
Nicole Bajdek '20 has received the 2020 Student Investigator Masters Award from The New England Chapter of the American College of Sports Medicine (NEACSM) for her research comparing blood pressure and autonomic recovery responses in African American and white women following repeated bouts of cycling exercise.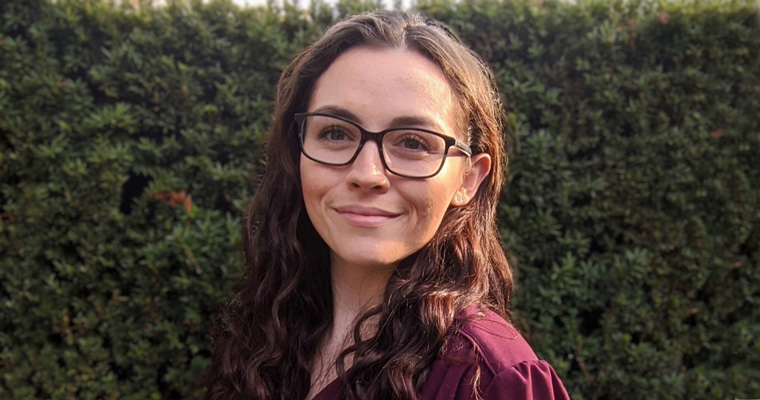 "I was honored to have my work recognized by NEACSM and that my abstract and e-poster presentation were chosen out of other great work," she said. "I always enjoy attending the regional conferences and am proud to be a member of such a great organization."
Bajdek graduated from UMass Boston's Exercise and Health Sciences master's program this summer and worked as a part-time faculty member and EHS lab coordinator this fall, facilitating face-to-face undergraduate lab classes, managing the labs, and assisting with the remote delivery of some of the undergraduate EHS courses this semester.
"Nicole was an outstanding student in our Master of Exercise and Health Sciences Program, and her work with Dr. Yan serves as a great example of combining state-of-the-art science and health disparities", according to Tongjian You, graduate program director and associate professor of Exercise and Health Sciences.
Her abstract and presentation, entitled "Racial Differences in Blood Pressure and Autonomic Recovery Following Acute Maximal Anaerobic Exercise in Women," was based on her graduate thesis, which she researched under the mentorship of Assistant Professor of Exercise Sciences Huimin Yan in the Cardiovascular Exercise Physiology Lab. Bajdek joined the lab during her first year as an EHS master's student.
"We know that cardiovascular disease and hypertension tend to be more severe and occur earlier in life in African Americans compared to Caucasians," Bajdek said. "While some studies show that aerobic exercise has antihypertensive, or blood pressure lowering, effects in Caucasians, African Americans tend to have higher blood pressure during recovery and may not experience the same physiological benefits from engaging in aerobic exercise."
African Americans also tend to have impaired resting autonomic modulation, which can be assessed through heart rate variability and baroreflex sensitivity, she noted.
Knowing these racial differences and with the increasing popularity of high intensity interval exercise, Bajdek worked to compare blood pressure and autonomic modulation after maximal anaerobic exercise performed on a cycle to see how African American and Caucasian women responded and if there were any differences in these responses.
"We found that African American women had higher recovery blood pressure following intense bouts of shorter duration exercise, which is consistent with their greater cardiovascular risk. We also found that African American women had reduced heart rate variability components related to vasomotor tone, which is important for blood pressure reductions and regulation," she said. "This means that African Americans may benefit from engaging in maximal or high-intensity interval exercise, which may be a more effective and engaging alternative to traditional steady state aerobic exercise."
Bajdek is hopeful that this work may improve our understanding of racial disparities in cardiovascular health and autonomic modulation and help contribute to developing personalized exercise prescriptions in groups that have different cardiovascular risk.
NEACSM is one of the twelve regional chapters of the American College of Sports Medicine, the largest sports medicine and exercise science organization in the world. The student investigator competition includes three categories: bachelor's, master's, and doctoral. Students submit an abstract and present at the annual conference, and the presentations are evaluated by a group of established scholars in the field based on presentation content, communication skills, quality of visuals, and presentation of strengths and limitations of the work.