Reimagining Environmental Multilateralism: Center for Governance and Sustainability Receives $500K Grant from Carnegie Corporation of New York
---
11/02/2021
| Danielle Bilotta
As world leaders converged in Glasgow to take stock of progress on the Paris global climate change agreement, there were questions about the effectiveness of these international agreements. Associate Professor of Global Governance and Director of the Center for Governance and Sustainability Maria Ivanova and her team at the Center for Governance and Sustainability have just been granted $500,000 from Carnegie Corporation of New York to develop the next stage of the Environmental Conventions Index, the center's multi-year project that explores the implementation of multilateral environmental agreements and seeks to create mechanisms for holding governments accountable.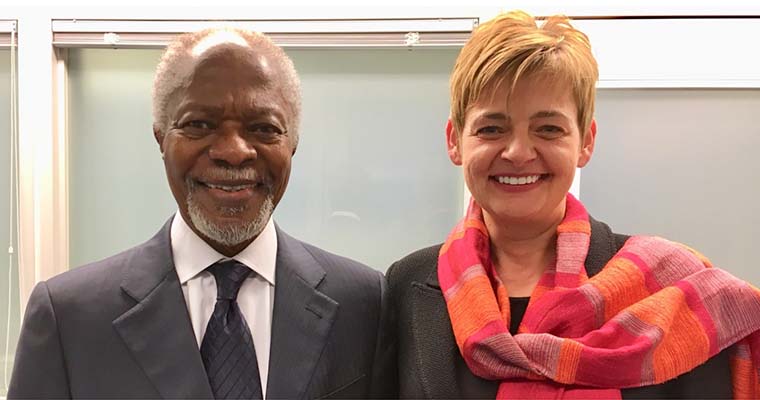 Maria Ivanova with UN Secretary-General Kofi Annan
"This was an extremely competitive global call to action with over 300 applicants," Ivanova said. "The fact that the Corporation called for proposals for something as big and ambitious and bold as reimagining multilateralism is really significant. This is an issue they value and are willing to support and push forward ideas that they consider important."
"The nature of security in the 21st century is evolving," notes the Corporation's Vice President of the International Program Deana Arsenian, "With the evolution comes the need to reconsider multilateral approaches to critical transnational challenges, the impacts of climate change among them. The project at UMass Boston's Center for Governance and Sustainability has the potential to advance environmental multilateralism through empowering small states."
The Environmental Conventions Index provides empirical evidence that several small states or developing nations are doing what they have committed to do to resolve global environmental problems, which often goes against conventional wisdom in the international relations field, Ivanova said. This phase of the project will also include the development of an interactive and dynamic web-based index and will support Ivanova's efforts to reimagine environmental multilateralism by creating a network of small states through connecting officials across countries on issues involving negotiation and implementation of multilateral agreements. This grant will also continue the center's existing work with Rwanda and the United Nations Environment Programme.
"We've seen how much Rwanda has had an impact on the environmental agenda and will be building on that work. Rwanda is very small in terms of territory and size of the economy, yet it has been able to take initiative and leadership globally," she said. "Our research and the outreach work that we do has shown that the initiative from states and organizations who see the potential and importance of collective action is really critical, and we want to shine a light on that."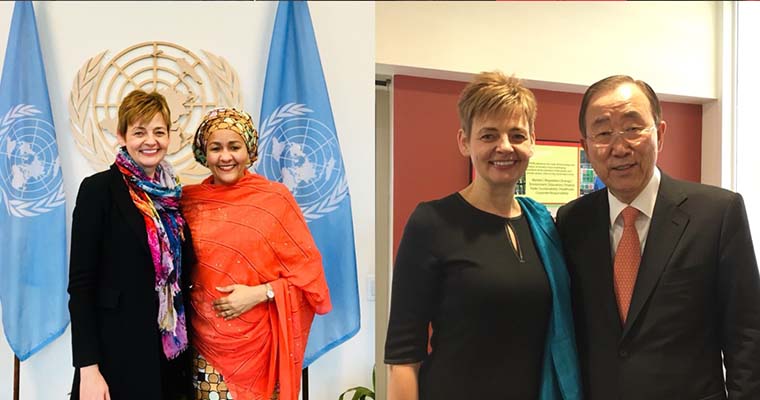 Image: Ivanova with UN Deputy Secretary-General Amina Mohammed (left) and Ivanova with UN Secretary-General Ban Ki-moon (right).
Ivanova said the team has started collecting analytics that are important for building the new network and will be putting out a call for proposals from other small states that are interested in becoming a part of the network and are committed to making a difference in environmental multilateralism. The team has already heard from many countries, including Costa Rica, that are enthusiastic about the project and the possibility of taking a new approach to multilateralism.
"If I were to begin my presidency again, I would emphasize the needs and power of small states a lot more than the usual suspects," Costa Rica's President Carlos Alvarado remarked. "Rules were made when we were not in the room and decisions are still being made without us in the room. This project brings the passion and purpose that is critical to reimagining multilateralism."
The grant proposal was developed by Ivanova along with UMass Boston alumna, Universidad EAFIT Associate Professor Dr. Natalia Escobar-Pemberthy, PhD'18, Shauna Murray, a doctoral student in the School for Global Inclusion and Social Development, and Dr. Harris Gleckman, senior research fellow at the Center. Global Governance and Human Security doctoral students Meg Hassey, Anna Dubrova, and Brian Harding also assisted with the proposal. Kimberly Gentry and Andrea Kennedy at University Advancement facilitated the application process.
Ivanova said there will be opportunities for other graduate and undergraduate students to engage with this research. She hopes discussions on multilateralism can also be integrated into the curriculum and discussions across universities.
"How are we teaching multilateralism? Who are the champions and leaders? Are we studying them?" she said. "We can now connect much more easily and can invite officials into our classrooms and engage them in debates."
The grant acts as a stepping stone towards informing policy discussions and learning what leads to effective, collective action at a global level with the United Nations and multilateral institutions, Ivanova said. UMass Boston receiving this grant speaks to the value of connecting analytical research and policy work.
"I am thrilled that Maria Ivanova and her team at the Center for Governance and Sustainability here at UMass Boston are being recognized for their cutting-edge scholarly expertise," Provost and Vice Chancellor for Academic Affairs Joseph Berger said. "Their work on the development of the Environmental Conventions Index will make significant contributions for improving policy while catalyzing international responses that address some of the most pressing global issues of our times."
"This is a product of true faculty, student, and alumni collaboration," Ivanova said. "These kinds of relationships at UMass Boston are long lasting, and the results are clear. We create intellectual capital with the hope that it will have a positive impact on the world. This grant will be an important catalyst for that kind of impact."