Report Cites Gains and Gaps in Political Leadership of Women of Color in Massachusetts
---
05/24/2021
| Center for Women in Politics and Public Policy
Historic High for Women of Color in Elected Office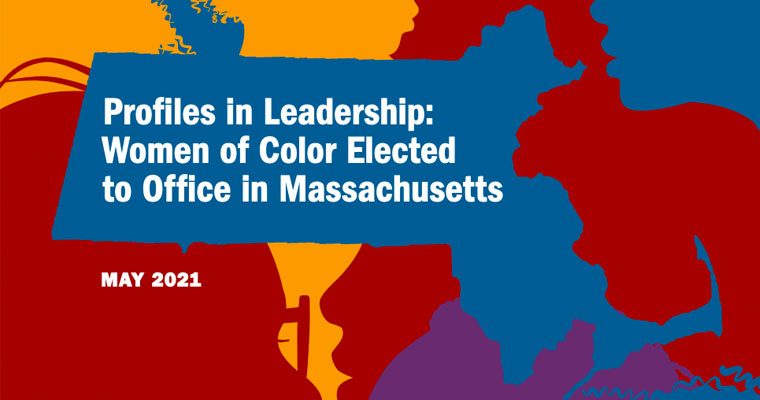 The only comprehensive publication on the elected leadership of women of color in Massachusetts demonstrates a growing trend of women of color being elected to seats and in municipalities where women of color have not historically held positions of elected leadership alongside persistent gaps in representation across the Commonwealth. Today UMass Boston's Center for Women in Politics and Public Policy, in partnership with the Massachusetts Women of Color Coalition, released its updated Profiles in Leadership: Women of Color Elected to Office in Massachusetts, showing that since the first-ever report was issued in 2015, there has been an 83 percent increase in the number of women of color elected in the Bay State. Based on profiles developed for women featured in the publication, the report notes that many women of color political leaders prioritize closing disparities in housing, healthcare, education, workforce, and economic development.
"Women of color leaders in Massachusetts are reimagining and constructing progressive policies related to the economy, labor, education, health, and other systems that work for, instead of against, women of color, which is long overdue" said Laurie Nsiah-Jefferson, director of the Center for Women in Politics and Public Policy at UMass Boston's McCormack Graduate School. "They are leading the way on challenges facing the municipalities and districts they serve and transforming politics in Massachusetts along the way."
Highlights from the report include:
174 women of color have been elected to office at the local, county, state legislative, and/or Congressional level in the Commonwealth
85 women of color have been elected to school committee, making it the most commonly held office; only 5 women of color have served as mayor
27 women of color from Boston have been elected to office, making it the municipality with the highest number of women of color elected at various levels of government, followed by Chelsea, Lawrence, Springfield, and Cambridge
88 women of color served their initial year in office from 2010-2019, which is two and a half times the number serving their first year between 2000 and 2009
28 cities and towns of the Commonwealth's 351 have had one woman of color elected to office (local, county, or state legislative) and the majority of these communities had their first woman of color come into office between 2016 and 2021
Close to 300 municipalities have never had a woman of color elected at the local level (city/town council, select board, school committee, mayor)
Celia J. Blue, president and CEO of Massachusetts Women of Color Coalition (MAWOCC) cited "the importance of Profiles in Leadership to MAWOCC's Political and Civic Leadership Platform which aims to increase women of color hired, appointed, and elected as officials and in senior level positions in state government, including boards and commissions." She noted that "it's imperative that we develop systems to support them. It is critical that women of color are at the legislative decision-making tables because they are at the center of our communities of color and communities in the Commonwealth as a whole."
"We know how inspirational it can be to see women running and winning elected office, and occupying policy roles that address society's urgent issues," said Charlotte Golar Richie, a former state representative who currently chairs advisory boards for both the Center for Women in Politics and Public Policy and the Massachusetts Women of Color Coalition. "This compendium, which features 174 women of color elected and former elected officials, not only serves as a valuable political history lesson, it also is an important reminder that women of color have contributed and continue to contribute to the public discourse and political activism of our state."