The CatCH Scholars Program Adapts to Remote Research
---
03/31/2021
| Danielle Bilotta
A team of faculty mentors made it possible for 12 undergraduate students to engage in a hands-on research experience this past summer through the Caregiver and Child Health (CatCH) Scholars program, despite having to go remote due to the coronavirus pandemic.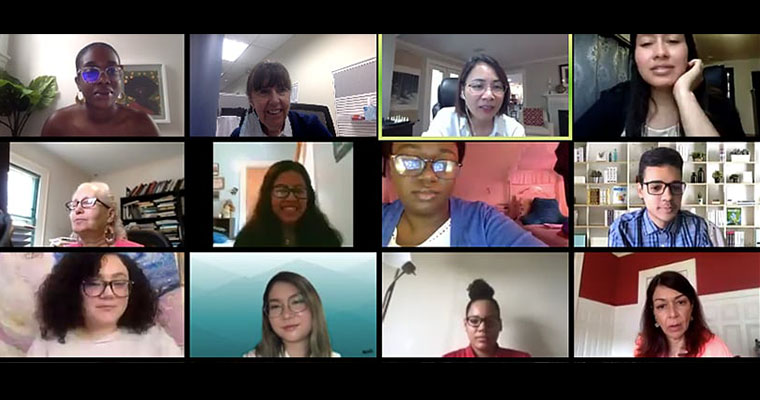 CatCH Scholars and faculty mentors during the Poster Presentation last summer.
" We were just really creative so that the students understood what it takes to do research and the moving parts. "
The CatCH Scholars program at UMass Boston is an undergraduate paid summer research program started in 2019 that focuses on lab and community-based research in the areas of caregiver, child, and community health. Students receive a $4,000 stipend and are matched with a faculty mentor.
"The purpose of the program is to create research opportunities for underrepresented minorities so that they can have early exposure to research as a science career path," Professor of Psychology and Honors College, S. Tiffany Donaldson said. "We give them a 10-week experience working alongside graduate students, fellow undergraduates, and researchers who are faculty at UMB."
Last summer, for the program's second year, the CatCH leaders and co-investigators worked to adapt the program to a remote environment, in order to continue providing students with the full research experience, Donaldson said.
"We were just really creative so that the students understood what it takes to do research and the moving parts," she said. "They got real experience with how you deal with something that's out of your control, how to be flexible when faced with obstacles."
The co-investigators incorporated online trainings, electronic surveys, and even mailing the necessary work materials so that students could partake in the research at home, Donaldson said.
Donaldson said the program, funded by a $500,000 R25 five-year grant from the NIH's National Institute of Child Health and Human Development, is geared towards first- and second-year students from all colleges and all majors at UMass Boston. Before applying, students get the opportunity to learn about each faculty mentor and their research areas, said Graduate Research Assistant Ashley Lazarre.
"We were determined to provide the opportunity for the students regardless of what the outcome was going to be like," Lazarre said. "The students were very engaged throughout the summer."
Donaldson describes the group of faculty mentors, or "co-investigators", as a "dream team" that focuses largely on health disparities and vulnerable populations. Volunteers from different fields were sought out based on who was doing community-based participatory research and showed dedication to undergraduate research involvement, Donaldson said.
"We wanted to pitch this grant as working with people who are community-facing because we think that means more to our students when they can do research that impacts the community they come from," Donaldson said.
CatCH scholar Jadine Daley worked with her faculty mentor, Assistant Professor of Psychology and Honors College, Randy Corpuz, on a study examining paternal behaviors and infant salivary α-amylase (sAA) reactivity and recovery to determine whether paternal-infant interactions influence infant sympathetic nervous system (SNS) regulation and development by evaluating paternal behaviors when infants are exposed to stress-eliciting procedures.
CatCH scholar Victoria Acuna also worked with Corpuz last summer, researching the connection between race and pregnancy. Reflecting on her research experience Acuna said, "I learned about the racial disparities that exist, and how some minority groups are more prone to have pregnancy complications than other ethnic backgrounds. I think it's different when I look at the media and read an article versus when you actually get into the real literature and read the findings. It has more impact to learn through research."
The summer program invited diverse guest speakers from different fields, including former CatCH scholars, to talk about their own experiences and their accomplishments since they participated in the program, Lazarre said.
"At the end of the program a lot of the students will talk about how working with researchers was completely different than what they thought it would be," Lazarre said. "It's very important for these kinds of programs to exist because representation matters and seeing someone who looks like you do this kind of work motivates you to dream bigger and achieve bigger goals."
As they begin to plan for their third cohort of CatCH scholars this summer, organizers say that many of the students have continued their work from the program with their faculty mentor throughout the year or joined another research group in their mentor's lab to work on other projects.
"I'm still working with students from the first cohort and the second cohort," Donaldson said. "So many of them continue working with us. It's been a huge win."
Donaldson said at the end of the five-year grant, they fully intend to apply for a grant renewal based on the successes they've seen with the program.
"Our students are publishing articles and they're going to conferences. They've decided on careers including PhDs and research, and they're applying to graduate schools," Donaldson said. "I'm proud to be on this grant with [my co-investigators] because we wouldn't have been successful the past two years and certainly not last summer had it not been for their dedication. It's been a really rewarding experience that we'd love to continue."