'The time is now': A SGISD professor's fight for disability rights
---
12/03/2021
| Gray Milkowski
Valerie Karr's relationship with UMass Boston began 6,500 miles away from Columbia Point.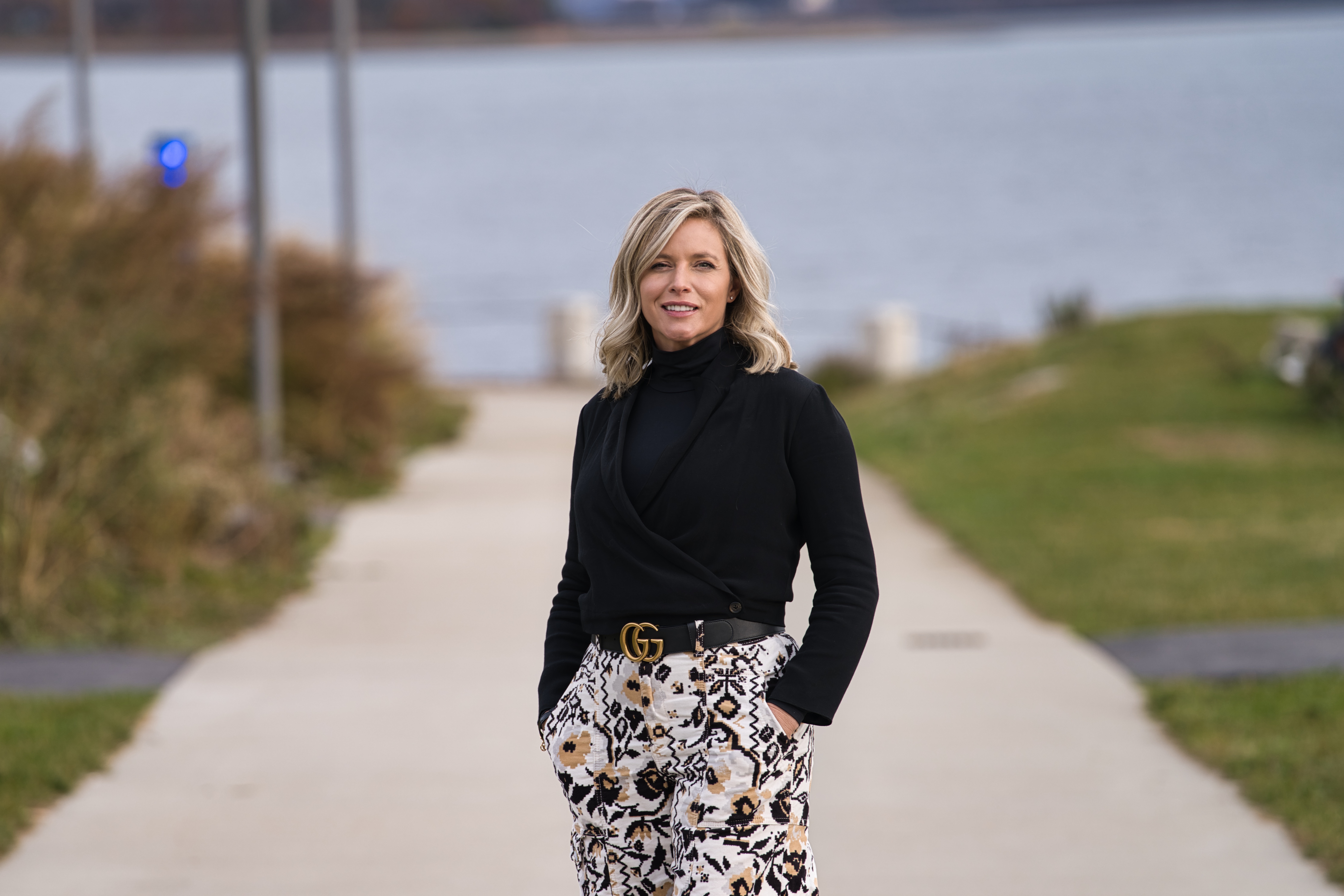 Image By: Gray Milkowski
" Inclusion is not important because it's a policy, it's important because these are our neighbors. "
Karr was in Doha, Qatar, attending a conference on disability rights that she had planned for the Shafallah Center for Persons with Disabilities, that brought together First Ladies and disability rights advocates from around the world to discuss the United Nations Convention on the Rights of Persons with Disabilities.
Also at the conference was William Kiernan, one of the world's foremost experts on employment policies and practices for people with disabilities. The two connected, and Karr's headstrong commitment to advocacy left such an impression that years later, soon after Kiernan founded UMass Boston's School for Global Inclusion and Social Development (SGISD) in 2013, he asked her to join the faculty.
"It really fit the work that I do," Karr said of SGISD. "I really liked the fact that it was not just a disability specific program but something that is dedicated to inclusion more broadly."
Karr, an associate professor of international development, works on disability inclusive development, which is looking at how to include vulnerable groups—persons with disabilities, and girls—in development opportunities. She is responsible for building and implementing systems of inclusion accountability in countries where people with disabilities and vulnerable populations have historically been left out.
Working with Inclusive Development Partners, a woman-owned small business that she co-founded and now leads as president, Karr collaborates with the United Nations and development agencies to implement an inclusion agenda, which in recent years has become a global priority after the body set up the Sustainable Development Goals, which for the first time ever acknowledged the inclusion of people with disabilities, in the Leave No One Behind initiative.
"It's addressing the question of who are society's most vulnerable, and who are the most left behind," said Karr, describing the mission behind her work. "It's something that's never been done before."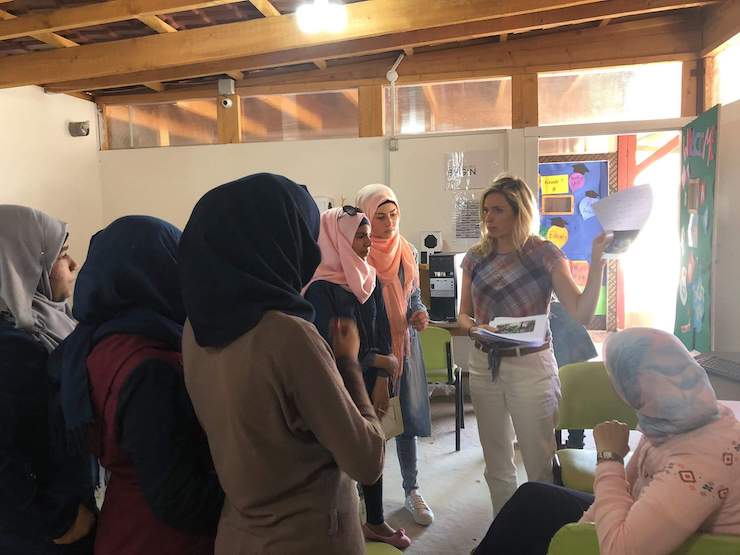 Karr in Lebanon, speaking to a group of Syrian refugee women participating in the SGISD project known as PhotoVoice in 2018. Photo courtesy of Valerie Karr.
The challenge is one that she's spent the past decade of her career working on.
"It means inventing a lot of new systems in each country," she says. "The U.S. system has done a lot of great work … but we don't need to spend 50 years replicating it in other parts of the world. In fact, culturally, it's probably not even going to work if we try to make a carbon copy. So, it's about what is a good fit."
"It's why I like being an applied practitioner, because it's asking what's feasible, what's achievable, and what can we do to move our goals forward and meet our obligations."
Karr draws on an example from her most recent work on a USAID project in Nepal, Malawi, and Cambodia. The project is known as MCSIE, or the Multi-Country Study on Inclusive Education, and it gives individuated support and recommendations to each government on how to make classrooms more inclusive. Much of the work is policy-related, but she argues that the most important work happens on the ground.
"It's how do we identify children with disabilities, how do we train teachers to be more inclusive, and how do we provide supports and services [to students that need them]," she notes. "Something as simple as needing eyeglasses – where would you go … Every single piece of that puzzle has its own complex development challenge."
One of the things that makes Karr so valuable to the global inclusion community is that she brings an educator's lens to problems that politicians and lawyers traditionally are responsible for solving. The training from her MEd in elementary and special education is something that continues to influence her policymaking and advocacy today.
It supported her especially when she was helping to build knowledge around the language of the U.N. Convention on the Rights of Persons with Disabilities in 2007, of which education was a big piece.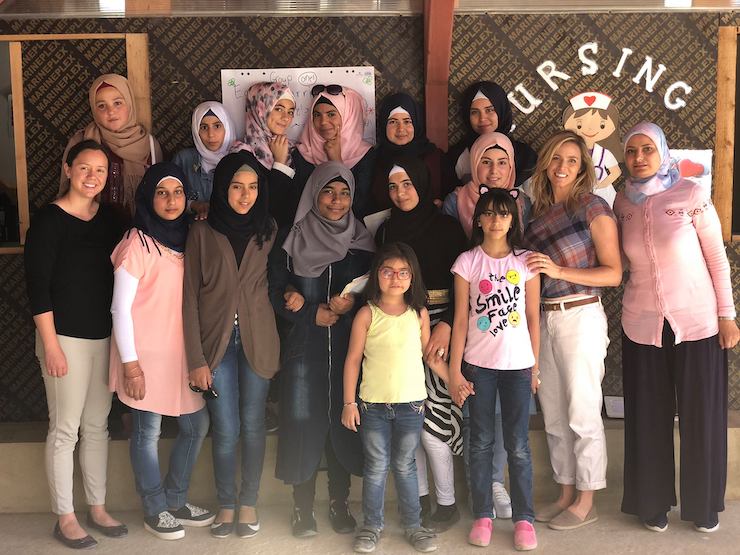 Karr, seen with participants in the PhotoVoice project in Lebanon. Photo Courtesy of Valerie Karr.
"What does it mean to have a right to education? How do we talk about that right?", she said, thinking back to the convention's crafting. "This isn't just a government strategy document; we're not only talking to each other. We're talking to a community, and everyone has an opinion. So how we talk about these things matters."
In a global context, some have argued that inclusion is a cumbersome topic, especially when thinking about what it looks like in each individual nation around the world, many of which have other priorities to think about. But Karr adamantly disagrees, emphasizing that inclusion is about people.
"Inclusion is not important because it's a policy, it's important because these are our neighbors. These are our friends. These are our family members. These are people who have the right to the same participation that everybody else has," she says. "If you come at it from that basic premise, then that momentum engages people in a new way and in a positive way."
Karr knows that there is a lot of work to be done, but she's confident that we are in a better position than ever globally to make meaningful and authentic change when it comes to inclusion of people with disabilities and other vulnerable populations.
"My hope is that we can achieve a society in the future where people with disabilities and their families don't have to struggle so much … to get their basic needs and rights met," she says. "Even in the U.S., it is hard to get the supports and services that you have a right to, and you have to fight to do this, and that's not okay."
"Other people don't have to fight – other people who aren't born with what society views as vulnerabilities and backgrounds [that people like] ethnic minorities and girls are born with – they are automatically entitled to those rights. That's power, and that's privilege."
Karr points to her work and the thousands of her colleagues spread around the world, who are coming together for a long-term commitment to improving these systems.
"The attention is there, and the time is now."