Trotter Institute Director Wins African American Intellectual History Society's Book Prize for Pauulu's Diaspora
---
05/11/2021
| Danielle Bilotta
Professor of Africana Studies and Trotter Institute for the Study of Black Culture Director Quito Swan is the recipient of the African American Intellectual History Society's (AAIHS) Pauli Murray Book Prize for his new book, Pauulu's Diaspora: Black Internationalism and Environmental Justice.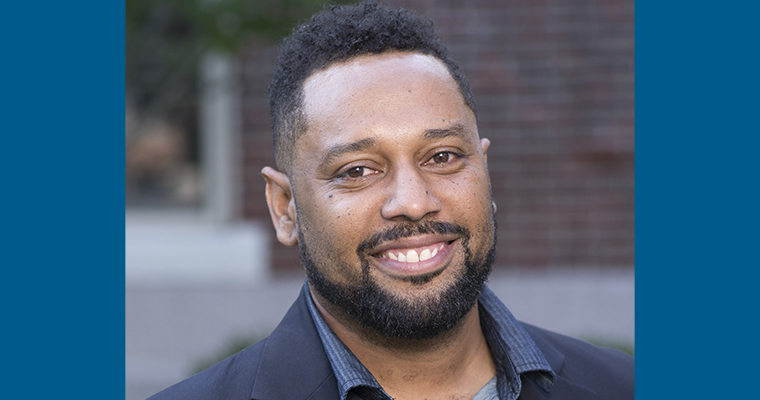 " Pauli Murray was a critical lawyer, author, and women's rights activist-intellectual and it's an absolute honor to have the book. "
The award recognizes the year's best book concerning Black intellectual history.
"I am absolutely humbled and ecstatic. Pauli Murray was a critical lawyer, author, and women's rights activist-intellectual and it's an absolute honor to have the book carry her name," Swan said. "She was also an alum of Howard University, and we share that in common. I am thrilled to have my work recognized by the AAIHS."
The AAIHS is a national professional association that's committed to the study of the Africana world, and the award committee includes scholar-activists and organizers such as Leslie Alexander, Ibram X. Kendi, Russell Rickford, and Chris Tinson, Swan said.
"It feels great to be recognized by your peers for completing a book that involved research in nine countries and is offering transformative contributions to the study of the Black world," he said.
In addition to the AAIHS award, Swan's new book has also won a 2021 National Endowment for the Humanities (NEH) Fellowships Open Book Award. Swan said this award is particularly significant as a 2014 NEH Fellowship allowed him to conduct research for the book in nine countries, including Vanuatu, Fiji, and Papua New Guinea, which involved travel that would have been more difficult to arrange.
"The Open Book Award will also allow the book to reach those distinct communities who may have had issues in accessing the book otherwise," Swan said.
Pauulu Kamarakafego, the main protagonist of Swan's new book, is also the focus of Swan's first book, Black Power in Bermuda: The Struggle for Decolonization, which explored the dynamics of the Black Power movement beyond the borders of the United States. In Pauulu's Diaspora, Swan said he wanted to trace Kamarakafego's global work as a Pan-Africanist organizer and ecological engineer across the Americas, Africa, Asia, and Oceania.
"One of the main messages [of the book] is that the Black Power movement was a global phenomenon," he said. "Black communities have pioneered movements for environmental justice and linked questions of sustainability and technology to our pushes for Black power, civil rights, and Pan-Africanism. In addition, the African Diaspora includes Africa as well as Black communities both west and east of Africa across the Atlantic, Indian, and Pacific Ocean worlds."
Swan joined UMass Boston as a full professor of Africana Studies in 2019 and became the director of the Trotter Institute in spring 2020. He is also a recent appointee to the chancellor's Restorative Justice Commission. He said the university is a critical hub of Black diasporic thought.
"My work fits within the Black radicalism of Boston's William Monroe Trotter, but also within the mission of the institute to address the needs of Boston's Black communities through research, public advocacy, and community engagement," he said. "As the words of Amilcar Cabral informed us about imperialism, we cannot eliminate racism 'by merely shouting insults against it.'"