UMass Boston and UMass Amherst Partner to Host Camp Shriver on Mount Ida Campus in 2021
---
05/11/2021
| UMass Amherst
BOSTON, Mass. – UMass Boston's Camp Shriver will relocate to the Mount Ida Campus of UMass Amherst in Newton for summer 2021. The change of location was prompted by significant construction activity on the UMass Boston Campus.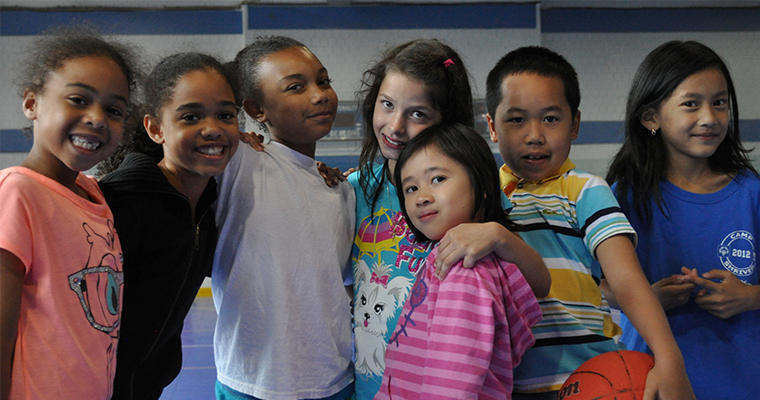 Free inclusive summer camp for Boston children with and without disabilities to move to UMass Amherst's Newton Campus this summer
Camp Shriver at UMass Boston is a nationally recognized inclusive recreational program that brings children with and without disabilities together to provide opportunities for social and motor development. Since 2006, Camp Shriver has used sports as a vehicle to improve the social and emotional learning skills of over 1,600 children ages 8 to 12 from low-income families in the Boston area for free. At Camp Shriver, all children learn and play as equals.
"I am grateful to our colleagues at UMass Amherst for their assistance in helping make Camp Shriver a success this summer," said UMass Boston Chancellor Marcelo Suárez-Orozco. "The camp has a long history of providing access to an engaged and fun summer camp experience and breaking down barriers among the diverse groups of campers."
"We're thrilled to be able to assist UMass Boston in ensuring that Camp Shriver will be held in 2021," said UMass Amherst Chancellor Kumble Subbaswamy. "Our strategic plan for the Mount Ida Campus encourages collaboration with our sibling UMass campuses on youth and community development programs, and this is certainly an excellent opportunity to do that while providing a great experience for Camp Shriver campers."
From July 6 to July 30, over 100 campers will utilize the athletic fields, athletic center and classrooms on the Mount Ida Campus for inclusive activities including basketball, soccer, football, lacrosse, tennis, creative activities, arts and crafts, and more. Campers receive free transportation from designated locations in Boston and free breakfast, lunch, snacks and camp gear. Camp Shriver will strictly adhere to state COVID-19 guidelines for sports campus.
"Camp Shriver is all about our campers," said Mark Spolidoro, director of Camp Shriver at UMass Boston. "This summer is an opportunity for our campers to get back a little piece of normal, see their friends, and have fun playing outside. We are grateful for our new partnership with UMass Amherst for making camp happen this summer and looking forward to exciting opportunities that the Mount Ida Campus offers."
About the Center for Social Development and Education at UMass Boston
Camp Shriver is hosted by the Center for Social Development and Education (CSDE) at UMass Boston, a multidisciplinary research and training institute. The CSDE's mission is to promote the social development of children with disabilities and increase their success in school and the community, while simultaneously working to eliminate the attitudinal barriers that limit opportunities for their full participation in society. Unique to CSDE's mission is the value it places on translating research to practice.
About the Mount Ida Campus of UMass Amherst
The Mount Ida Campus of UMass Amherst serves as a center for student experiential learning, industry engagement, academic and research collaboration, and fundraising in Greater Boston, which is home to a plurality of UMass Amherst students and alumni. Acquired from the former Mount Ida College in 2018, the campus exists to connect the state's flagship public research university to the Greater Boston business community and serves as a secondary instructional site for UMass Amherst.
Contacts:
UMass Boston: DeWayne Lehman, dewayne.lehman@umb.edu, 617-291-7258
UMass Amherst: Ed Blaguszewski, edblag@umass.edu, 413-695-4522