UMass Boston Assistant Professor Awarded CAREER Grant to Advance Women of Color in STEM
---
05/17/2021
| Danielle Bilotta
As a counseling psychologist, Assistant Professor of Counseling and School Psychology Kerrie Wilkins-Yel knows first-hand how systemic barriers exact a considerable toll on people's mental health, resulting in decreased motivation, drive, and ability to thrive personally, professionally, and academically.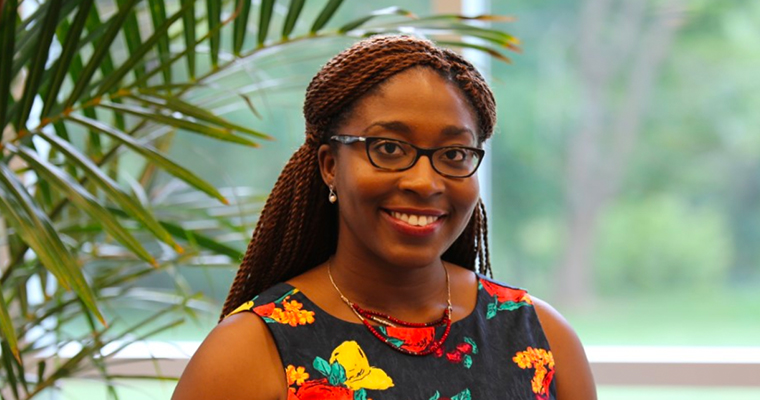 " Women of color can't thrive if they are simultaneously tokenized and rendered invisible in STEM. "
Wilkins-Yel has recently been awarded the National Science Foundation CAREER grant for her research titled, "Advancing STEM Persistence among Graduate Women of Color through an Examination of Institutional Contributors and Deterrents to Mental Health".
With this five-year grant, she hopes to address the inequitable representation of women of color in STEM and center the voices of graduate women of color by examining the psychological implications of having to navigate systemic barriers, such as racism, within their STEM environments.
Wilkins-Yel said decades of efforts to combat underrepresentation in STEM have centered on women and/or minoritized students in STEM, applied one-size-fits-all approaches to broadening STEM participation, and focused on academic and professional domains of STEM persistence versus taking a whole-person approach. By centering on 'women and minoritized students' these efforts have ignored communities such as women of color, who are at the intersection of these groups, she said.
Unlike their counterparts, Wilkins-Yel said that graduate women of color must face the rigors of obtaining a STEM doctoral degree in predominantly masculine and white environments rife with structural racism and sexism, while also combating marginalizing experiences outside of STEM.
"Women of Color must navigate a society where many within their communities are dying at the hands of police brutality, victims to xenophobic acts of hate, and where the erasure of their missing and murdered sisters is palpable, as is the case of Native women," she said. "Women of Color must then navigate gendered and racialized encounters inside their STEM labs and classrooms". Together, these experiences exact an enormous toll on the mental health and wellbeing of graduate women of color in STEM."
In addition to understanding the psychological toll and impact of navigating institutional encounters as a woman of color in STEM, her research also aims to examine the supportive and unsupportive faculty behaviors that affect their mental health and wellbeing, and investigate the effectiveness of culturally grounded interventions designed to support them.
Wilkins-Yel, who has dedicated her career to advocating for women of color in STEM, vowed to combat the effect of messages that deter women from entering male-dominated industries.
"A salient personal experience was hearing firsthand that I should pursue a career that was 'easier', 'less time-consuming' and more 'female-oriented' than my original interest in engineering," she said. "At the time, I didn't think anything of it, but later during my doctoral program, I realized how messages like these can significantly alter a woman's career trajectory."
Although there have been efforts in recent years to obtain a critical mass of women of color in STEM, Wilkins-Yel said those efforts won't solve the issue of underrepresentation if it doesn't acknowledge the systemic issues that are prevalent in many STEM environments. Capable and competent women of color are being recruited into environments that are riddled with oppressive encounters that end up stifling students' interests and desire to complete their degree, she said.
Wilkins-Yel said listening to narratives from past research of graduate women of color in STEM sharing their experiences with sexism, gendered racism, and microaggressions which contributed to the onset of depression, anxiety, and even suicidal ideation, also influenced this specific research project.
"With this heightened psychological distress, participants described deciding to discontinue their STEM doctoral pursuits as a preventative act to support their mental health," she said.
Wilkins-Yel said increasing the diverse representation of scientists and engineers have large scale implications on research quality, innovation, and growth, and it strengthens the expertise needed to creatively solve socio-cultural issues. For example, there is a longstanding distrust of healthcare professionals among communities of color that date back to the unethical, harmful, and lethal practices committed on Black and Brown bodies by predominantly white male doctors, such as in the case of Henrietta Lacks and the Tuskegee trials, she said.
"Take the COVID-19 pandemic and vaccine. Scientists, doctors, and healthcare providers of color are more likely to understand the distrust and be better liaisons and advocates to communities of color as it pertains to taking the COVID-19 vaccine compared to their white counterparts," she said. "However, this would be virtually impossible if we didn't have scientists and doctors from racially and ethnically diverse minoritized communities."
"Our work needs to engage institutional stakeholders in STEM in creating environments that are wholesome, enriching, and centered on thriving," she said. "Women of color can't thrive if they are simultaneously tokenized and rendered invisible in STEM."