UMass Boston Experts Predict Domestic Policies Under the Biden-Harris Administration
---
02/25/2021
| Danielle Bilotta
UMass Boston and UMass Law School faculty say that the Biden-Harris Administration can strategically use federal authority to create a durable floor of protections to address the issues that have impacted communities across the country.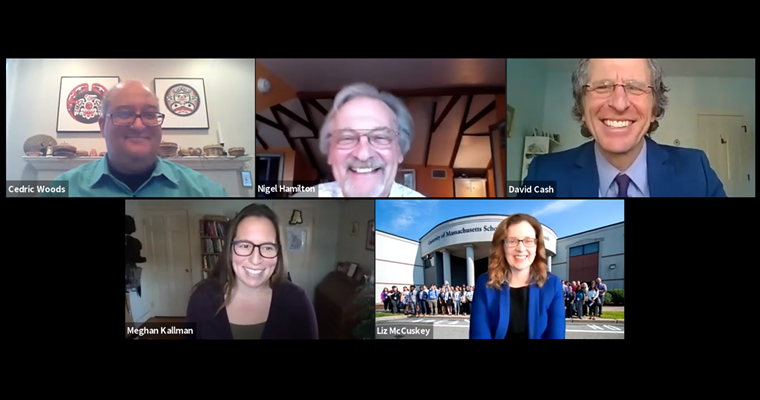 The McCormack Graduate School of Policy and Global Studies hosted UMass Boston and UMass Law School faculty to discuss what we can expect from the new Biden-Harris Administration.
" It's not that we don't know how to make things better; it is a conscious choice to not want to break things apart. "
"By targeting the federal programs and federal programs interventions for communities that have had disproportionate harm, that's using the current law that we already have to try to do better," Elizabeth McCuskey, a professor at UMass School of Law said.
The McCormack Graduate School of Policy and Global Studies hosted their second of three virtual panels discussing what we can expect from the new Biden-Harris Administration last week. Titled "What to Watch for Domestic Policy," the discussion featured expert panelists from UMass Boston covering the presidency, healthcare and the courts, education and housing, and Tribal policy. McCormack Graduate School Dean David Cash led the discussion.
Presidential biographer Nigel Hamilton, a senior fellow in the McCormack Graduate School, said before we can make predictions about the Biden-Harris administration, it's important to remind ourselves how unpredictable history can be. He noted that many data scientists predicted that former President Donald J. Trump would have won a second term if it were not for his administration's handling of the COVID-19 pandemic.
"The performance of the president counts," Hamilton said. "As scientists we look at patterns, especially statistically significant patterns, but we often fail to take into account individual agency. The agency of the human individual, where character, not numbers, is key."
Hamilton said the most important task of the Biden-Harris administration is to reestablish the primacy of truth and truth gathering, "without which our democracy is doomed."
The COVID-19 pandemic highlighted issues in healthcare policy and law across the country. McCuskey said the Biden-Harris Healthcare and Health Reform Agenda is largely a reestablishment agenda that focuses on repairing the Affordable Care Act (ACA) and our public infrastructure while reinvigorating the role of the states in health policy.
McCuskey also said we can no longer ignore the impact racial injustice has on healthcare, and that life expectancy is directly correlated with income in the United States, which manifests as medical conditions that disproportionately burden communities of color.
The Biden-Harris Administration is looking at health programs like Medicare and Medicaid to address these social detriments in order to get the most return on an equity basis for public investment in the healthcare system, McCuskey said.
"I hope there will also be some movement on enabling states to use federal funding and the expertise of federal agencies to expand their own programs that are perhaps more ambitious," she said.
Cash said there was "backwards movement" for Tribal rights and protections under the Trump administration. Director of the Institute for New England Native American Studies Cedric Woods said the new administration is taking steps to address these issues, but Tribal Communities still face opposition and resistance at the federal and state level.
Woods said data is necessary to show the impacts of different policies and issues but is insufficient alone, citing two sets of data showing the positive impact the Indian Health Care Improvement Act (IHCIA) in conjunction with the Affordable Care Act (ACA) has had on the economic viability of the Indian Health Services system, and the negative impact Native mascots and caricatures have on Native children, and on non-Native children's perception of Native people.
"It's not that we don't know how to make things better; it is a conscious choice to not want to break things apart," Woods said.
Assistant Professor of International Development Meghan Kallman said one of the top priorities for the Biden-Harris administration is the housing crisis, which she said can be solved in different ways including addressing zoning laws at the state and municipal level, density, affordable housing, and raising the minimum wage.
"The Biden administration has pledged to build back better and the choices of leadership within HUD reflect his commitment to seeing housing as a racial, economic, and a gendered justice issue," she said.
Kallman said the COVID-19 pandemic has also exposed the stakes of educational inequity within schools.
"Public schools have been charged for decades with doing basically everything that we don't want to deal with in other areas of public life. They have become significant sources of mental health resources, food, childcare, warmth, heating, cooling, in addition to their formal mandate of education," she said. "The country has disinvested in education. There's a funding structure to begin with that is unfair because it's based on property taxes."
Kallman believes the Biden-Harris educational policies are likely to address the consequences of the COVID-19 pandemic, collect representative data on the effects of distance learning, implement public broadband internet access, reinvest in teachers, and prioritize systemic racism with school funding and curriculum.
In their closing remarks, panelists said the Biden-Harris administration has the opportunity to build upon democratic policies and law, and learn from the mistakes of previous administrations.
"This administration is both an opportunity and a mandate to do two things," Kallman said. "To talk about policy in a way that is relatable and gets the public involved in the discussions that matter for the consequences of all of our lives but also to talk about values and to really do some explicit reckoning with who we are, why we're here, and more importantly, where we want to go."
"The Biden-Harris administration is called not to return to business as usual but business as it should be in terms of governing for the better good of all America," Woods said.