UMass Boston Honors 2020 and 2021 Doctoral Candidates at Hooding Ceremony
---
08/27/2021
| Vanessa Chatterley
The journey toward achieving a doctorate degree in any discipline is already paved with obstacles and deterrents. And that's without factoring in a global pandemic.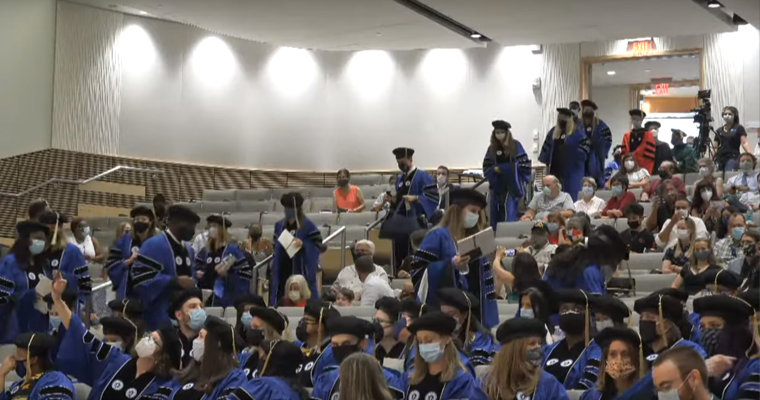 " It's an overwhelming sense of accomplishment in the face of adversity. "
"It's an overwhelming sense of accomplishment in the face of adversity," said Bridget Bearden G'18, PhD'21, who faced her own adversities while pursuing her doctoral degree in public policy. In addition to having three children, all of whom had to transition into remote learning, Bearden also lost her job last year. "It's a sense of relief and a light at the end of the tunnel."
Bearden is one of 212 doctoral candidates who reached that light at the end of the tunnel on August 25 with the conferral of their degrees. The university hosted two separate ceremonies to honor the doctoral candidates for 2020 and 2021 — 117 and 95 graduates, respectively.
"I congratulate all the candidates, your mentors, and especially your supporters. These are the people who urged you on when the light at the end of the tunnel seemed just that little bit too far away," said Vice Provost for Research & Dean of Graduate Studies Bala Sundaram.
Kostas Koutsioumpas G'17, PhD '21, a first-generation college graduate who hails from Greece and who earned his doctorate in global inclusion and social development, said it's important for graduates to recognize their support systems as they celebrate this academic milestone.
"I think [this achievement] belongs to all of them. That's what it means to me. It was really more of a collective effort than just me," he said, adding that his wife and family have been pillars of support during the past three years. "Without them, I wouldn't make it to the point where I am today."
"We're here today to appropriately pause — as we do annually, in the midst of our busy, fast-paced lives — to justifiably honor the incredible hard work, dedication, and resilience that is required as each of you are recognized as doctoral graduates from UMass Boston," said Provost and Vice Chancellor for Academic Affairs Joseph Berger. "The knowledge, skills, and expertise that you have gained from each other, from your faculty advisors, from other faculty members, and a myriad of learning experiences here at UMass Boston prepared you well for a future that needs you and your scholarly expertise."
Watch UMass Boston's virtual and in-person commencement ceremonies at www.umb.edu/commencement.