UMass Boston Pre-Collegiate Students Join National Good Trouble Summer Book Club
---
07/19/2021
| Office of Communications
Boston Mayor Kim Janey and Suffolk County District Attorney Rachael Rollins Among Distinguished Book Club Facilitators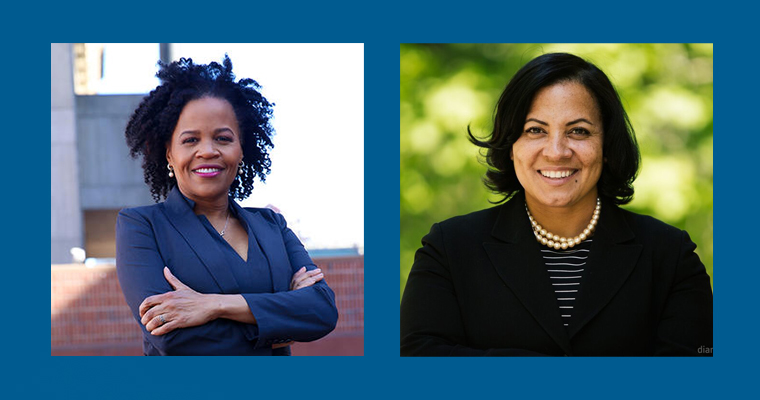 Boston Mayor Kim Janey and Suffolk County District Attorney Rachael Rollins
" We're so excited to have our students engage with these two dynamic leaders! "
This summer, 80 Boston and Lawrence high school students who participate in federal TRIO and other educational opportunity programs at UMass Boston will join peers nationwide in the Good Trouble Book Club to read works by the late civil rights icon Rep. John Lewis (D-GA).
Boston Mayor Kim Janey and Suffolk County District Attorney Rachael Rollins will each facilitate virtual discussions with the students, who are enrolled in UMass Boston's pre-collegiate programs Upward Bound, Urban Scholars, Upward Bound Math-Science, and Talent Search/Project REACH.
TRIO programs are rooted in the Civil Rights Act and provide individualized mentoring, advising, support, and financial counseling to help first-generation and low-income students, students with disabilities, military veterans, and other underrepresented students enter and complete college. Students will meet in regional chapters, organized through campus TRIO programs.
The nonprofit Council for Opportunity in Education (COE) in Washington, D.C. launched the Good Trouble Book Club this year to engage TRIO students in discussions about the implications of the work of leaders like Lewis for their own lives and for the future of the nation.
"We're so excited to have our students engage with these two dynamic leaders," said Terri Morgan, senior director of programs and initiatives in UMass Boston's Department of Pre-collegiate Programs. "The majority of our participants identify as BIPOC, and more than half identify as young women; we hope they will see themselves in Mayor Janey's and D.A. Rollins' life stories and professional journeys— and, of course, in Congressman Lewis' — be inspired to get involved in the political process, and begin to imagine themselves in positions of leadership, broadly defined."
More than one hundred club chapters have formed in rural and urban communities across the country to engage thousands of students. Local leaders will help facilitate each chapter's exploration of Rep. Lewis' legacy.
"As elected officials, we stand on the shoulders of giants like Congressman John Lewis, who paved the way for us. I'm pleased to join UMass Boston's Pre-collegiate Programs as a facilitator for the Good Trouble summer book club, because now it is our turn to show the next generation how they can serve as leaders today and in the future," said Mayor Janey, who will speak to students on July 28.
"At a time when voting rights are under attack across our nation, it is critically important that young people get involved in the political process and fight for their rights. There is no one better for our students to learn from than the late Congressman John Lewis, a Civil Rights icon who spent his life fighting for justice. I am honored and excited to serve as a facilitator for UMass Boston Pre-collegiate Programs' Good Trouble summer book club," said District Attorney Rollins, whose discussion is July 20.
TRIO students will read either John Lewis' Across That Bridge: A Vision for Change and the Future of America (2017) or The March Trilogy (2013). Additionally, COE will organize talks by nationally prominent individuals on themes from both books that the book club chapters will be able to attend virtually and engage in discussions with the speakers.
"The TRIO community has shown tremendous enthusiasm for this new initiative honoring the late Congressman John Lewis. TRIO students are excited to engage with prominent leader facilitators on the topic of 'good trouble' as a response to social injustice and inspiration for real change in our world," said Maureen Hoyler, COE president.