UMass Boston Professor, Asian Cohort for Alzheimer's Disease Receive $4.8M NIA Grant
---
06/03/2021
| Danielle Bilotta
Professor of Nursing Dr. Haeok Lee is the site principal investigator on a National Institute of Health/National Institute on Aging funded grant studying Alzheimer's Disease in Asians.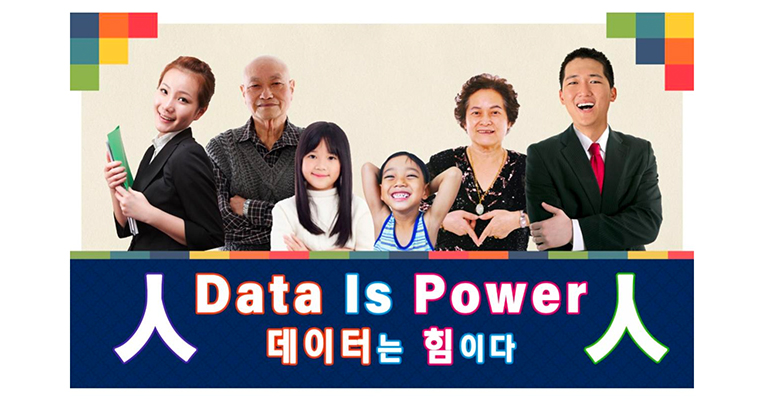 In order to help recruit participants, an ad campaign was created using the slogan, "Tell-A-Friend about Data is Power."
Lee's research will focus on Korean Americans as part of a joint study called the Asian Cohort for Alzheimer's Disease (ACAD) with the University of Pennsylvania, Boston University, Columbia University, University of California San Francisco, and other sites around the world. ACAD recently received a $4.8 million grant from the National Institute on Aging (NIA). She studies with Korean Americans in the Northeast from Boston to Washington D.C.
Asian Americans are a rapidly growing population in the United States but are rarely included in scientific research, due to language barriers, the "model minority stereotype," and their image as a healthy and well-to-do population, Lee said.
She was drawn to this research because of her own experience as a caregiver for her mother who suffered from cognitive impairment. While taking care of her mother, Lee learned that there is inadequate information on how Alzheimer's Disease impacts immigrant and minority populations, particularly Asian-American elders.
"As a scientist, I see a significant need for these studies but as a caregiver and as a community member, I see a desperate need for resources and knowledge," she said. "The uniqueness of my study is that I'm only focusing on Korean American sub-groups."
Lee uses the principals of community-based participatory research to guide her approach to her work. This means she will rely on her network of community associations including Korean American churches, adult day care centers serving Korean elders, the Korean American Senior Association, and the Korean American nurse associations, for her recruitment and data collection. She said 80 percent of Korean Americans attend church and other religious centers on a regular basis and she has received strong support for her research from Korean American church leaders who have offered their churches as venues where health programs can be delivered to hard-to-reach Asian Americans.
In order to help recruit participants, an ad campaign was also created using the slogan, "Tell-A-Friend about Data is Power," to communicate the importance and shared ownership and responsibilities of partnering with the research, Lee said.
"This is important since previous studies have found that perceived factors of altruism and contributing to the social good are key to getting Asians to participate in clinical studies," she said.
Lee said she has also used ad campaigns with the Chinese word (In, 사람 인 [人]), which means "person", "human", "people", or "human being." It refers to a person who is standing in the field or working but for Lee, the word implies a meaning that is more social, and it looks like two people leaning on each other, she said.
"That is how I see the relationship and collaboration between research participants and researchers. It's based on trust and respect for both cultural and scientific knowledge that are significantly important to conducting our project," she said. "Like this word, I also consider the relationship between Asian Americans and other ethnic community members the same as counting on and leaning on each other to make a good society and to reduce disparities in health and humanness across all ethnic groups."
Community-based participatory research allows Lee to connect with the participants and see problems through their eyes. She utilizes storytelling in her work to build a personal connection and has found that participants quickly identify with her when their stories overlap, Lee said.
"Knowledge isn't efficient enough to change someone's attitude, you have to have emotion," she said.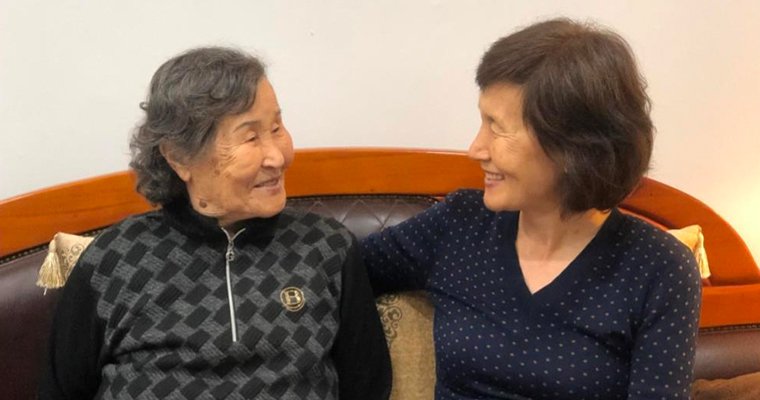 Image: Dr. Haeok Lee and her late mother, Soon Maria Lee.
Lee said that her own story with her mother means she is approaching this research as both a scientist and a consumer. Her drive to provide scientific research and resources to help other families is a way to pay respect to older generations that have made sacrifices for their families in the past.
Lee and her fellow researchers plan to complete the pilot study at the end of the year, and if this pilot is successful, she hopes to include Chinese Americans in future research through ACAD because Boston has a high-density of Chinese Americans.
UMass Boston is unique in this study because it's the highest education institution that has been awarded an Asian American and Native American Pacific Islander-Serving Institutions (AANAPISI) grant by the U.S. Department of Education. Her pilot study research is a combination of field and clinical studies and she's collaborated with the College of Nursing and Health Science and the Gerontology Institute, where she's served as a fellow.
"I'm so proud to bring this grant to UMass Boston," she said.