UMass Boston Professor Publishes New Book, Chasing the American Dream in China
---
04/16/2021
| Crystal Valencia
Few have studied the experiences of children of immigrants who move to their ancestral homelands—countries with which they share cultural ties but haven't necessarily had direct contact. In her new book, Chasing the American Dream in China: Chinese Americans in the Ancestral Homeland, Associate Professor of Sociology Leslie Wang addresses this gap, examining the lives of highly educated American-born Chinese (ABC) professionals who "return" to the People's Republic of China to build their dreams.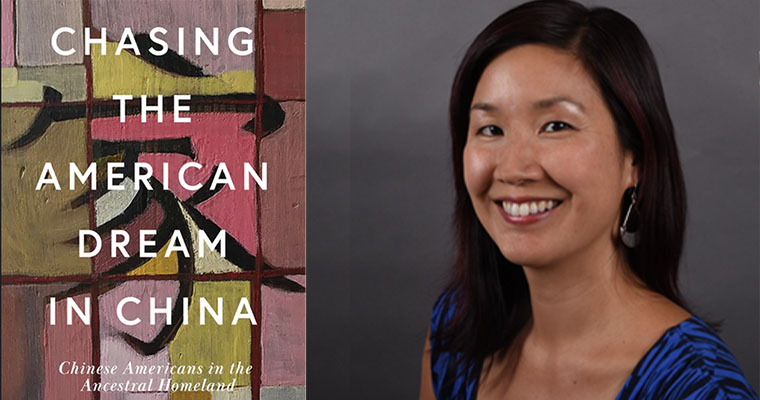 " My research shows how Chinese Americans are forever between home and homeland. "
Through analyzing the stories of these individuals, Wang deepens our knowledge about transnationalism among ABCs as they grapple with complex issues of identity and belonging in the ethnic homeland.
She first became interested in the topic in 2013, after seeing an article in the New York Times about the American-born children of immigrants who "return" to their parental homelands to live and work. At that point, no research had been done on ABCs who relocate to China.
"This was odd given the important role they play in connecting the economies of the world's two most powerful nations," Wang said. "But I also wondered why well-educated middle-class ABCs would exchange comfortable lives in the United States for a far less comfortable or predictable existence in China, which still qualifies as a developing country."
Chasing the American Dream in China is based on 60 in-depth interviews with ABC professionals who worked in the global cities of Beijing and Shanghai. Their stories demonstrate how these migrants maneuver between countries and cultures to further their careers and maximize opportunities in the rapidly changing global economy. When used strategically, their versatile ethnic identities position them as indispensable bridges between the competing superpowers of China and the United States.
"This is a story about how ABCs move to their ethnic homeland both for career pursuits and to find a sense of racial identity and cultural belonging that they feel has been lacking for them in the United States," Wang said. "What they find is that, even in China, they are not fully understood. Thus, my research shows how Chinese Americans are forever between home and homeland."
Pawan Dhingra, author of Managing Multicultural Lives: Asian American Professionals and the Challenge of Multiple Identities, called Chasing the American Dream in China a "captivating book."
"Leslie Wang uncovers not only why children of migrants return to their ancestral lands and their surprising experiences abroad, but she also signals its implications for our global economy and international relations. Wang has shown migration studies a new direction to follow," Dhingra wrote in a review.
The book is being released by Rutgers University Press this week.
Wang joined UMass Boston's faculty in 2013. Her research centers on issues of gender, family, and migration that connect China with the global north. She has also written the award-winning book Outsourced Children: Orphanage Care and Adoption in Globalizing China, published by Stanford University Press in 2016.
She published an op-ed piece this month, "No, We Can't 'Go Back' to Asia."
About UMass Boston
The University of Massachusetts Boston is deeply rooted in the city's history, yet poised to address the challenges of the future. Recognized for innovative research, metropolitan Boston's public university offers its diverse student population both an intimate learning environment and the rich experience of a great American city. UMass Boston's colleges and graduate schools serve 16,000 students while engaging local and global constituents through academic programs, research centers, and public service. To learn more, visit www.umb.edu.