UMass Boston, Rep. Liz Miranda Host Virtual Town Hall on Birth Equity
---
06/04/2021
| Office of Communications
College of Nursing and Health Sciences, Center for Women in Politics and Public Policy, and State Representative Liz Miranda  Announce  a Virtual Town Hall on Birth Equity  and Racism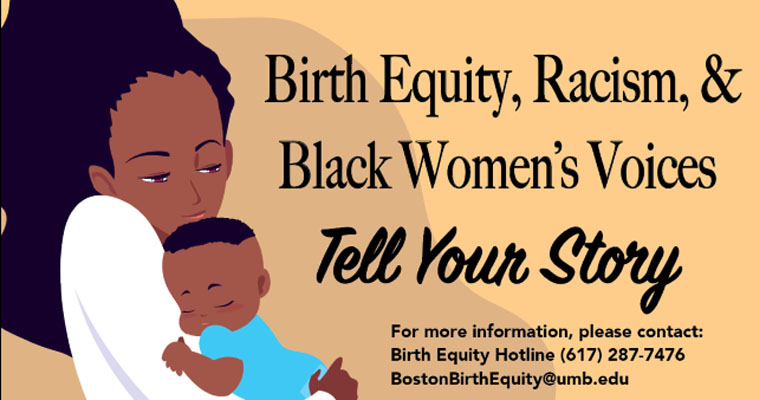 " The study examines the impact of racism experienced by Black women who have recently given birth in the Greater Boston area. "
Lisa Heelan-Fancher, an assistant professor in the College of Nursing and Health Sciences, and Laurie Nsiah-Jefferson, director of the Center for Women in Politics and Public Policy in the McCormack Graduate School, have joined forces with Massachusetts State Representative Liz Miranda to raise awareness and discussion of birth equity and racism at an upcoming virtual town hall on Tuesday, June 8.
The town hall, which will kick off at 6:30 p.m., is co-hosted by the UMass Boston Birth Equity team and Representative Miranda. Participants will learn about a study being conducted at UMass Boston about racism experienced by Black women who have recently given birth. Participants will also have the opportunity to tell their stories. They will also engage in community-building and receive a resource toolkit especially designed for Black parents, including a free parenting class. Register for the town hall.
"The study examines the impact of racism experienced by Black women who have recently given birth in the Greater Boston area, their perceived ability to affect change related to birth equity, and its impact on birth outcomes." Heelan-Fancher said.
The study will also explore perceptions and experiences of how COVID-19 has affected Black women's access to prenatal and delivery care during the pandemic. 
"Multiple types of racism related to policies and institutional structures (institutional); interpersonal interactions (interpersonal), heightened vigilance for experiencing negative racial interactions (anticipatory), and a special type of racism specifically experienced by Black woman (gendered racism) are all chronic stressors that are associated with an increased risk for preterm birth, low-birth-weight, maternal mortality and other poor birth outcomes," said Nsiah-Jefferson.
Nsiah-Jefferson says this is most evident in studies showing that Black women who had higher levels of education and income had a higher rate of preterm birth compared to white women who had similar and lower levels of education, and the inequities in maternal mortality among Black women as compared to white women in Massachusetts.
"This suggests that interventions are needed to address multiple forms of racism, including gendered racism to promote health equity in birth outcomes and beyond," Nsiah-Jefferson added.  
Finally, the study will assess what participants believe is critical to ensure a healthy pregnancy for Black woman, including what community, policy and clinical strategies they think could improve childbirth outcomes.  
Representative Liz Miranda noted in an interview with Ms. Magazine in April that, "Maternal care for Black women is a public health crisis and a racial justice issue" and emphasized that "It is critical that state legislatures—both here in Massachusetts and across the country—pay attention and take action. Our response to stark racial inequities in maternal health must start with policy solutions that center Black women and place anti-racism at the forefront."
Representative Miranda, along with Representative Kay Khan and Senator Rebecca Rausch, filed legislation last summer to create a Maternal Inequities Commission to study maternal health—everything from places to receive care, quality of that care, prenatal and postpartum services—and are committed that the commission's work is centered on and includes Black women every step of the way.
The Faculty Fund for Enhancing Interdisciplinary Research between the McCormack Graduate School of Policy and Global Studies and the College of Nursing and Health Sciences provided a grant to support the study starting in the summer of 2020. Heelan-Fancher and Nsiah-Jefferson expect their study findings to continue to contribute to interventions and public policy recommendations designed to reduce racial and ethnic inequities in childbirth, and specifically to the efforts of the Maternal Inequities Commission by centering the voices of Black women and increasing our understanding of how racism specifically impacts Black pregnant women based on their experiences and how they are viewed in society and in the Greater Boston area.
The UMass Boston Birth Equity team consists of Drs. Laurie Nsiah-Jefferson, Lisa Heelan-Fancher, Colette Dieujuste, Tiffany Moore Simas and students Violet Acumo, Damiana Andonova and Ciyana Smith.
To learn more about the study, visit bit.ly/birthequityumb.
About UMass Boston 
The University of Massachusetts Boston is deeply rooted in the city's  history, yet poised to address the challenges of the future. Recognized for innovative research, metropolitan Boston's public university offers its diverse student population both an intimate learning environment and the rich experience of a great American city. UMass Boston's colleges and graduate schools serve 16,000 students while engaging local and global constituents through academic programs, research centers, and public service. To learn more, visit www.umb.edu.