UMass Boston Run for Krystle Team Ready for Marathon Monday
---
10/08/2021
| Vanessa Chatterley
After training together for the past four months, a 10-member team representing and supporting UMass Boston will take their mark this Monday for the 125th Boston Marathon.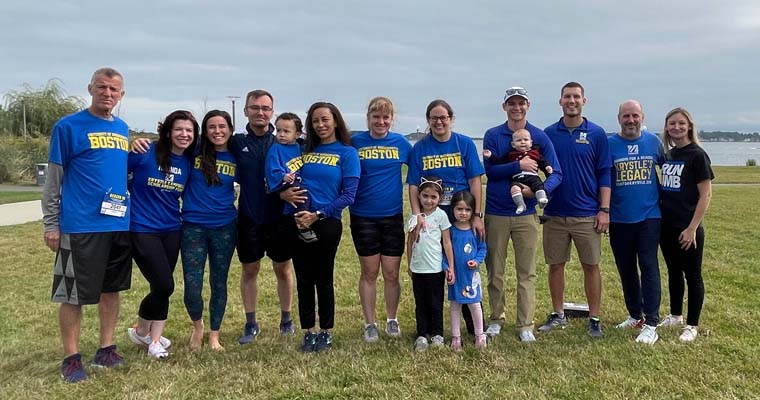 The UMass Boston Run for Krystle Marathon Team will compete in the Boston Marathon on October 11.
Every year, the Run for Krystle Team runs to honor the memory of UMass Boston alumna Krystle Campbell, who lost her life in the 2013 marathon bombing. Funds raised by the team will go toward the Krystle Campbell Scholarship Fund, which was established by former University of Massachusetts trustee Richard Campbell '70.
Director of College Engagement Heather Brigham, who has been managing the Run for Krystle Team for the past seven years, said vetting and selecting applicants for the team is simultaneously rewarding and challenging.
"Every year we put out a call for applications for the team, and every year we're overcome by not only the amount of interest but also the sheer dedication and intent of prospective runners," she said.
The 2021 Run for Krystle Team consists of Kathleen Colantonio; Carmen Dinca '99; Paul Dyson '00; Christopher Estes; Patrick Fay '85; Justin Gagnon '15; Rhonda Hodge CER'13, G'20, DNP'20; Jennifer Kanyugi G'10, ELP'19; Vice Chancellor for Administration and Finance Kathleen Kirleis; and Brett Phillips.
English Professor Paul Dyson '00 has been a member of the team for the past six years. An alumnus of UMass Boston, Dyson said he's proud to support any cause that gives back to his alma mater and helps future students succeed.
"It's an honor to run for such a worthy cause and in honor of an alumna. UMass Boston has given me so much: my education and my dream job. The least I can do to give back is to run a few miles from Hopkinton to Boston," he said.
Since its inception in 2014, the Krystle Campbell Scholarship Fund has awarded nineteen students with $5,000 scholarships. To date, the fund has surpassed the $1 million milestone, making it the second-largest endowment at UMass Boston.
Jennifer Kanyugi G'10, ELP'19, who has 16 — soon to be 17 — Boston Marathons under her belt, was recently selected by ESPN RUN as the featured runner for a documentary about the Boston Marathon. A College of Management board member, Kanyugi said she's continuously moved by the impact her team collectively has on current and future students.
"The students who benefit from the funds we raise inspire me to run," said Kanyugi, who, in addition to raising money for the Krystle Campbell Scholarship Fund, has also established the Barbara Conneeley, Patrick Conneeley, and Stanley Kanyugi Memorial Scholarship Fund earlier this year. "I get to see first-hand how my fundraising helps students complete their schooling."
But with how rewarding it is to participate in the Boston Marathon, it also comes with its own sacrifices. In fact, ask any seasoned marathon runner what their training regime looks like, and they'll immediately launch into a recitation of the early mornings, strenuous gym sessions, long runs, and regimented diet — all to ensure optimal performance leading up to the day of the race. Factor in a global pandemic, and training takes on an entirely new shape, with a whole slew of subsequent challenges.
After the Boston Athletic Association postponed the 2020 Boston Marathon from April 2020 to September before making event virtual for the first time in 124 years, Kathleen Colantonio — who ran her first Boston Marathon in 2010 — said she knew the experience would be unlike past races. In addition to running while wearing a mask and being mindful of the newly implemented social distancing guidelines, Colantonio had to become acclimated to training alone and in completely different weather elements.
"I trained in July heat instead of February snow. I trained without the Marathon Coalition runners and coaches. I prepared for a racecourse that would not be lined with thousands of cheerleaders," she said, adding that throughout all the hurdles, she found an amazing community in Team Krystle and a resurgence of motivation after meeting the past Krystle Campbell Scholarship recipients. "These students are inspiring, smart, and strong, and I believe the ripple effect of these scholarships is something undeniable and makes me feel like we are changing the world in a way."
Brett Phillips, who works as the Chief of Staff at East Boston Neighborhood Health Center, said that UMass Boston forged a strong relationship with the health center during the COVID-19 vaccination process in Massachusetts. UMass Boston nursing students volunteered to vaccinate some of the state's most heavily impacted communities in East Boston, Chelsea, and Revere.
"I noticed pretty quickly that in times of crisis, UMass Boston steps up," said Phillips, adding that this is largely evidential in the work of the Krystle Campbell Scholarship Fund and Team Run for Krystle. "Almost a decade after Krystle's tragic death, UMass Boston alumni, faculty, and partners are rising to the occasion to turn tragedy into opportunity for the future leaders of Massachusetts. It's an honor to join this team/community and battle back with the Beacons."
Christopher Estes has celebrated two milestone events this year: the birth of his first son and graduating from graduate school. On Monday, he'll hit another when he crosses the finish line at Boylston Street.
"Running a marathon has always been a goal of mine," said Estes, adding that he ultimately hopes to someday complete a triathlon. "Running this marathon would be one step closer to doing that. It also serves as an example for my son for when he grows up. I remember telling my wife last year that 2021 and the years to come are going to be some of the best years of our lives as we planned to have a child, finish school, and completing personal goals. Now the time has come and it is all unfolding in an exciting way. We are creating a life that we want to look back on and be proud of and one that our son can be proud to be a part of."
Carmen Dinca '99 is a newcomer on the Run for Krystle team, having previously completed one marathon, as well as a series of 10K's and half marathons. She applied for one of the limited spots on the team with the hopes of reclaiming the sense of community she found while an international student at UMass Boston.
"I felt a sense of belonging even though I was new to this country and spoke with a heavy accent," said Dinca, who originally hails from Romania. "I miss that sense of belonging UMass Boston offered those many years ago."
Brigham said that after so many years with new and returning Run for Krystle members, the team feels more like a family.
"When you're training together nearly every Saturday for several months, your teammates become more than just the people you're running alongside. They're your support system, your accountability partners. They're who you're immediately looking for when you cross that finish line. And that, combined with the shared goal of fundraising to support students, makes it all worthwhile."